A new type of helicopter has been put through its paces in the Lake District, before it starts coming to the aid of walkers who get into trouble on the fells. Rescue teams from across Cumbria have been given training today, to see how the new aircraft differs from the RAF Sea King, which has been used for decades. Jenny Longden reports.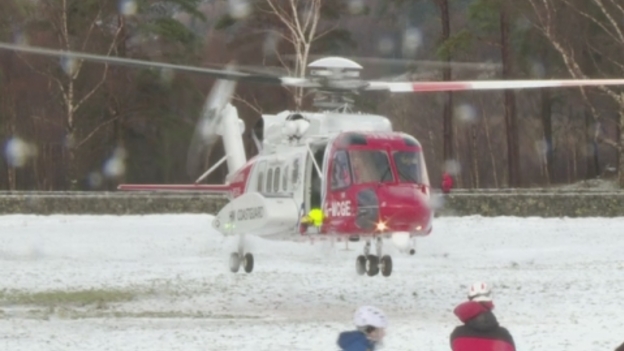 Training has taken place to familiarise Mountain Rescue volunteers with a new helicopter to be used in search and rescue missions.
The Sikorsky S92 was flown in to Thirlmere in the Lake District this morning.
From April it will replace some of the RAF Sea King helicopters used by Mountain Rescue teams across the UK, after the contract for Mountain Rescue helicopters was awarded to Bristow Helicopter Ltd in 2013.
A slightly different helicopter, the Agusta Westland AW189, will be used by the Lake District team when it arrives at Prestwick next January.
The new helicopters are slightly bigger, faster and more powerful than the Sea King.
Lake District Search and Mountain Rescue Association Chairman Richard Warren said:
Advertisement
Nine mountain rescue teams from Cumbria are taking part in a joint training day in the Lake District.
The day will consist of team members being trained to use the new Sikorsky helicopter, which is more modern and larger than the Sea King.
Two groups of 30 mountain rescuers will each be put through morning and afternoon training sessions.
The teams taking part are:
Cockermouth MRT
Cumbria Ore Mines Rescue Unit (COMRU)
Coniston MRT
Duddon and Furness MRT
Langdale and Ambleside MRT
Kendal MRT
Keswick MRT
Kirby Stephen MRT
Wasdale MRT
So did Mrs Scott enjoy her helicopter flight?
Watch her coming in to land and her reaction below:
After a helping hand into the helicopter, Margaret Scott was ready for the flight of her life.
Watch the moment she waved goodbye to her neighbours as she took to the skies:
Margaret Scott's son Dougie organised the helicopter flight.
He is now worried about what she is going to think of next:
Advertisement
Mrs Scott's son Dougie arranged the helicopter flight through a family friend, and pilot Murray Grierson from Dumfries was only more than happy to help:
"Mrs Scott will certainly be the oldest passenger I have ever taken on a pleasure flight. I hear she's quite a character though. I'm sure she will love it."
Dougie decided to join his mum in the passenger seat.
Mrs Scott only applied for her passport three years ago, at the age of 95, when she decided she wanted to go on a cruise.
However, going up in a helicopter has been a lifelong dream:
Margaret Scott is celebrating her 98th birthday in a very unique way this year- by taking a ride in a helicopter.
The great-grandmother from Carsethorn, near Dumfries, has only been in an aircraft once before, and that was on a three seater plane on a family holiday to Whitley Bay in 1935.
Mrs Scott, known locally as "wee granny", lives independently in her own house and still frequently drives.
She recently bought herself a new car and said she was "upset" that it only came with a three year warranty.
She has always wanted to take a helicopter flight and her son Dougie managed to arrange it for her special birthday.
A rescue helicopter collected a seriously injured mountain biker after he fell off his bike on the Dalbeattie Forest Trail yesterday - one of the 7stanes mountain biking centres in the Borders. The man who is in his forties sustained head, back and possible spinal injuries.
Due to the remoteness of the site, the ambulance was unable to reach him. Instead he was airlifted by a Royal Navy Helicopter to Dumfries and Galloway Royal Infirmary.
Load more updates