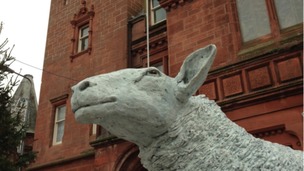 New sheep sculptures, which have stirred up local opinion, were installed in Lockerbie town centre today.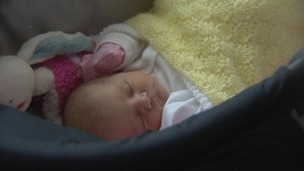 One couple in Lockerbie received an extra special Christmas present, with the arrival of their baby daughter Faith.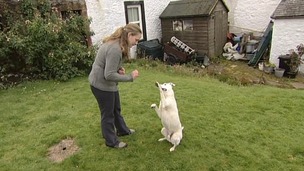 A deaf dog who was so badly behaved he had to be re-homed several times, has been adopted by a sign language enthusiast
Live updates
Top award for Lockerbie farm
The farming couple who own winning Williamwood Farm near Lockerbie have spoken about their happiness that they were chosen for the award.
"We are extremely pleased to have been chosen as the Scottish winners of the Nature of Farming Award.

"It is very rewarding for us and our visitors, especially all the young school children who we love to host, to see the positive results on the ground of integrating our conservation measures into our core commercial farm and tourism business."
– Michael Clarke, owner of Williamwood Farm
Top award for Lockerbie farm
A farm in Dumfriesshire has been awarded the top prize in the RSPC Nature of Farming Awards.
Williamwood Farm, near Lockerbie, scooped the award after impressing judges with their efforts to make their farm a home for nature.
The farm will now go on to compete against seven other finalists from across the country in a public vote.
The winner will then be decided through a combination of scores from the public vote and an expert panel.
Advertisement
Top award for Lockerbie farm
A farm near Lockerbie which was chosen as one of the locations for a diamond jubilee wood last year has won the RSPB's top environmental award in Scotland.
The award recognises the way that wildlife benefits on the farm.
Police in Lockerbie are investigating the circumstances surrounding the death of a Border Collie puppy after the dog became unwell and died following a walk in the Cameron Close area of the town.
The dog, Lucy, was being walked by two children on Sunday afternoon and returned home where she became unwell.
The dog was then taken to a local vet with a racing heart and subsequently died overnight.
Early indications suggest that the dog may have eaten something when out walking and police have searched the area with a drugs sniffer dog.
Police are keen to hear from anyone who may have been in the Cameron Close area over the weekend and who may have seen or heard anything suspicious.
Thousands at agricultural show
Esther Bicket, Secretary, Dumfries and Lockerbie Agricultural Show.
Thousands at agricultural show
Thousands of people poured into Dumfries yesterday to witness the best of the region's livestock and farming at the Dumfries and Lockerbie Agricultural Show.
The event brought in large crowds - there to see thousands of cattle and sheep farmers battle it out to have the best animals in show. Organisers say it helps promote the agricultural world.
Advertisement
Workmen carrying out improvements to Lockerbie town centre have uncovered a hidden link to the past.
Tonnes of reinforced concrete has been found under the high street.
It is believed it was put there to take the weight of tanks which would often pass through the centre of Lockerbie during World War Two.
Kathryn Samson reports:
Snake found in Lockerbie garden
People in Lockerbie had quite a shock when they found a snake on a front lawn in Lockerbie. Elvis is safe and well - the search is now on for his owner.
Snake found in Lockerbie garden
The search is on for the owner of a Calafornian King snake, which was found on a front lawn in Lockerbie. 'Elvis' is being looked after by a reptile-loving family until his owner is found.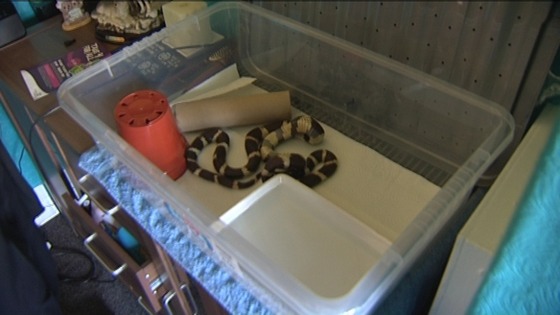 The SSPCA has given the temporary home the approval but Elvis will be moved to a reptile shop to be made more comfortable.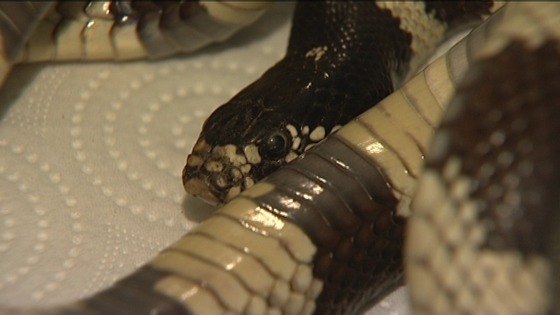 Snake found in Lockerbie garden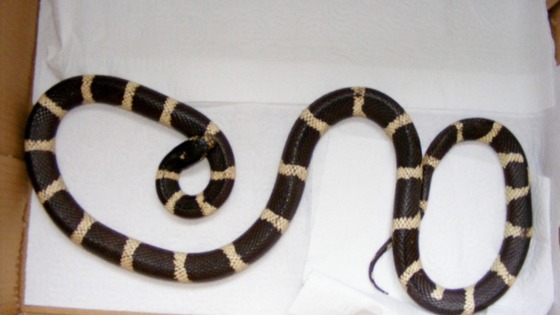 The Scottish SPCA is looking for the owner of a California kingsnake, which was found in Lockerbie yesterday (28th April).
A member of the public found the four-foot long brown and cream striped snake outside a house in Windsor Court.
The snake has been given the nickname "Elvis" and his finder has offered to rehome him if nobody comes forward.
Inspector Janet Proudlock from the SSPCA says Elvis is doing well.
She said:
"Elvis appears to be in good bodily condition although he was very cold and a bit grumpy about beinghandled.
"Luckily the gentleman who found him has some snake knowledge so he put Elvis straight on a heat mat to warm him up.
"Although it's spring time it's still far too cold for a snake to be able to survive outside so we're glad Elvis was found alive and well.
"Snakes are fantastic escape artists and they can squeeze themselves through the tiniest gaps so it's very likely that Elvis has simply strayed from home.
"However, we can't rule out the possibility that he may have been abandoned.
"We're urging anyone in the area who has recently lost a snake to call the Scottish SPCA Animal Helpline on 03000 999 999."
Load more updates
Back to top