Police are concerned for the welfare of a 52-year-old woman who has gone missing in the Whitehaven area.
Evelyn Bell, from Allonby near Maryport, was last seen close to Whitehaven police station at 11am on Monday 18 January.
She is described as being white, of medium build, with very long dark brown hair with glasses and is approximately 5ft 8 inches tall. She may be wearing blue/black waterproof trousers, and a pink Berghaus jacket with black canvas shoes.
Police are concerned for her wellbeing as this is out of character and appeal to anyone who may have seen Evelyn to get in touch on 101.
Police say they are concerned for the welfare of a 92-year-old woman missing from Maryport.
Mary Cope was last seen at around 9am this morning (January 11th) at the Jah Jireh Residential Home on Main Street, Maryport.
She is described as white, of slimish build, 5ft 3" tall, with short wavy grey/ white hair. She walks with a small stoop and has a Scottish accent.
She is believed to be wearing a rosy coloured 3/4 length anorak with a hood, possibly grey trousers and black strappy shoes, and have with her a tri-wheeled zimmer frame with a shopping bag attached and a black shoulder handbag.
Police are appealing to anyone who may have seen Mrs Cope to get in touch. Police would also urge Mrs Cope is she sees this appeal to let them know she is safe and well.
Anyone with information is asked to call Cumbria Police on 101.
Advertisement
Maryport was one of the worst areas hit by the flash floods last night along the West Coast of Cumbria.
Firefighters attended 39 separate incidents in the CA15 postcode area - Maryport- between 17:00 on Thursday 3 December and 07:00 on 4 December.
24 hours ago, the scene on Grasslot Street was very different to this afternoon's. Cars were stranded with the water level brushing the top of the tyres and homes were flooded - if not, they had mountains of sandbags to thank.
This afternoon, the work of emergency services meant that Grasslot Street was flood-free but the aftermath was clear to see. Pavements were lined with soaked carpets and upholstery from the homes of families who received the full force of the floods.
Repair and restoration in the area will soon begin but it will be a united effort from the residents on Grasslot Street to return their community to normal.
Flooding is affecting several areas in West Cumbria, and travel has been disrupted across the county.
Water was close to entering houses in Maryport a short time ago.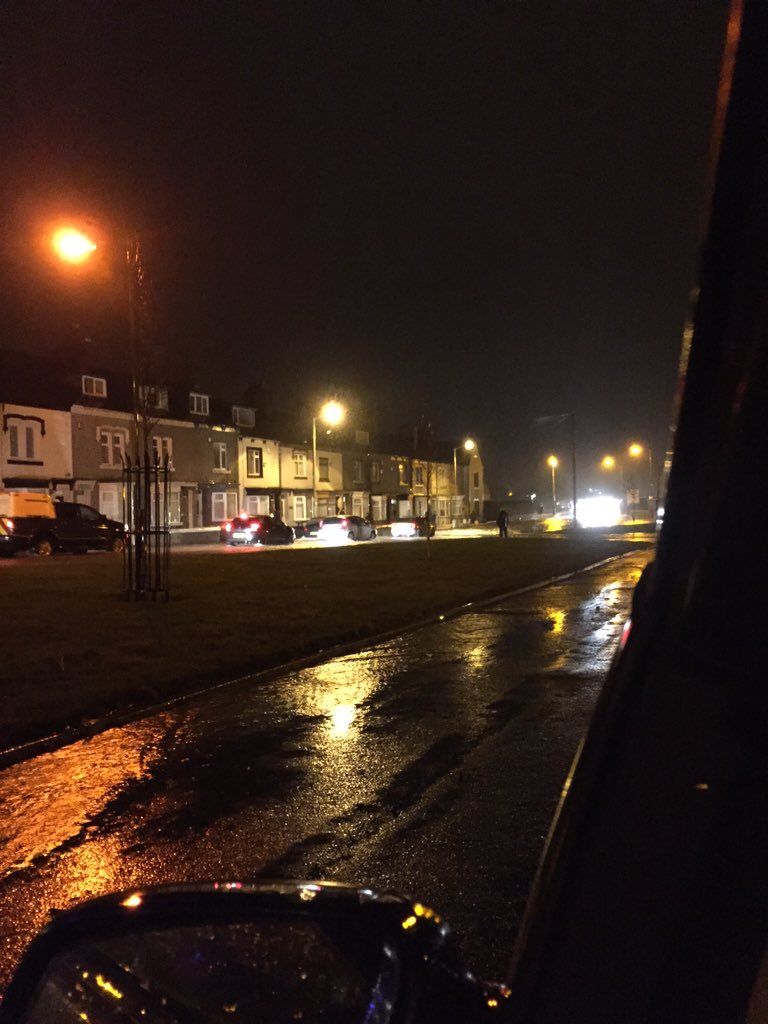 Cumbria Police have indicated that nobody has been hurt tonight, and that most incidents have involved cars stuck in deep run-off water on the county's roads.
The force has been liaising with Cumbria Fire and Rescue, who are providing assistance where they can.
Police are treating a major fire at a farmhouse near Maryport as arson.
The blaze broke out at Ewanrigg Hall on Sunday evening and more than twenty firefighters spent several hours battling the flames.
Nobody was inside the grade two listed building at the time.
Cumbria Police believe the fire may have been started deliberately and are appealing for information.
Video courtesy of Jamie Cartwright
This is the last week of the final excavation by the Maryport Roman Temples Project team.
Read the full story ›
Advertisement
An archeological dig uncovering Roman artefacts in Maryport comes to an end today.
For the past five years people have been digging to build a picture of how life might have been in west Cumbria two thousand years ago when it was part of the Roman Empire.
Silloth and Maryport have each been awarded ten-thousand pounds to set up Coastal Community Teams.
The government money is aimed at bringing jobs, growth and prosperity to seaside towns and cities. The community teams will develop economic plans for the towns by January 2016.
Plans for a new £1.9million rail hub in Maryport are going on public display today.
The Maryport Rail Station Hub project aims to encourage sustainable travel along the Cumbrian Coast and improve access to both Maryport Station and the Cumbrian Coast Railway.
The scheme will provide a new 78-space car park located on land currently owned by the Maryport Amateur Rugby Football League Club (ARFLC) and would require the building of a new access road on to Mealpot Road and the relocation of a Multi-Use Games Area (MUGA).
Improvements to pedestrian and cycle links to the station are also proposed alongside new drop-off facilities, blue badge parking and a footway along Mealpot Road.
The relocated MUGA will be built on the former tennis courts close to the A594 and will bring a currently disused piece of land back into use, with a new games area built to modern standards.
As part of the Cumbria Growth Deal secured by Cumbria Local Enterprise Partnership, £1.9m has been set aside to deliver the improvements and create the new 'hub'.
The drop-in session is being held at the Maryport ARFLC today between 3pm and 7pm and provides an opportunity for people to express their views on the proposals.
Plans will be displayed and members of the project team will be available to answer questions. The drop-in session precedes the submission of a planning application for the scheme, with construction expected in 2016.
"People will be able to find out more information about this scheme and view design plans at the drop-in session, so I would encourage local people to come along and see for themselves how we're proposing to improve access to the station."
– Cllr Keith Little, Cumbria County Council Cabinet member for transpor
Where were the Maryport altars originally positioned?
That's one of the mysteries being explored by archaeologists in the town, which is one of the most significant Roman heritage sites in the world.
For the past five years people have been digging there, to build a picture of how life might have been in west Cumbria 2,000 years ago - when it was part of the Roman Empire.
There are just two months left before the dig finishes, and researchers from around the world are keen to discover as much as they can, before then:
Load more updates