Live updates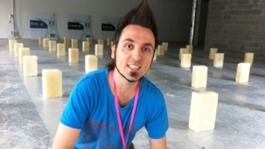 Mint Igloo
One of the strangest installations of Kendal's Street Arts festival 'Mint Fest' will be an igloo -made entirely from Kendal Mint cake.
The idea is the brainchild of artist Richard DeDomenici who was inspired by explorers such as Edmund Hilary and Ernest Shackleton.
Richard will use 64 giant slabs of the mint cake to make the igloo over two days, before eating his way out of it.Richard said:
"We will be working with very big blocks so this is uncharted territory. Nobody has ever tried to do anything like this with Mint Cake before.

"The project is linked to explorers like Shackleton who used Kendal Mint Cake on his trips and built igloos. We are embracing his spirit of exploration and uncertainty and this project is a journey into the unknown. We are genuinely not sure what will happen."
– Richard DeDomenici

His previous works have been seen at venues including the Edinburgh Festival and the National Theatre. He has performed as far afield as Beijing, Iceland and New York.
Advertisement
Back to top