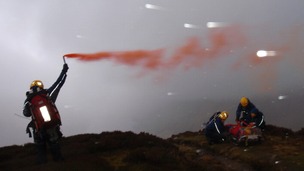 Mountain Rescue warn walkers to be prepared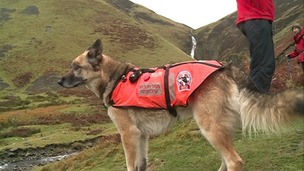 Moffat Hills used for annual Mountain Rescue event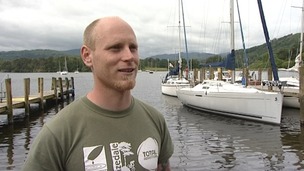 A man who survived a 40 feet fall from a mountain in Cumbria is to embark on a 200 mile challenge to thank his rescuers
Live updates
A 21-year-old woman from the Netherlands has been rescued from the fells about Haweswater.
Mountain Rescue Teams were alerted by the Police at 6pm on Tuesday, 8 July that the woman was lost on the hills.
She raised the alarm by phoning her parents in Holland, who then phoned Cumbria Police.
Teams from Patterdale, Penrith and Kendal were accompanied in the search by the Lake District Search Dogs and a Sea King helicopter from RAF Boulmer.
The woman was found after a three hour search, having pitched her tent in the area known as Fordingdale Bottom.
A 23-year-old man is recovering from a broken ankle after falling 200 feet down a cliff face.
The man was scrambling on Grassmoor Front with friends when he fell around Sunday lunchtime.
Two doctors from the Cockermouth Mountain Rescue team treated him on the cliff side and a Sea King helicopter from RAF Boulmer winched him to safety, before taking him to hospital in Carlisle.
Watch footage from the rescue below.
Advertisement
Mountain rescue: 'Axe the tax'
A petition calling for mountain rescue teams to be exempt from VAT has been sent from Cumbria to the European Commission.
An EU Directive states that VAT shouldn't apply to medical or paramedical teams. Mountain rescue teams think they should also qualify.
The UK Treasury doesn't agree. Now the teams and their supporters hope the petition will force a rethink.
Amy Dunsmuir reports:
Mountain rescue: 'Axe the tax'
Members of the Kendal Mountain Rescue Team have praised campaigners who have helped with their VAT battle.
Mountain Rescue Teams are currently the only UK emergency service which still have to pay tax - something they say is unfair.
A 6,000 signature petition has been handed into the European Commission asking for that to change.
Terry Simpkin is Treasurer of Kendal Mountain Rescue Team:
Mountain rescue: 'Axe the tax'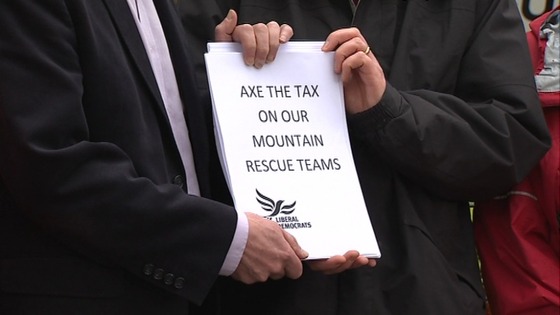 A petition which hopes to get mountain rescue teams exempt from paying VAT is being handed in today.
Six thousand people have signed the petition which will be given to the European Commission.
It's the only emergency service in the UK that still has to pay the tax.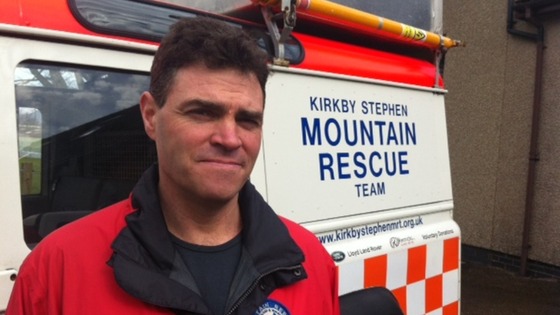 Kirkby Stephen has a new leader for its mountain rescue team.
Adrian Cottrell had been the team's deputy leader for the last six years and now takes overall charge after being elected unopposed and is 'looking forward to the challenge'.
Advertisement
Galloway Mountain Rescue Team 'prepared' for floods
Following repeated flooding in parts of the region, a mountain rescue team has had its vehicles adjusted to be able to drive through deep water. The Galloway team has been involved in helping people during a number of floods in South West Scotland.
Eleven rescued from Kirkstone Pass
Kirkstone Pass re-opened.
Eleven rescued from Kirkstone Pass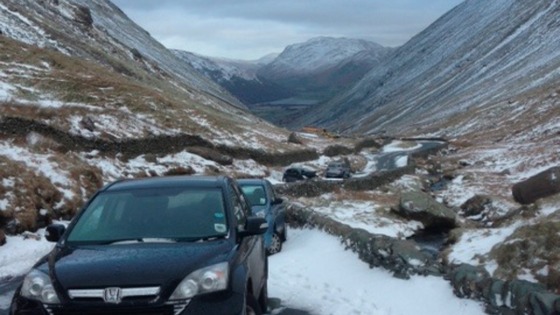 Several cars and an ambulance were trapped at Kirkstone pass in The Lake District after snow fell.
The ambulance was recovered this morning but a number of cars are still waiting recovery.
Police are advising motorists not to attempt to drive though the pass at the moment.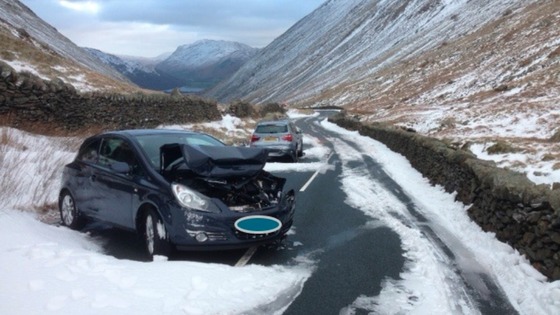 Eleven rescued from Kirkstone Pass
The A5087 between Rampside and Newbiggin is closed due to high sea levels and debris being washed onto road.
Load more updates
Back to top