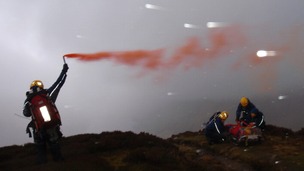 Mountain Rescue warn walkers to be prepared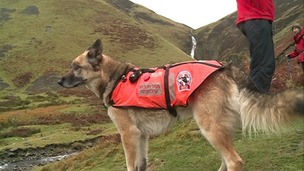 Moffat Hills used for annual Mountain Rescue event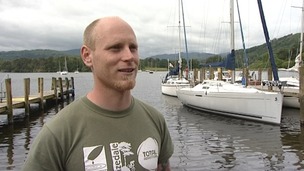 A man who survived a 40 feet fall from a mountain in Cumbria is to embark on a 200 mile challenge to thank his rescuers
Live updates
Great Langdale death
Police have named a woman who fell to her death in Great Langdale yesterday.
Elisabeth Huber, who was on holiday from Switzerland, was with a group when she fell.
Mountain rescue volunteers helped the rest of the group off the fell.
Hannah McNulty has this report:
Great Langdale death
Cumbria Police have confirmed that the woman who died after falling in Dungeon Ghyll, Great Langdale, is Elisabeth Huber from Heimberg in Switzerland.
The 68-year-old was on holiday in Cumbria and was part of a walking group when she fell around 100 metres at 1.50pm yesterday (16th April).
Members from Langdale Mountain Rescue Team attended the incident, but Ms Huber was pronounced dead at the scene.
Police are not treating the death as suspicious at this time.
Advertisement
Great Langdale death
A woman has died after falling during a walk in the Great Langdale valley. The walker, who hasn't yet been named, fell from a path above Dungeon Ghyll on Tuesday afternoon. Volunteers from Langdale and Ambleside Mountain Rescue team and Kendal went to her aid but she had died from her injuries.
Her body was recovered by the Mountain Rescue team who also helped the people she was walking with to safety.
Air Ambulance rescues woman from fell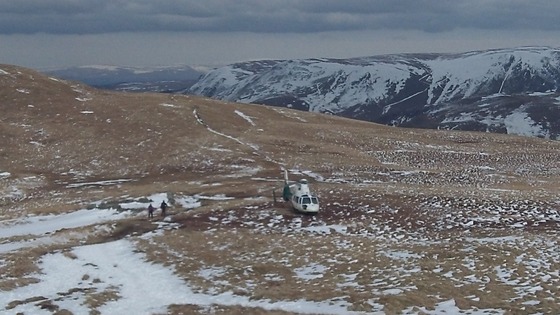 A woman in her forties is recovering after falling on High Dodd near Ullswater. The Great North Air Ambulance and Patterdale Mountain Rescue Team were called to rescue the woman who had leg injuries shortly before 4pm.
She was airlifted down to the rescue team base and is in a stable condition.
Man rescued after 100m fall
A 27-year-old man is recovering after falling 100 metres from Helvellyn, the Lake District's third highest mountain.
He was climbing above Red Tarn and suffered a dislocated shoulder and a fractured ankle. The man, from Cheshire, was airlifted to hospital.
Man rescued after 100m fall
A 27-year-old man had to be rescued after falling 100 metres from Helvellyn, the Lake District's third highest mountain.
The man had fallen while climbing on the head wall of Helvellyn above Red Tarn and sustained a dislocated shoulder and a fractured ankle.
He was treated at scene by Paterdale Mountain Rescue Team and Great North Air Ambulance Service paramedic before being air lifted.
the team also attended a rescue involving a father and son who had fallen while descending an icy path.
Both were treated for leg injuries and airlifted from the scene by a Navy Sea King helicopter.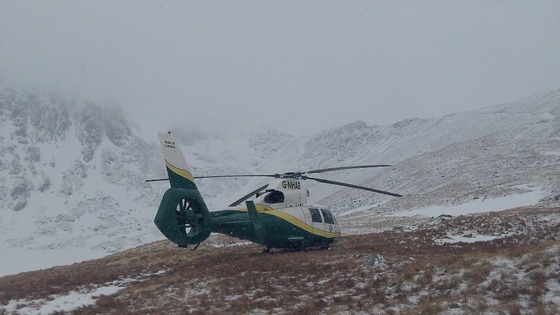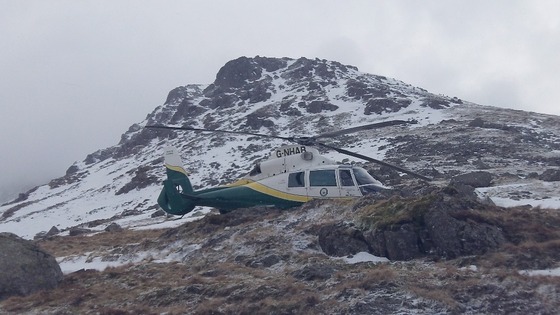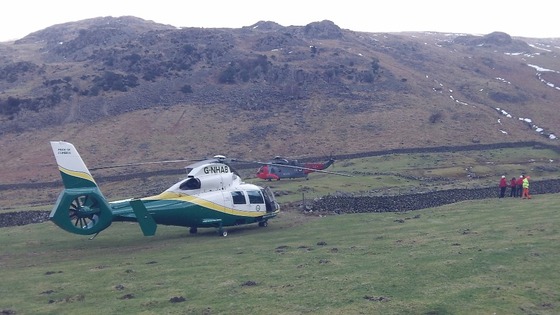 Advertisement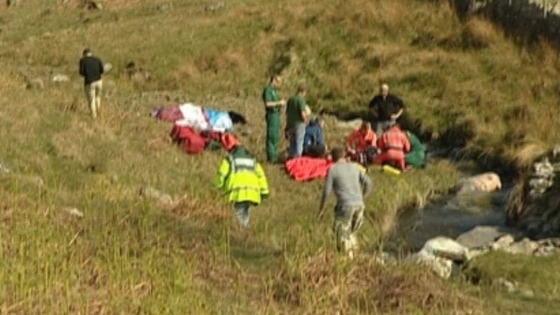 The Cockermouth Mountain Rescue Team is marking its 60th anniversary this week.
The group was originally formed to ease the pressure on the Keswick team, which had become overworked. Six decades on, the Cockermouth volunteers have attended an estimated 1,000 call-outs.
Its workload has increased in recent years due to the surge in popularity of hill walking and climbing. It currently has around forty members and is funded by voluntary contributions.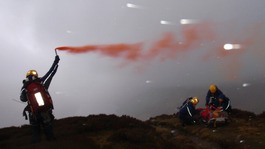 Teenager airlifted to hospital with Hypothermia
An eighteen year old is recovering in Hospital after being found suffering from a head injury on Watch hill near Cockermouth.
He had been drinking and had sustained a head injury. It was unclear how long he had been there but he was suffering from Hypothermia
– Spokesman, Great North Air Ambulance
10 hour mountain rescue operation
4 young walkers had to be rescued last night after getting stuck on the Lake District fells. The group phoned 999 as it got dark after getting lost whilst descending Scafell Pike in poor visibility.
The group were found in the early hours and it took 14 members of Wasdale Mountain Rescue Team 10 hours to get them safely off the fells.
Load more updates
Back to top