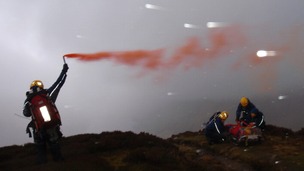 Mountain Rescue warn walkers to be prepared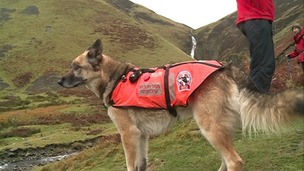 Moffat Hills used for annual Mountain Rescue event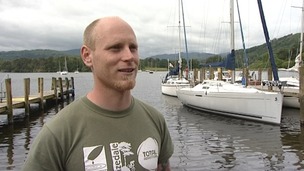 A man who survived a 40 feet fall from a mountain in Cumbria is to embark on a 200 mile challenge to thank his rescuers
Live updates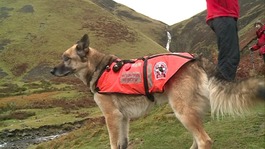 Mountain Rescue Exercise
3 local Mountain Rescue teams have gathered in Moffat for their annual training exercise. The event simulates 6 walkers getting lost in the nearby hills, who have to be found and then recovered. Dozens of volunteers from Moffat, Galloway and Borders Mountain Rescue Teams are taking part.
Advertisement
Mountain Rescue base opens
A new base for the Galloway Mountain Rescue Team will be officially opened in Newton Stewart. Sir Malcolm Ross, the Lord Lieutenant of the Stewartry of Kirkcudbright will cut the ribbon in an official ceremony which will include a helicopter fly past.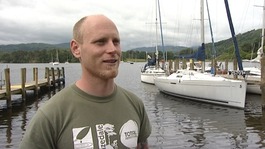 A man who survived a 40 feet fall from a mountain in Cumbria is to embark on a 200 mile challenge to thank his rescuers
Read the full story
Quarry rescue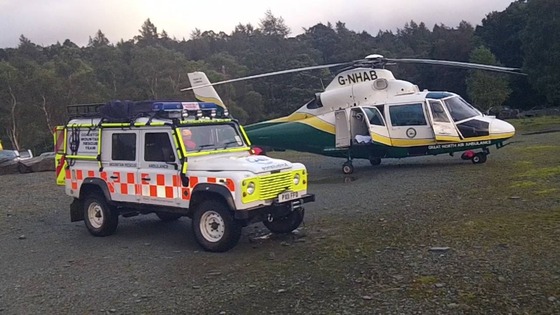 A man has been rescued after falling 20ft while abseiling in a quarry in the Lake District. He suffered a broken leg in the fall at Hodge Close quarry at Coniston on Friday afternoon.
Coniston Mountain Rescue Team freed the 45 year old who was then flown to hospital in Preston by the Great North Air Ambulance. He's currently in a stable condition.
Mountain rescuers criticise family
Volunteers from three rescue teams were called out to a man aged 73 and his daughter in her 50s who failed to turn up to their accommodation near Keswick on Friday.
The following evening they had to be rescued again near Langdale.
Rescue teams say people should take more care.
Advertisement
New mountain rescue vehicles unveiled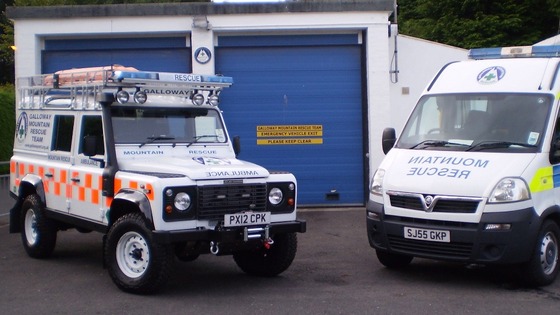 Galloway Mountain rescue have unveiled two brand new vehicles for their rescue fleet.
They are a purpose built Land Rover and a converted Mobile Incident Control Vehicle.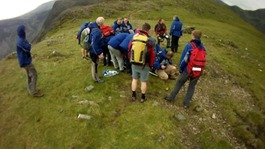 An Internal review of the Mountain Rescue Service has criticised the Ambulance Service for failing to refer 999 calls to them fast enough.
Read the full story
Penrith Mountain rescue launch campaign
Penrith Mountain Rescue Team is officially launching its new campaign to raise funds for a new Cumbrian base. They'll be at the new GO Outdoors store in Penrith. They'll show equipment, offer advice and explain thier plans for a new base.
The Chair of Penrith MRT John Whittle, said:
"Our current Base at Isobella Carlton House, Tynefield Avenue in Penrith has been our home for more than 25 years. It's been our Base for more than 800 call outs and rescues. But to continue to maintain and improve our service throughout Cumbria we need improved facilities and more space and that ultimately means making a move". Our preferred locations are all in the Penrith area. But, wherever we end up it will mean another expense in addition to the running costs already met by generous donations."
– John Whittle Penrith MRT

In 2010, Penrith Mountain Rescue Team celebrated its 50th anniversary. It is manned entirely by around 40 dedicated, trained volunteers who freely give their time and skills to provide a search and rescue resource to support Cumbria Constabulary.

PMRT covers the largest geographic area of any of the Lakes District Mountain Rescue Teams taking in 2500 sq km. From the Scottish border as far south as Haweswater and from Cumbria's boundary with Northumberland west to the Solway Firth, including the towns of Carlisle, Penrith and Brampton.
Load more updates
Back to top