A warning that the falling price of milk is making dairy farming in West Cumbria almost unsustainable.
The National Farmers Union is holding a meeting in Cockermouth this evening to discuss the current crisis. Some farmers are being paid five pence per litre less than they were three months ago. Katie Hunter reports: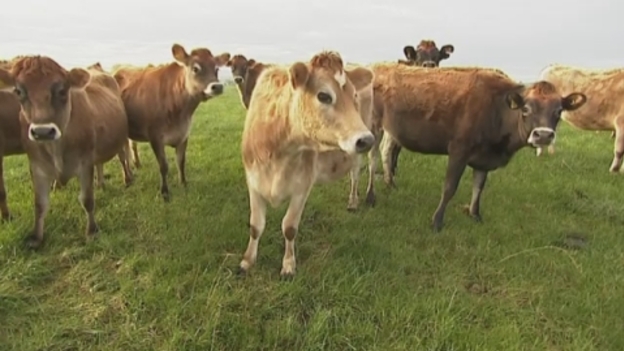 Cumbrian farmers are meeting tonight (25th November) to discuss falling milk prices.
The National Farmers Union President Meurig Raymond will be at Cockermouth's Hundith Hill Hotel at 7.30pm.
Cumbria's isolated geography means there are fewer processors willing to pick up milk from more remote patches of the county, giving farmers few options.
Since the start of this year some farmers have seen prices fall by up to 5 pence per litre.
NFU Cockermouth group secretary David Jones said: "All NFU members are welcome to attend this meeting and as well as the current dairy problems, we'll also be discussing the current turbulence in the beef and sheep markets."
Advertisement
What would independence mean for farmers in the South of the country? Today four former Presidents of the National Farmers Union of Scotland claimed a yes vote would give rural Scotland a more powerful voice in Europe. But other farming leaders warned access to crucial markets south of the border could be made much more difficult. Joe Pike reports.
Andrew McCornick is the Regional Chairman for NFU Scotland (Dumfries and Galloway).
He says that although the government aid is welcome, it is not the long term solution:
The newly re-elected president of the National Union of Farmers for Scotland has been talking about the challenges the board will face over the coming year:
Jim Hume, Scottish Liberal Democrat Borders MSP, has congratulated Borders livestock farmer Rob Livesey on becoming elected as NFUS vice-President at this year's AGM.
The MSP also congratulated Nigel Miller going into his second term as President, and said that this represented a strong voice for farming in the Borders.
Advertisement
Nigel Miller has been re-elected as President of the National Farmers Union (NFU) Scotland at their AGM.
Farmers from across Scotland have gathered at the event in St Andrews.
Mr Miller farms at Stagehall in Stow with two of his sons, and he is also a qualified vet.