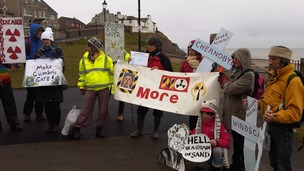 Anti nuclear campaigners say beaches in west Cumbria are contaminated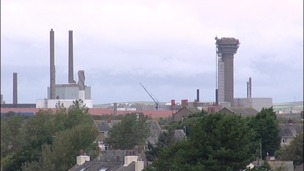 Report calls for sense of urgency to tackle problems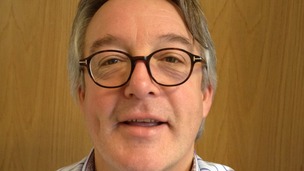 Steve Szostak has pledged to create 3,000 job in the next 15 years.
Live updates
Sellafield management to stay
The Parliamentary Under Secretary of State for the Department of Energy and Climate Change, Baroness Verma, has released a statement expressing the Government's support for Nuclear Management Partners' extension of its management contract at Sellafield.
"Sellafield remains the Government's top priority in our nuclear decommissioning programme.

"We support this decision to extend the contract which will build on skills and expertise at the site and the progress made so far."
– Baroness Verma
Sellafield management to stay
It has been announced today that the consortium running the Sellafield nuclear site will be allowed to continue its role.
Nuclear Management Partners had been accused of mismanagement and wasting public money earlier this year.
However, the Nuclear Decommissioning Authority has announced that the consortium will have its contract extended for a second five year period.
Advertisement
Sellafield management to stay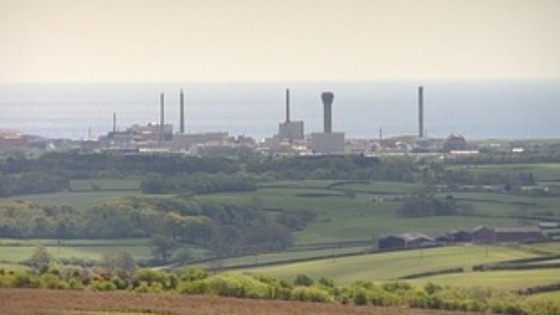 An announcement on who will manage the Sellafield nuclear site from next year is expected to be made later today.
The site is currently being run by Nuclear Management Partners, but that organisation was criticised earlier in the year by MPs and the National Audit Office.
Cancer report on nuclear areas
Living next to a nuclear plant was does not increase the risk of childhood leukaemia according to the findings of a report out today.
A possible link was highlighted in a television programme in the 1980s which prompted inquiries into cases of leukaemia in Seascale near the Sellafield planet, known then as Windscale.
Then as now, no firm link was found, so today's news has come as a reassurance to people living in the village.
Watch Samantha Parker's report in full below.
Cancer report on nuclear areas
Children living near nuclear power plants like Sellafield are not at greater risk of contracting leukaemia according to research in the British Journal of Cancer.
There have been suggestions of a link for the last thirty years.
Researchers studied 10,000 leukaemia cases over 40 years across the UK and found there was no apparent link with nearby nuclear sites.
Cancer report on nuclear areas
The charity Cancer Research UK has welcomed the findings of an investigation by the British Journal of Cancer, which concluded that there was no apparent extra risk of children developing cancers like leukaemia if they lived near a nuclear power plant.
"It's heartening that this study supports the findings of the Committee on Medical Aspects of Radiation in the Environment (COMARE), that being born or living near a nuclear power station doesn't lead to more cases of leukaemia and similar cancers in children under five in the UK.

"But these results can't rule out any possible risk, so it's still important that we continue to monitor both radiation levels near nuclear power plants and rates of cancer among people who live close by."
– Hazel Nunn, Cancer Research UK's head of health information
Advertisement
Cancer report on nuclear areas
The lead researcher on a project that investigated whether children living or born close to nuclear power sites were more likely to develop cancers like leukaemia has said that there is "no correlation" between the circumstances.
"The incidence of childhood leukaemia near nuclear installations in Great Britain has been a concern ever since the 1980s when an excess of cancer in young people near Sellafield was reported in a television programme.

"Since then, there have been conflicting reports in the UK and Europe as to whether there is an increased incidence of childhood cancer near nuclear power plants.

"Our case-control study has considered the birth records for nearly ever case of childhood leukaemia born in Britain and, reassuringly, has found no such correlation with proximity to nuclear power plants."
– Dr John Bithell, honorary research fellow at the Childhood Cancer Research Group and lead author on the study
Cancer report on nuclear areas
Research published in the British Journal of Cancer has found that young children who live near nuclear power plants do not have a greater risk of developing childhood leukaemia or non-Hodgkin Lymphoma.
Scientists from the Childhood Cancer Research Group in Oxford carried out a study of nearly 10,000 children under five who were diagnosed with leukaemia, or similar cancers, in Britain from 1962 to 2007.
The research focused on the distance from the nearest nuclear power plant both at the time the children were born- and when they were diagnosed with the diseases - and found that there was no apparent extra risk living near a nuclear power plant.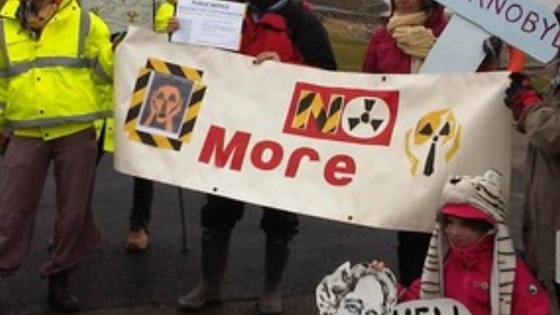 Anti nuclear campaigners Radiation Free Lakeland are demonstrating in Whitehaven against rights granted to a Cumbrian landfill which could see Scottish nuclear waste being dumped in the county.
The campaigners say they are showing their support for Cumbria County Council and Copeland Borough Council, who both objected to the proposals in 2011.
In that year the Environment Agency gave permission to FCC Environment landfill at Lillyhall to take in very low level nuclear waste and industrial waste from nuclear operations like Chapelcross in Scotland and Sellafield.
The NDA said today that no nuclear waste from Chapelcross has been taken to the Lillyhall site, but industrial waste from the decommissioned plant had.
A spokesperson form the NDA said:
"The Environment Agency granted a licence in 2011 for Lillyhall Landfill Site to take very low level waste (VLLW) alongside conventional industrial waste from nuclear licensed sites including Sellafield and Chapelcross.
"Consignments of conventional industrial waste and VLLW from Sellafield and Chapelcross are sent to one of three such licensed sites – FCC Environmental at Lillyhall, Sita at Clifton Marsh, Lancashire, or Augean at Kings Cliffe, Northamptonshire.
"Consignments from Chapelcross disposed of at Lillyhall under these arrangements have all been non-radiological, conventional industrial waste. These consignments stopped in early 2012 and are now being sent to Avondale in Scotland."
Anti nuclear protest
Anti nuclear campaigners have marched along a stretch of beach in west Cumbria to highlight that radioactive particles have been found in the sand. They put up signs to warn people using the beach at Seascale. The notices were quickly removed by the local council.
Load more updates
Back to top