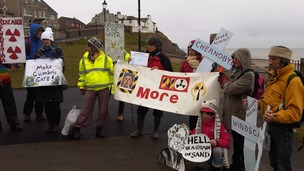 Anti nuclear campaigners say beaches in west Cumbria are contaminated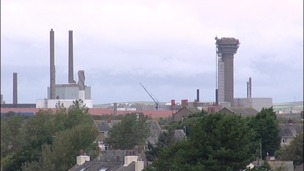 Report calls for sense of urgency to tackle problems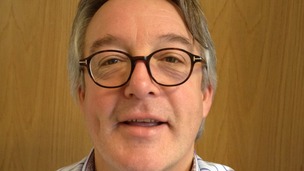 Steve Szostak has pledged to create 3,000 job in the next 15 years.
Live updates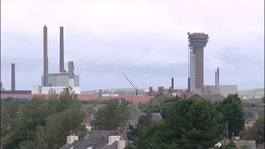 Protests against underground nuclear dump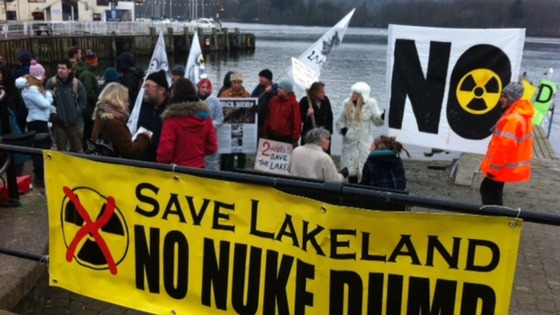 Advertisement
Protests against underground nuclear dump
Anti-nuclear protestors have gathered in Bowness-on-Windermere to demonstrate against plans to build an underground storage facility for radio-active waste.
Cumbria County Council and Allerdale and Copeland councils will decide on January 30th whether to proceed to the next stage in the plans.
But those who oppose the decision to site a geological waste facility in West Cumbria say are calling for an end to the "mad plan".
They are concerned about safety issues and add that it will damage the image of Cumbria as a tourist destination.
Cumbria County Council has said that no decision would be made about whether Cumbria should have a repository or not on January 30.
Instead, councillors will be deciding on whether geological experts should carry out the necessary work to see whether Cumbria could be the right location or not.
Protest at plans for West Cumbrian Nuclear Repository
More than 500 people attended a meeting in Keswick to discuss their opposition to
the idea of burying radioactive waste being buried under the Lake District or the Solway.
Cumbria County Council, Allerdale Council and Copeland Council are to vote on whether the Government should include West Cumbria in a list of sites being searched for a a new underground repository for high-level radioactive waste.
A quarter of West Cumbria was ruled out of the site search by a preliminary report of the British Geological Survey in 2010.
Seventy five per cent of the area left is within the national park.
Sellafield meeting
Sellafield's senior managers have admitted that the cost of cleaning up the nuclear reprocessing site is likely to rise.
They have faced questions from MPs on the House of Commons Public Accounts Committee, who made a visit to Workington.
The committee wants to know how long it will take to deal with hazardous waste, and how much it will cost the taxpayer.
Hannah Lomas was at the meeting.
You can watch her report here:
Sellafield meeting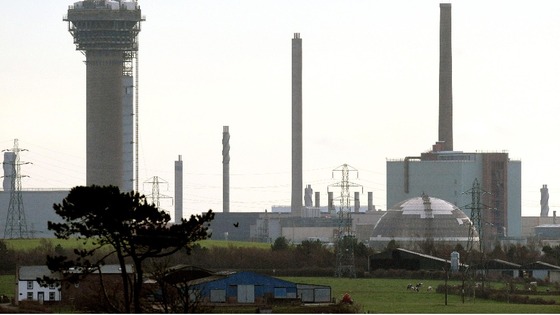 The Public Accounts Committe of the House of Commons has travelled to west Cumbria to hear evidence from Sellafield bosses, following a damning report which highlighted historic safety failures and neglect at the site.
The report found the Nuclear Decommissioning Authority faces a 'considerable challenge' in taking forward decommissioning at Sellafield. The Committee are due to start hearing evidence at 2pm in Workington. It follows an on site visit to Sellafield this morning.
Advertisement
Sellafield meeting
A Parliamentary hearing will take place at the Sellafield nuclear plant later following a damning report.
The report said there were considerable challenges that have to be overcome as the site is decommissioned and concerns were raised about safety.
The meeting will take place at the Energus building in Workington at 2pm.
It follows a report from the National Audit Office which said that owing to historic neglect, the Nuclear Decommissioning Authority faces a considerable challenge in taking forward decommissioning at Sellafield.
The evidence session, which will take the form of a Parliamentary hearing, will take evidence from John Clarke, of Nuclear Decommissioning Authority, George Beveridge, of Sellafield Ltd, and Phil Wynn Owen, Acting Permanent Secretary and Mark Higson, Department of Energy and Climate Change.
"We are particularly keen to speak to the NDA because although we now see a more robust lifetime plan in place for Sellafield, we cannot say with certainty how long it will take to deal with hazardous radioactive waste at Sellafield or how much it will cost the taxpayer."
– Rt Hon Margaret Hodge, Chair of the Committee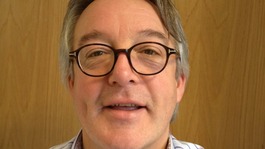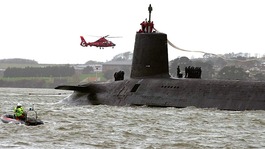 MPs have called on the Scottish and UK governments to agree a nuclear deal before the 2014 referendum on independence.
Read the full story
Two MSPs have quit the Scottish National Party over the decision to remain linked to NATO. John Finnie and Jean Urquhart will now sit in the Scottish Parliament as Independents.
Last week at the SNP conference, the party narrowly voted to decide to remain tied to NATO if Scotland becomes an independent country. It's thought the pair have quit as they believe that decision is at odds with the SNPs anti-nuclear stance.
Load more updates
Back to top