A CCTV image has been released, showing a man police want to speak to in connection with a fire in a Penrith supermarket.
The fire was found in the toilet of Sainsbury's, at around 4:20pm, on Saturday 11 July.
The store was evacuated while the fire was extinguished, and minor damage was caused.
Anyone who recognises the man in the CCTV image, or has other information, should contact Cumbria Police on 101 and ask for PC Stewart Green.
17-year-old Ryan Barber from Shap has to spend over £1,400 to get to college over the course of the year.
Read the full story ›
Advertisement
A teenager born with a rare genetic condition will finally meet others with the same condition thanks to the kindness of strangers in her home town of Penrith.
Natasha Todd has Russell Silver Syndrome which affects her growth. A local estate agents has made in their mission to raise the one and a half thousand pounds needed to send Natasha and her family to the annual gathering of the Child Growth Foundation. They've done it by baking cakes as Samantha Parker reports.
Carlisle United have beaten Penrith 0-7 at Frenchfields Park.
FT Penrith 0 @officialcufc 7 Great effort and determination from the Bonny Blues who never stopped working the full 90 minutes. #bonnyblues
Penrith AFC mascot, Bradley Hodgson, who played for England's Mencap team in Switzerland in May, led the teams out: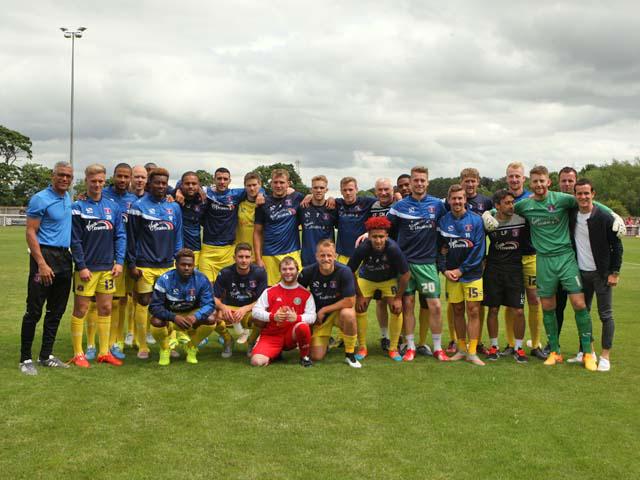 Penrith next play Kendal Town FC on July 21 at 7:30pm and Carlisle's first fixture for the 2015/16 season is Mansfield Town away on the August 8, with kick-off at 3pm.
A bodybuilder from Penrith who has cystic fibrosis has become the face of a major fitness brand.
Jonny Simpson, 28, used to weigh just 7 and a half stone before he transformed himself.
He still has to take up to 40 tablets a day for his condition, but says sport has turned his life around.
He's now the ambassador for fitness supplements company Fight Life UK.
They have been warned to expect lengthy jail sentences, for their part in an armed robbery at a shop in Penrith.
Read the full story ›
Advertisement
A cow on the loose in Penrith, which left a man with minor injuries, has been destroyed.
Police have confirmed the man was knocked down when he approached the animal on the A66.
The road's eastbound carriageway at Kemplay Bank Roundabout remains blocked, and there is congestion in the area.
A horse is continuing to recover at a vets in Penrith, after suffering horrific injuries following a brutal attack.
Eight-year-old Clydesdale mare Skye was impaled with a two-foot stake while in a paddock in the Whicham Valley in south Cumbria.
Police are appealing for witnesses.
The judge said the mistakes could have led to the spread of diseases like Bovine TB, and BSE.
Read the full story ›
The Great North Air Ambulance has opened its first fundraising office in Cumbria.
The Pride of Cumbria Air Ambulance has operated from its Langwathby base since 2004, but the new office in Penrith town centre will now serve as the hub for its fundraising in this county.
The Pride of Cumbria costs up to £2m a year to run and we rely on donations from the public to survive.

This small fundraising base in the heart of the area we serve will allow us to work towards safeguarding the future of the air ambulance.

We want to thank Penrith-based businesses Dream Doors, Arches Carpets, AST signs, Co-operative and Morrisons, as well as Carlisle-based businesses Monitor Systems, Tesco and Asda, who have all offered materials or labour free of charge."
– Stacy Hucker, GNAAS' public liaison manager in Cumbria
Around a dozen volunteers have already signed up, including retired joiner and lecturer Rod Bell, who was airlifted in 2009 after suffering a heart attack:
The air ambulance did a great job with me and ever since then I've been helping in any way I can.

It's been quite difficult with the charity based mainly in the North-East but now they have this Cumbrian office it's much easier for us to get involved.

I'll be here most Thursdays, all day, doing my bit."
– Rod Bell
Load more updates