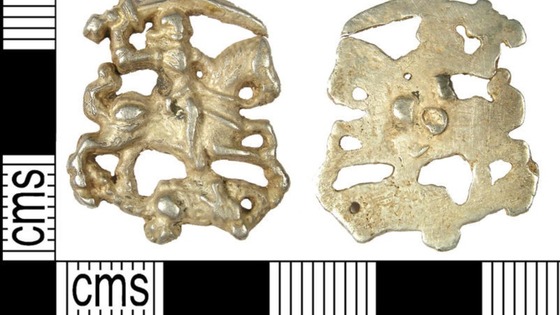 A medieval silver pilgrim badge has been found in a garden in Bolton, near Appleby.
The 15th century badge, commemorating St George, is now being held by The Friends of Penrith and Eden Museum.
Dr. Sydney Chapman is the Curator of the museum, he said:
"The badge has been valued at £400 by the Treasure Valuation Committee and thanks to the generosity of the Friends of the Museum it has been purchased and added to our current displays.
"The badge shows the Saint on horseback with a sword in his right hand raised above his head; beneath the feet of his horse lies the dragon.
"The cult of St. George flourished in England in the 15 Century in particular when pilgrims would visit St. George's Chapel at Windsor Castle, which held the relic of the Saint's heart."
People can now view the pilgrim badge for free at the Penrith and Eden Museum.