Police Scotland say there is no information to suggest hoax threats made to schools in Scotland are "terrorist related".
One of the schools that received a threatening telephone call was Dumfries High School.
Police Scotland, along with other forces across the UK, is investigating a series of malicious hoax threats made to 13 primary and secondary schools across the country today.

There is no information to suggest these threats were terrorist related. Police Scotland is working with other UK forces to investigate who is responsible and whether the incidents are linked.

We take hoaxes extremely seriously. They divert police resources and cause disruption and alarm to the public.

Anyone with information should contact Police Scotland on the 101. In an emergency always call 999.
– ACC Steve Johnson, Police Scotland
Police Scotland are asking people who own an air gun without a license, to hand in their weapons.
New legislation coming into force in December means it will be illegal to have an air weapon without a license.
There is a surrender campaign from Monday 23 May until Sunday 12 June, where people can surrender their unlicensed air weapons by handing them into designated police stations.
Advertisement
A number of German Second World War medals have been stolen in a house raid in Dumfries.
Thieves also made off with thousands of pounds worth of jewellery during the break-in at a house in Loganbarns Road some time between Monday 16th May and Wednesday 18th May.
Police are appealing for anybody with information to come forward.
"Here we have a second house this week broken into in the town while the occupants were away from home.

"Again, jewellery appears to have been the target for the thieves. We need the help of the public to help catch those responsible and I would urge anyone who has seen or heard anything suspicious to get in touch through the 101 number.
– Constable Scott McDowall, Police Scotland
The Lothians and Scottish Borders police division has welcomed Chief Superintendent Ivor Marshall as its new Divisional Commander.
Having the support of local communities is vitally important to our work so we will ensure that our values of integrity, fairness and respect sit at the heart of all that we do so that we maintain the trust and confidence of the people we serve."
– CS Ivor Marshall, Divisional Commander, Police Scotland
CS Marshall replaces Chief Superintendent Gillian Imery, who has taken up a post seconded to Her Majesty's Inspectorate of Constabulary Scotland.
Police in the Scottish Borders have charged two teenage boys following an act of wilful fireraising in Peebles.
At around 1.30pm on Saturday cardboard and other combustible materials were set alight in the Alexander Lucas Stand at Whitestone Park.
"This was an extremely disrespectful act which risked the safety of everyone within the grounds.

"I want to thank the public for their support during our enquiries and reassure the local community that behaviour such as this will not be tolerated."
– PC Barry Taylor of Peebles
"Deliberately set fires are dangerous; they waste time and money, and keep our crews away from real emergencies.

"Those who start these fires deliberately are not only wasting time and resources, they must remember it could be someone they know who may be in serious danger elsewhere, but firefighters have been delayed due to their actions.

"Whether the reason for starting fires deliberately is boredom, bravado or wanting to see the fire engine go past with its lights on, it doesn't matter, their actions could ultimately put lives in danger."
– David Farries, Scottish Fire and Rescue Service
The 13 and 14-year-old will be reported to the Children's Reporter.
UPDATE: Sarah has been since been found safe and well.
Police Scotland is searching for an elderly woman reported missing in the Scottish Borders.
Sarah Philips was last seen at around 7:30am on Saturday, May 14, near her home in Bonchester Bridge.
The 79-year-old is fit for her age and is believed may have walked into a rural area through fields or local forestry routes.
Specialist search teams including dog handlers and police helicopter are carrying out an extensive search in the vicinity in an effort to find Sarah as quickly as possible.
They are being aided by the Coastguard and by members of the Tweed Valley Mountain Rescue.
Sarah may appear confused or disorientated and police are growing increasingly concerned for her welfare.
She is described as 5'1''tall, with short white hair, of medium build and with blue eyes. As the time of her disappearance she was wearing a brown coat, short blue trousers, a red hat and tan coloured boots.
Sarah may appear very confused and concern for her is growing as time passes.
Anyone who may have seen her should contact police.
Advertisement
Three work vans have been broken into in the Scottish Borders with thousands of pounds worth of power tools stolen.
Police are appealing to the public to be vigilant after the thefts in Tweedbank and Melrose.
Ford Transit vans were targeted outside separate addresses on Honeylees Drive in Tweedbank and another address in Melrose sometime overnight between Thursday, April 7, and Friday, April 8.
Police say the power tools stolen were worth around £5,500.
Officers are appealing for anyone with information to come forward.
"Given the nature of these crimes and their close proximity it is highly likely that these incidents are linked.

"Today, I ask anyone with information that might help trace those responsible or who noticed any unusual behaviour around the time of these offences to come forward as soon as possible.

"Likewise, if you have been approached recently to buy second-hand power tools and are suspicious about where they came from then you should let us know.

"I would also ask all owners of Ford vans to review their security in light of these recent break-ins and make sure they have taken adequate steps to protect their vehicles.

"This includes parking in well lit areas and removing any high value items from within. If this is not possible then ensure that any valuable items are hidden from view. Thieves are opportunistic by their nature and are always looking for soft targets. By taking some straightforward preventative measures you reduce your chances of becoming a victim of crime."
– Inspector Mike Bennett, Police Scotland
Police Scotland have launched their annual public consultation, asking for feedback on the way their communities are policed.
It's the first year the consultation is being held online, which they say will help them reach a much wider audience.
Police Scotland say it will help them to focus on the priorities that matter most to the communities.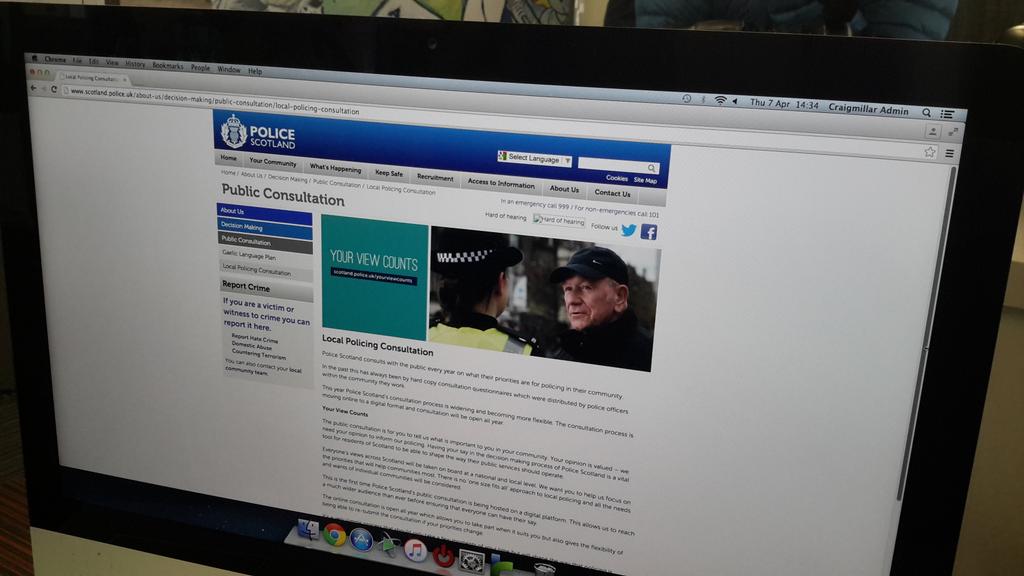 Police Scotland are appealing for witnesses after an 83-year-old woman was hit by a car on Moffat High Street.
The incident happened at around midday on Wednesday 6th April, when a black VW Polo was in collision with the woman outside the Bank of Scotland.
The woman was knocked to the ground, however was not injured and the driver of the car stopped at the time.
"We want to hear from anyone who may have witnessed this collision on Wednesday. They can call us at Moffat on the 101 number."
– Constable Terry Robertson, Police Scotland
Emergency services have been dealing with a road traffic collision on the A76 north of Dumfries.
A heavy goods vehicle has reportedly overturned and is blocking the road.
Sorry, this content isn't available on your device.
Load more updates