Two Police Dogs working for Cumbria Police have had a busy 24 hours.
Ozzy the Police Dog detained two suspects who had made off from patrols, following an incident on Tuesday evening.
A few hours later, fellow Police Dog Will managed to track a suspect who was hiding in a garden after fleeing from a stolen car.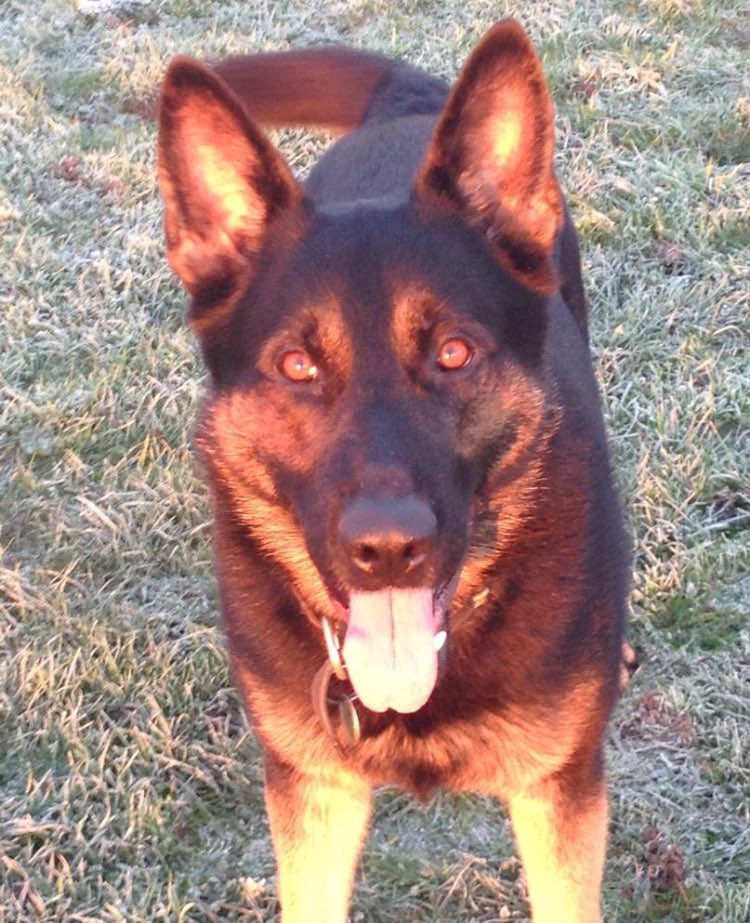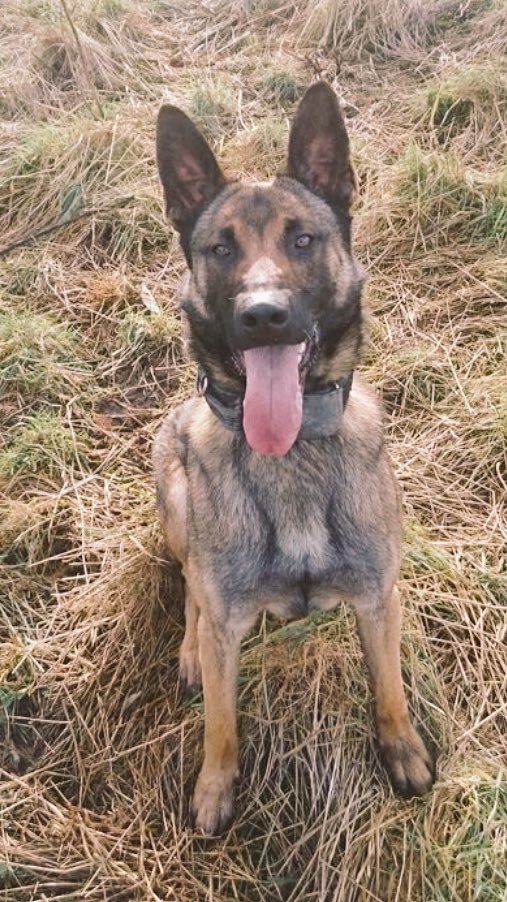 Advertisement
Police in the Scottish Borders are appealing for witnesses following a vandalism and assault in Hawick.
Three men were seen at around 3am yesterday damaging a number of cars in the Roxburghe Drive and Stirches Road area.
At around 3.50am a 20-year-old man was assaulted by two males while walking on Princes Street.
He sustained minor injuries and was treated at the scene by the Scottish Ambulance Service.
The two suspects were part of a larger group of 4-5 males, described as 16-17 years old.
One of the suspects is described as wearing grey joggers, and a dark-coloured shell suit style jacket. He had a line shaved into his hair on either the right or left hand side.
The group were last seen heading towards the old Waverly Walk.
"This was a completely unprovoked attack and there will be an increase in high visibility patrols in the local area over the coming days.

"We'd urge anyone with information about either the assault or the vandalisms, or who recognises the descriptions of the suspects, to get in touch as soon as possible."
– Sergeant Rachel Campbell, Police Scotland
Anyone with information is asked to contact Police Scotland on 101 or contact Crimestoppers anonymously on 0800 555 111.
Police in the Borders are appealing for information following a number of thefts from vans in the Galashiels area.
Read the full story ›
Police are appealing for information after three attempted knife-point robberies in Carlisle.
Between 8:30pm and 9:30pm on Saturday officers responded to incidents at Bargain Booze on Central Avenue, Peking Chef at Petteril Bank Road and Pizza Hut on London Road.
The offender allegedly entered the three premises and brandished a knife at staff demanding cash but fled the scenes empty handed.
He's described as being white, aged in his 20s and 5'9 to 6'0 tall.
"We take incidents of this nature very seriously and would like to reassure the public that a team of detectives are working on this."
– Cumbria Police spokesperson
Anyone with information regarding these incidents is asked to make contact with Carlisle CID via 101 quoting log number CP-20160305-0247 or call the independent charity Crimestoppers anonymously on 0800 555 111.
As the biggest celebration of the year is upon us, Cumbria Police remind party-goers not to start the New Year regretting their actions
Read the full story ›
Advertisement
Police are continuing to appeal for information following an alleged kidnap in west Cumbria.
The incident occurred on Monday 2nd November when a 41-year-old man from Egremont was bundled into the back of his own van after being flagged down by a male wearing a head torch, while travelling on Grove Road at around 6.45am.
The victim was tied up and transported in his own van from Grove Road to Mockerkin on an unknown route, arriving at Mockerkin after about an hour.
Police are appealing for information about the movements of the van - a white Citroen Relay High-Top van - on the day of the incident.
"We are still appealing for information from anyone who may have seen anything suspicious in the area; it was very foggy at the time of the incident. Any information, no matter how small it may seem, could prove vital for our investigation.

"I would also like to reassure the public that these type of incidents are extremely rare and we are doing everything we can to ascertain what has happened."
– Detective Sergeant James Mason of West Cumbria CID
The offender is described as being around 5 foot 7 inches tall, of slim athletic build, with dark cropped hair.
It's believed that another vehicle and possibly two other suspects might have been involved in loading the contents of the victim's van into another vehicle, at Mockerkin.
The offenders then left the van parked near to Mockerkin, with the victim in the back, and left the scene. At about 3pm the victim managed to turn the hazard warning lights of the van on. This may be recalled by someone who noted the vehicle being there.
He managed to free himself at around 8.45pm and got out of the van. He suffered minor injuries and was not threatened during the incident, but was left shocked and distressed.
Anyone with any information is asked to call Cumbria Police on 101 and ask to speak to an officer from North Cumbria CID or contact Crimestoppers anonymously on 0800 555 111.
Eight cars parked in Gretna were vandalised causing thousands of pounds of damage.
Police say the vehicles, parked in Central Avenue, had their paintwork damaged at various times of the day on Friday 6 November.
The cars included three BMWs, a Mercedes, a Fiat, A VW, a Peugeot and a Vauxhall Astra.
Police want to speak to anyone with information on who might be responsible.
"This is an absolute act of wanton vandalism for the sake of it. The cars in question were all parked along Central Avenue and whoever is responsible has caused damage which will run into thousands of pounds.

"I would encourage anyone who has any information which might help us identify those responsible to get in touch with us at Gretna on 101."
– PC Calum Benson, Police Scotland
Police are appealing for information after a big fight involving more than 15 people broke out in Seaton near Workington.
The incident occurred on Saturday 13 June at around 4pm on the bridge crossing over Main Road. Several people were left with injuries that required medical attention although none of the injuries were serious or life-threatening.
Two 16-year-old boys from Workington were arrested in connection with the fight and are on police bail while enquiries continue.
The incident is now being investigated as part of Operation Rodeo, a proactive policing operation aimed at tackling criminal activity in west Cumbria. The operation has a team of dedicated officers working to bring those responsible for disorder and crime to justice.
Police say 56 arrests of local people aged 13 to 40 have been made so far.
"We have made a significant number of arrests as part of Operation Rodeo, and the increase in crime we saw earlier this year has now been reversed by a robust police response. However, we are still actively investigating a number of incidents as part of the operation. I would urge local people to let us know of any information that could be of use to bring those responsible for the disorder in June to justice.

"The day in question was Seaton Carnival Day, so there will have been a number of people in the area who may have witnessed the disorder.

"All reports will be dealt with sensitively and professionally."
– Detective Inspector Dan St Quintin, Cumbria Police
Anyone with information should call Cumbria Police on 101, and ask to speak to West CID. People can also report completely anonymously via the independent charity Crimestoppers on 0800 555 111.
A 19-year-old man from Whitehaven has been sentenced today at Carlisle Crown Court to:
Two year supervision requirement
Curfew for three months
Sex offenders register for five years
Sexual Harm Prevention Order for five years
Court costs of £60
Callum Seth, of Parton, Whitehaven, pleaded guilty at an earlier hearing to three counts of inciting a boy under 13 to engage in sexual activity.
On the evening of Thursday 14 August 2014 Seth was playing football with three boys aged under 10 years old when he made each of the boys expose themselves and perform a sexual act in front of him.
Seth's behaviour was completely inexcusable, and I am pleased he has been brought before the courts to answer for his crime.

Protecting children in Cumbria is of the utmost importance to the Constabulary, and we work hard to bring those found to be abusing children to justice.

I would like to take this opportunity to thank the victims and their parents for the bravery in reporting Seth's actions to the police so that we could investigate.

I would urge anyone who has any concerns regarding inappropriate or abusive activity to get in touch – all reports will be dealt with sensitively and professionally."
– PC Annabel Scott
Anyone with concerns should call Cumbria Police on 101.
Load more updates