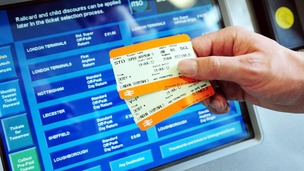 Unions describe 'Great Train Robbery' as rail fares increase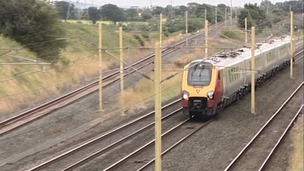 Unions warning of job losses and worsening service ahead of West Coast Mainline decision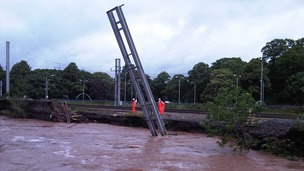 Disruptions on the West Coast Main Line after the tracks flood and a wall collapses
Live updates
Border Travel
RAIL: Northern rail, Cumbria- Delays
There are currently delays of up to 40 minutes on Northern Rail trains travelling between Carlisle and Skipton, due to snow at Garsdale.
Border Travel
RAIL: Carlisle to Preston-delays expected
Delays of up to 50 minutes can be expected on trains between Carlisle and Preston due to a signalling problem between Oxenholm Lake District and Penrith.
Advertisement
Rail Fare Hikes
Full Report: Rail fare hikes
There has been an angry reaction to the latest increase in rail fares.
Ticket prices have gone up by an average of 3.9% , meaning regular commuters will now have to shell out hundreds of pounds more, to travel the same distance.
Unions are calling it the Great Train Robbery, saying it's the 10th successive rise, above inflation.
Operators insist the extra money will allow them to improve the rail network.
Watch the full report from Hannah McNulty below.
Rail Fare Hikes
Campaign for Better Transport speaks out against rail fare rise
Stephen Joseph, the Chief Executive of the independent charity, the Campaign for Better Transport joined us in our London studio to discuss the rise in rail fares.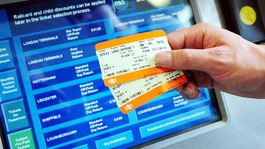 Rail Fare Hikes
Rail passengers hit by fare increase
Rail passengers are being hit in the pocket as inflation-busting fare rises take effect.
Regulated fares, which include season tickets, are increasing by an average of 4.2%, with the overall average rise for all tickets being 3.9%
Campaign groups have pointed out today's increase is the 10th successive above-inflation rise, with some rail season ticket holders seeing their fares rise by more than 50% in the last 10 years. Also, the TUC has said that fares have risen far faster than wages since the recession in 2008.
ScotRail fares will rise by 3.9%.
"We have worked hard to keep the increase down to a level that continues to offer value for money. At the same time, our approach enables us to continue to invest in improvements including more and faster services and better facilities atstations and on trains."
– ScotRail spokesperson
Advertisement
Border Travel
RAIL: NORTHERN RAIL- Carlisle to Hexham line obstructed
A replacement bus service is running on Northern Rail between Carlisle and Hexham due to an obstruction on the line at Haltwhistle.
All lines are blocked and journey times may be extended by 30 minutes.
Border Travel
RAIL: VIRGIN TRAINS, CUMBRIA
Delays of up to 45 minutes on Virgin Trains between Carlisle and Lancaster due to a broken down train at Penrith. A freight train has broken down.
Also affecting First Transpennine Express. There is currently no estimate for normal service.
RMT claim Government failures are costing taxpayers
Failures are costing taxpayer £451m: RMT claim
In the wake of the cancelled franchise for the West Coast Main Line, one leading rail union claims almost half of the existing franchises are now receiving public bailouts.
The RMT claim 8 of the 19 franchises are being subsidised by the taxpayer and are calling for the full renationalisation of the railways.
The union also claims that revenue support payments made to train companies has increased from £290 million a year to more than £450 million.
"The expensive shambles of rail franchising extends well beyond the fiasco on the West Coast mainline as these figures show that a majority of the UK's rail routes will soon be on corporate welfare due to a mixture of bogus train operator projections and government and departmental incompetence.

"Hundreds of millions of pounds that could go towards improving our railways or keeping down fares is being soaked up by this racket which is lining the pockets of the private rail companies at taxpayers' expense."
– Bob Crow RMT General Secretary

The Department for Transport has suspended 3 members of staff over flaws in the franchise bidding process for the West Coast Main Line. A full investigation is now taking place and department officials are declining to make any other comments.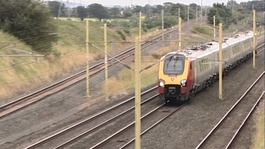 Unions warning of job losses and worsening service ahead of West Coast Mainline decision
Read the full story
Load more updates
Back to top