A diving inspection has revealed the bridge is unsupported at one end after discovering a one metre deep hole in the foundations.
Read the full story ›
Lamington Viaduct has suffered further structural damage from bad weather meaning that it will not reopen until the first week of March, 2016.
Alternative routes are in place along the West Coast mainline and they will add 1 hour extra travel time to journeys.
The viaduct has been closed since December when it was severely damaged by Storm Frank in December.
Advertisement
The Met Office has issued a yellow weather warning for rain in Cumbria. The rain is not expected to be heavy, but it is falling on already saturated ground, following storms in December.
It follows yellow warnings for snow, ice and frozen slush across Dumfries and Galloway, the Scottish Borders and Cumbria last night.
"Rain is expected to move northwards across northern England on Saturday night. This will quickly clear northwards on Sunday morning, although some showers will persist, especially in the west."
– The Met Office
People in Cumbria should be aware of further localised flooding and disruption to travel.
Heavy snow has led to traffic disruption in the south of Scotland.
One of the worst affected towns has been Hawick, with major delays on all of the routes into and out of the town.
Police were called to many roads to help vehicles that had become stuck, and as you can see from this footage, filmed in Hawick, driving conditions are very difficult:
Snow has been falling in towns across Dumfries and Galloway and the Scottish Borders.
Watch as it settled in Melrose:
Find out about the latest road closures in the Border region, as heavy snow falls in the south of Scotland.
Read the full story ›
Advertisement
Traffic Scotland are warning people to avoid some roads in Dumfries and Galloway and the Scottish Borders, due to heavy snow:
⚠❄*Snow - AVOID*⚠❄ #A7 Galashiels-Hawick *IMPASSABLE* #A68 Earlston-Carter Bar *IMPASSABLE* Apologies for wrong spelling! #FridayFauxPas
Dumfries and Galloway Police say Nithsdale Police have been working to help vehicles stuck on their side of the A76: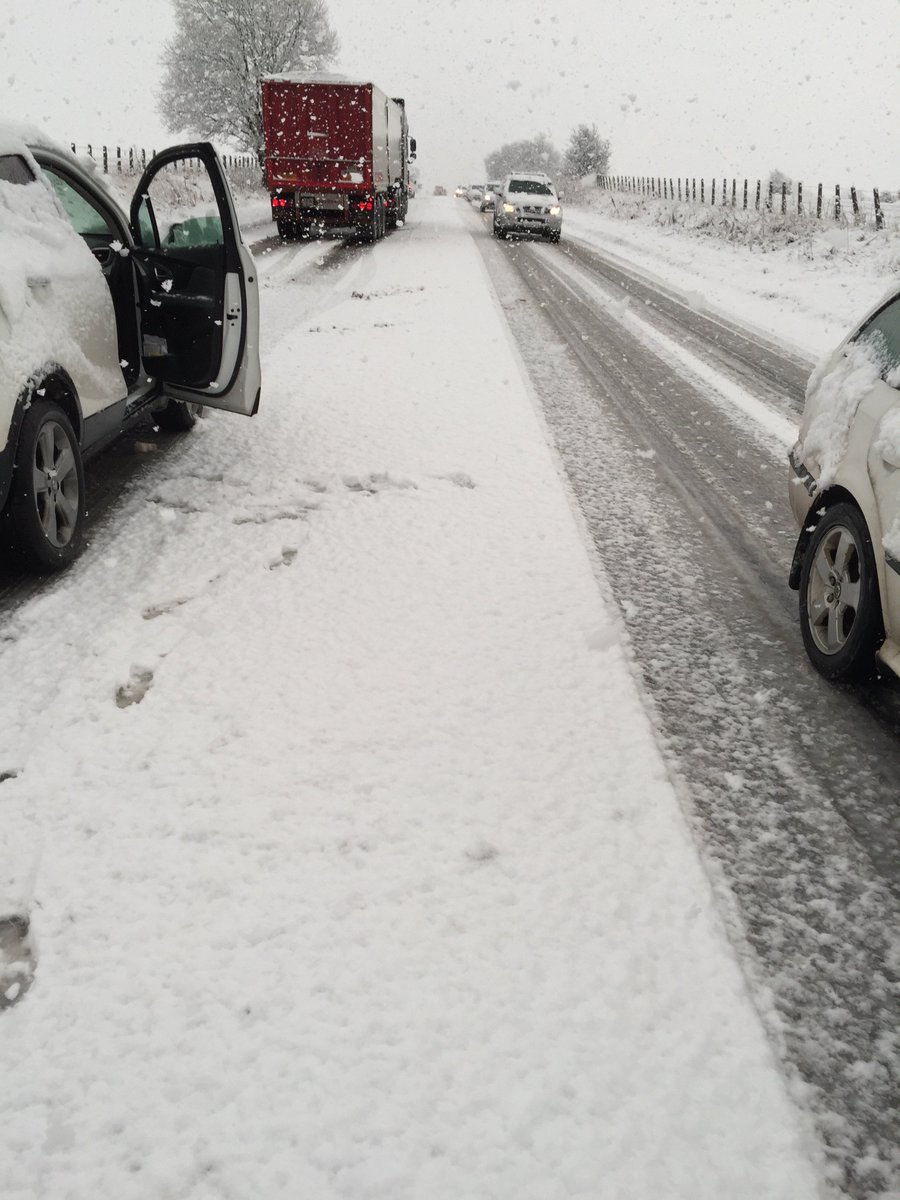 There have also been delays in the St Boswells and Ancrum areas:
A68 A699 St Boswells - B6400 Ancrum - Closure, All lanes closed in both directions for up to 60... has been cleared. #TSIncident
Snow is causing traffic delays, and making some roads in the south of Scotland impassable.
The following images have been released by Traffic Scotland:
Train journeys between Carlisle and Newcastle will be delayed for several weeks, after a second landslip on the railway line.
Read the full story ›
The A7 has been closed south of Selkirk to Hawick, due to a jackknifed lorry.
There has been other disruption due to the previous month's flooding, and heavy snow today.
The following other roads have also been closed:
Tweeddale:
Tweeddale - B709 Granites Road (north of golf course) - due to flooding
A7 south of Selkirk to Hawick - due to jackknife lorry. Police in attendance
B6359 Cavers Carre/Clarilaw - due to flooding
B6401 Morebattle to Eckford at Caverton Mill - due to flooding
B6357 south of Bonchester Bridge - heavy snow, vehicles on road. Police attending.
D25/3 Haysike Bridge – closed due to structural damage
C61 Primsidemill to Sourhope - local access only
Load more updates