Our cameras captured thousands of starlings on an electricity pylon in Workington.
A spokesperson for the RSPB said a lot about starlings and their activity is still a bit of a mystery, but resting on the pylon before they go to roost probably serves some sort of social function and is part of their daily routine before they settle down for the night.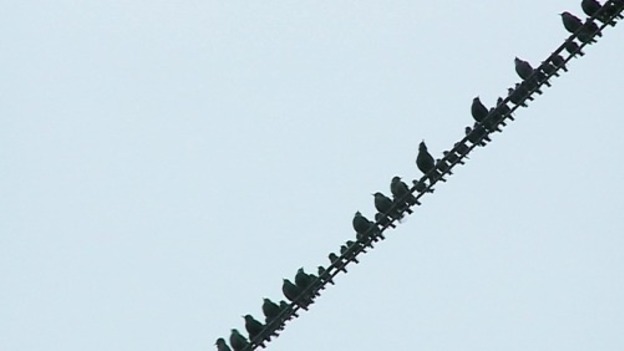 Our cameras captured thousands of starlings on an electricity pylon in Workington. The birds swooping in as dusk fell on Tuesday evening (11th November).
Locals on the Northside estate say the birds rest there every night before heading to the nearby Siddick nature reserve.
Advertisement
People across the region are being encouraged to do more to help garden birds.
The RSPB is launching a campaign called 'Give Nature a Home' which encourages people to put food out more food for them.
The numbers of many garden birds are continuing to fall.
Chris Collett from the RSPB was in the Lookaround studio earlier today to discuss the latest Big Garden Birdwatch results:
The RSPB's annual Big Garden Birdwatch results are in.
Almost 5,000 Cumbrians took part in the national study which looks to monitor bird populations across the UK.
The top ten most spotted birds in our region are:
Number 1 - House Sparrow
Number 2 - Chaffinch
Number 3 - Blue tit
Number 4 - Blackbird
Number 5 - Great tit
Number 6 - Goldfinch
Number 7 - Starling
Number 8 - Coal tit
Number 9 - Jackdaw
Number 10 - Robin
Advertisement
Hill walkers in Cumbria are being asked to keep their eyes open for England's most endangered bird of prey.
The Royal Society for the Protection of Birds has relaunched it's Hen Harrier Hotline in the hope of discovering where the birds breed.
You can visit the RSPB for more information here.
The country's biggest conservation charity is about to launch the WORLD's most extensive survey of garden wildlife.
The RSPB wants to hear from people spotting wild creatures in their neighbourhoods.
One of the RSPB sites playing a key role is at Geltsdale in Cumbria.
Ryan Dollard reports .
For people living in built up areas or those looking to get out into the wider countryside the RSPB are organising events over the weekend of the 25th-26th of January.
Visitors to Whinlatter Visitor Centre in Keswick and Grizedale Visitor Centre in Ambleside on those days will be able to take part in the Big Garden Birdwatch there as well as learning how to attract more wildlife into their gardens and how to identify the wildlife they see in them.
There will also be an event at Leighton Moss on the 18-19 of January.
You can register to take part in Big Garden Birdwatch 2014 and find out more information about events near you at www.rspb.org.uk/birdwatch or call 0300 456 8330.
Load more updates