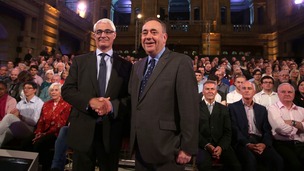 Pro-UK campaign call on 'silent majority' to speak up as poll shows that public opinion may be changing.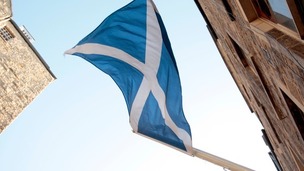 With just a few weeks to go until the Scottish independence referendum takes place, here are some key facts about the vote.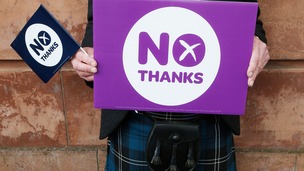 How the 'No' campaign plans to win the independence referendum
Live updates
David Cameron says he can be trusted to deliver more powers for Scotland if there's a "No" vote in the referendum. The Prime Minister was speaking on the second day of his visit north of the border.
Alex Salmond was also on the campaign trail today, arguing independence would transform childcare and save families up to £5000 a year. Kathryn Samson reports.
Farmers face low grain prices despite good harvest
Despite high yields in the South of Scotland, the National Farmers Union says producers are struggling to make a profit due to a fall in market prices.
Our Borders reporter Jenny Longden has been at a farm near Duns to find out, what it may mean to farmers, and ultimately consumers.
Well earlier Ian Payne spoke to Andy Hindhaugh, who sells crops for a living. He began by asking him to explain why, if it has been a good harvest, can it be a bad year for farmers?
Advertisement
Farmers face low grain prices despite good harvest
Farmers say that despite a bumper yield during harvesting time this year, they are being paid much less for the grain they produce.
Farmers across the region are being paid up to £100 less per tonne on last year, for grains including wheat, oats and barley.
The approximate grain prices for 2013 to 2014 are:
Winter Barley: -£50 per tonne
Oil Seed Rape: -£100 per tonne
Malting Barley: -£100 per tonne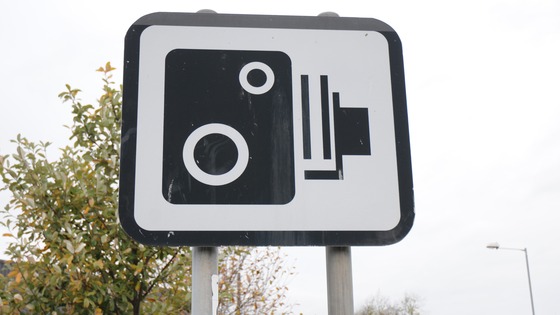 70 drivers have been stopped in a new scheme which is encouraging drivers to exercise more caution around schools.
Speed checks are being carried out outside 20 primary schools across Lothians and the Borders. Since the scheme began on the 19th August, 70 drivers have been stopped for offences including speeding and dangerous parking.
Police hope this will encourage drivers to slow down and park considerately.
Farmers face low grain prices despite good harvest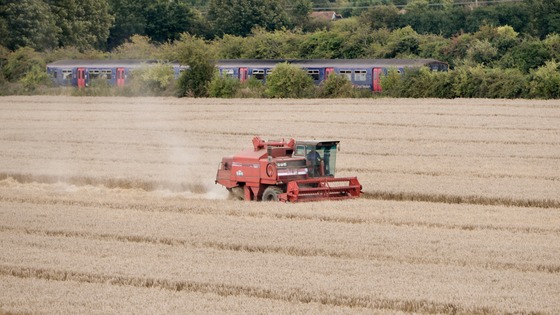 Farmers in southern Scotland are facing one of the best harvests in recent years, but are struggling for grain prices.
The warm weather through the summer has meant farmers don't need to pay for drying costs but the good yield is driving prices down at market.
Watch Representing Border
The latest episode of ITV Border's Scottish political programme, Representing Border, looks at the issues from Holyrood and Westminster that matter to the South of Scotland.
Advertisement
Cameron: Union supports 1m jobs for Scottish workers
Both sides in the referendum campaign are claiming that David Cameron's visit to Scotland will boost their cause.
The SNP believe his appearance north of the Border helps win votes for the 'yes' side. But Better Together's leader insists it will boost the case for a 'no' vote.
Alistair Darling says any voice making a powerful case for the Union is welcome in the run-up to September the 18th.
Answering questions on the key issues ahead of September's vote, Mr Darling told our Scotland political editor, Peter MacMahon, a referendum was different from a general election:
Cameron: Union supports 1m jobs for Scottish workers
David Cameron has spent the day in Scotland campaigning for a 'no' vote in September's independence referendum. Later this evening, the Prime Minister is expected to say the UK is one of the world's 'oldest and most successful single markets'.
But Alex Salmond has accused him of 'tinkering' with an exit from another single market: the European Union. Joe Pike reports: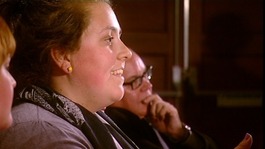 Cameron: Union supports 1m jobs for Scottish workers
The Prime Minister David Cameron will address the business organisation CBI Scotland's annual dinner in Glasgow.
Cameron is expected to tell business leaders that the UK supports one million Scottish jobs whilst making his case for the country to remain in the Union.
It comes the day after a group of 200 business leaders signed an open letter expressing their support for a 'Yes' vote in the Scottish independence referendum.
First Minister Alex Salmond was asked what an independent Scotland could offer businesses that can't be offered currently:
Load more updates
Back to top