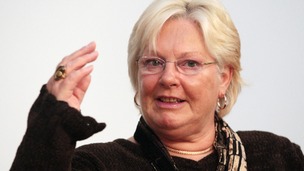 ITV Border's Political Editor Peter MacMahon pays tribute to MSP Margo MacDonald who died earlier today.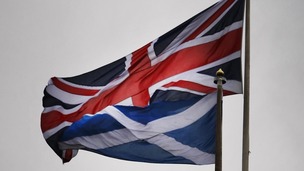 When is a White Paper not a White Paper? When it is a Scottish Government White Paper. Or so say the opponents of independence.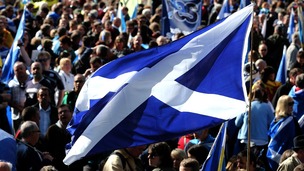 ITV Border's Political Editor Peter MacMahon talks about the announcement that will outline what independence will mean for Scotland.
Live updates
A lawyer from Dumfries who now lives in London is considering a legal challenge to the Scottish Government, over the terms of the referendum on independence.
James Wallace is one of more than a million people who were born in Scotland, but because they don't live in the country, will not be able to vote on whether Scotland remains part of the UK.
He says it's fundamentally unfair. The Scottish Government disagrees.
Earlier Pam Royle spoke to James from ITV Border's studios in London and asked him why he thinks he has a strong enough case to challenge this.
The man appointed to oversee the transformation of Scotland's dairy industry says he's looking forward the challenge.
Entrepreneur Paul Grant will head a group specifically set up to help the industry expand into international markets. It's hoped Scottish dairy products can be as successful abroad as smoked salmon and whisky.
Advertisement
The man appointed to oversee the transformation of the dairy industry in Scotland says he's thrilled to be given the chance to turn around its fortunes.
Entrepreneur Paul Grant will look at exploring new markets for dairy producers to expand into.
Although he has no previous connection with the dairy industry, he says he hopes his experiences in bringing his own jam and marmalade company, Mackays to the world market.
The task force was put together after a recommendation from a report last year.
It's hoped Mr Grant can market Scottish dairy products the same way smoked salmon and whisky have been
World Championship Ice Hockey in Dumfries
World Championship Ice Hockey is returning to Dumfries.
The Ice Bowl will play host to the Men's Under 18s World Championship in March.
The tournament will see countries including Great Britain, Croatia, Korea, Lithuania and the Netherlands compete over a six day period between 24 and 30 of March.
Dumfries and Galloway Council's Ice Hockey Development Officer Martin Grubb has been confirmed as the Head Coach for the national team.
The most recent International Ice Hockey Federation championship to take place in Dumfries, the Under 20s Category 1B tournament in December 2013, was hailed as a superb success by organisers.
The Scottish Government has announced a £30m fund to build new train stations throughout the country, including in our region.
The plans include proposals to refurbish Stranraer station, as well as opening a new station at Thornhill and Eastriggs.
The Scottish First Minister Alex Salmond is expected to go into more detail later today about the small print of Scottish independence.
He'll be speaking at Holyrood about proposed changes to childcare should Scotland vote yes in September.
Advertisement
Scotland's Deputy First Minister has called on pro Union campaigners to set out in detail what a 'No' vote in the Independence Referendum would mean for the country.
Nicola Sturgeon says the Scottish Government has made a compelling case for independence.
She challenged Unionists to respond with a competing vision.
Our Political Editor Peter MacMahon has the details.
Firefighters in southern Scotland will continue their overtime ban in support of colleagues south of the border who are in a dispute with the Government over pensions.
They will operate a second period of work to rule from 7pm tonight until 7pm on Sunday
A report on Scotland's high streets has found that many are in crisis - while others are thriving.
The Local Data Company, working with Stirling University, says that some towns in our region are doing well to survive the tough economic climate, but need to do more to fill vacant shops.
World Championship Ice Hockey in Dumfries
Dumfries is celebrating after a successful ice hockey championship helped the town financially.
The Under 20s World Championship was held at the Dumfries Ice Bowl last week.
Figures now show that over £100,000 was spent on accommodation alone during the event.
Fiona McIlwraith reports.
Load more updates
Back to top