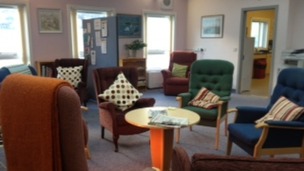 Concerns for future of Borders only disability centre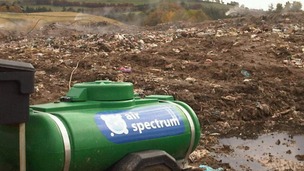 Scottish Borders Council have hired a giant air freshener to combat unpleasant smells leaking from a rubbish dump.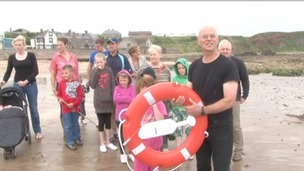 Teenager is still recovering in hospital after being swept out to sea
Live updates
Councillor Nathaniel Buckingham, who represents the Tweeddale West ward, has announced his resignation from Scottish Borders Council (SBC).
Councillor Buckingham, who is a member of the Scottish Conservative and Unionist Party, became a Councillor in May 2012 and will stand down from his position on Monday 29th July.
"In recent weeks it has become clear to me that I am not able to effectively balance the competing commitments of a young family, my work and my Council responsibilities and therefore it is with regret that I am standing down from my position as Councillor for Tweeddale West.

"Since being elected in May 2012 I have put a great amount of time and energy into the role, which I have found to be all consuming.
"I have also continued my professional career and despite trialling different working arrangements, I have been unable to find a balance that does justice to any of my commitments: my family; my career; or my constituents.

"I truly appreciate all the support that has been offered to me over the last eighteen months. Having stood for election in good faith and with an enthusiasm for what I would bring to the position, this is not a decision that I have taken lightly.
– Councillor Buckingham
Contractor appointed for Kelso redevelopment
The existing public toilet block will be demolished and a three storey building constructed to replace the property which was lost over half a century ago.
Councillor Ron Smith, Executive Member for Planning and Environment, said:
"Reinstating the streetscape in Kelso is considered a key heritage objective and I welcome the appointment of M & J Ballantyne, which will allow the work to start. This project is considered a priority and will bring a range of social and economic benefits to Kelso's residents, businesses and visitors."
– Councillor Ron Smith, Scottish Borders Council

The new development will provide public toilets as well as bus shelters. A digital Tourist Information Point will be installed near Woodmarket.

It is anticipated that the project will start in May and will take around 40 weeks to complete.
Advertisement
There are doubts over the future of Europe's oldest surviving iron-chain suspension bridge, the Union Chain Bridge.
The bridge, which spans almost 130 metres over the River Tweed is in need of repair, and both the Scottish Borders and Northumberland Councils are considering shutting the bridge for good, if funding cannot be found.
An estimated £4.7million is needed to repair the damage to the bridge, which was built in 1820, with the intention of strengthening ties between Scotland and England.
"Northumberland County Council is the lead authority for the Union Chain Bridge. However we have a joint responsibility, and are working together to develop options to allow the refurbishment of the bridge to take place.

"The bridge will require a new chain suspension hanger system to be developed and fitted; substantial deck replacement; upgrading of the existing parapets; and totally repainted. The estimated cost of the repairs is £4.7million.

"If the councils were unable to raise the required funding it is likely that a phased closure would be implemented."
– Spokesperson, Scottish Borders Council
Local Scottish council budget cuts
Before the Scottish Borders Council's budget was passed, the Borders Conservative group presented it's own alternative budget.
In the budget, the party outlined plans to save £11 million, including an end to the no-compulsory redundancy policy and a cut-back on early-retirement pay-offs.
"We brought forward an alternative budget, because we wanted to scrutinise the council's budget, and we found there were a couple of things that were missing or needed adding.

"We are very concerned that they are cutting the early intervention and prevention for young people, through the children's young people and planning partnership.

"We were also concerned that they are getting rid of the wardens before we felt we had a chance to really look at what we could do with the service, and we don't want to see an increase to primary school meals."
– Councillor Michelle Ballantyne, Conservative Group Leader

The Scottish Borders Council's budget was approved by 20 votes to 10.
Local Scottish council budget cuts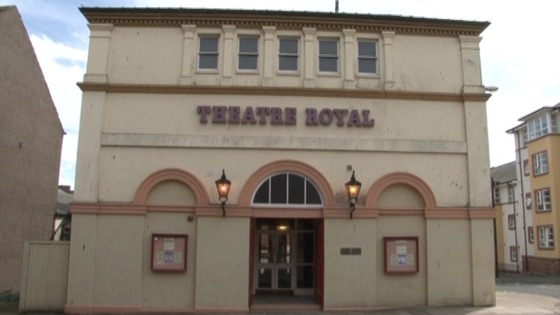 The leader of Dumfries and Galloway Council, Ivor Hyslop, has invited the Theatre Royal in Dumfries to discuss potential funding of £450,000, to help redevelop the historic property.
The invitation comes after the council approved the budget for the next financial year.
Local Scottish council budget cuts
"The Administration's budget, supported by Independent Councillors, strikes the right balance between making the savings we have to and, at the same time, continuing to invest in our region.

"I am pleased that we have been able to put together a targeted package of measures to support the region's small businesses.

"We have also allocated £1 million of extra funding to roads maintenance, concentrating on rural lifeline links and urban housing estates, which we intend will be made available to local contractors. We have also removed altogether the charges for music tuition."
– Councillor Ivor Hyslop, Leader, Dumfries and Galloway Council
"In today's budget we increased the Living Wage to £7.50 an hour and continue to avoid compulsory redundancies. In total, as a result of today's decision, the Council is devoting £1.6 million to addressing the pressures caused by welfare reform.

"We are also continuing to invest in early intervention, targeting more support at our most vulnerable children and school clusters. We are continuing with the successful teacher refresh scheme and have maintained classroom assistants where they are most needed.

"This budget balances the need to make savings with the need to invest in our region."
– Councillor Collins, Depute Leader, Dumfries and Galloway Council
Advertisement
Local Scottish council budget cuts
Dumfries and Galloway Council has agreed on the budget for the coming financial year.
The proposals, which were backed by Independent Councillors, include:
Investment in roads infrastructure and small business support
Expansion of the Council's graduate and apprenticeship schemes
Increase the Living Wage to £7.50 an hour
Avoid compulsory redundancies
The council say additional money allocated in today's budget takes the amount of funding allocated to addressing Welfare Reform to £1.6 million.
Local Scottish council budget cuts
"Today Council approved the Administration's five year revenue and 10 year capital funding proposals.

" Although it is a difficult economic climate with more demands placed on the Council than ever before, our financial proposals do allow us to continue to invest in high quality well run public services throughout the Borders.

"Once again we are able to freeze the council tax for the 6th year in a row and continue to deliver a significant but sustainable programme of transformation of council services."
– Councillor David Parker, Leader of Scottish Borders Council
"The Administration's budget agreed today is robust and affordable, and at its core protectsthe key service areas which are important to people in the Borders.

"Although the Council has a budget of around £250million we cannot meet every need and expectation, so it is important to focus on services which we are statutorily required to deliver, and deliver them to the highest possible standard.

"For example, we have provided additional funding of £1.3million for Social Work to ensure that we meet the needs of our growing elderly population, and give them the care that they deserve."
– Councillor Catriona Bhatia, Depute Leader, Scottish Borders Council
Local Scottish council budget cuts
A number of measures were proposed and approved in December 2012 by the Scottish Borders Council in a bid to reduce a £3.8 million funding gap in 2013/14.
These measures included:
A review of the Social Emotional and Behavioural Need Service (SEBN)
A review of social work business support services delivery model; all Social Care & Health Specialist Support Services and Social Work night-time support service
A review of the SB Wardens Service with the proposal to cease theservice by 2014/15
A review of Early Years delivery model as part of the implementation of the '600 hours' pre-school care and education package as part of the Children's Bill
The council have said that a number of further savings have now been agreed.
These include:
Changes to terms and conditions for staf
The development of an integrated waste strategy
A review of the school estate
Further integration of children's services
Local Scottish council budget cuts
Highlights of the 10 year capital budget plans include:
£51m Investment in roads, lighting and bridges - including£5m to upgrade street lighting with modern energy efficient lamps
Flood protection schemes - £10.4m including Galashiels and the Skip Running Burn in Jedburgh.
Waste management - £5.9m
New Kelso High School - £18.5m
Improved sports facilities at Peebles High School - £4.3m
New synthetic sports pitch in Selkirk - £0.9m in 2015/16
Investment of £8.4m in broadband
£3.6m to be invested in social work property
£0.05m per annum to be invested in play facilities across the Borders
£3.2m, largely funded by the Heritage Lottery Fund, to redevelop Wilton Lodge Park in Hawick
£4.4m for new computers in schools
£0.05m to help prevent falls in older people's homes.
Load more updates
Back to top