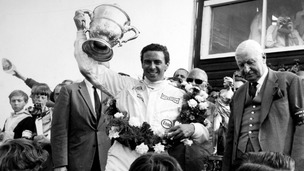 The Scottish Borders village of Duns has been celebrating the 50th anniversary of Jim Clark's Formula One World Championship victory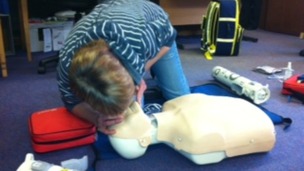 First Responders help with emergencies in the community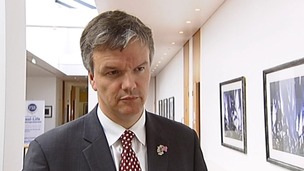 Scottish Secretary Michael Moore has used a speech in Washington to highlight the importance of the Borders cashmere industry.
Live updates
Full Report: Medieval sport taught in Scottish Borders
The common ridings are already a firm fixture on the calendar in the Scottish Borders each year.
Now, horse riding fans hope to introduce a new event to the region, that has its roots in history. 'Tilting-on-the-ring' is a form of jousting.
This week, experts from Denmark have travelled to the Scottish Borders to show how it's done.
Scottish Borders may be left with one Sheriff Court
The Borders could end up with just one Sheriff Court.
New 'justice centres' could see all court business moved under one roof, according to the Chief Executive of the Scottish Court Service Eric McQueen.
Under questioning from MSP Christine Grahame, he told Holyrood's Justice Committee that Galashiels would make a good location for a central hub.
It comes after the Scottish Government announced plans to close Sheriff Courts in Duns, Peebles and Kirkcudbright in Dumfries and Galloway.
Advertisement
Remains found in Scottish Borders identified
Police in Scotland have now confirmed the identity of a man whose remains were discovered in the Scottish Borders last month as Colin Law from Gordon.
Mr Law was 19-years-old when he was reported as a missing person in May 1999.
His remains were discovered within a wooded area, near Gordon, on Wednesday 21 April.
Police are not treating the circumstances surrounding his death as suspicious and a report has been sent to the Procurator Fiscal.
In a brief statement issued through Police Scotland, Colin's mother said:
"Colin, I will miss you everyday for the rest of my life."
– Mother of Colin Law
Borders schools countryside day
1300 pupils invited to Borders Schools Countryside Day
An event to showcase all aspects of country living - including farming, animals and food production, traditional countryside skills and pursuits - is being put on for all Primary Five aged children in the Scottish Borders.
The event, which is the first of its kind in Scotland, is being put on by the Border Union Agricultural Society - with help from the Scottish Borders Council and local Co-operative farms.
"This event is a major undertaking and we are set to welcome over 1300 pupils and their teachers all on the same day and offer them an educational insight into the amazing diversity of the countryside.

"The children will have the chance to take part in activities such as haggis making and egg grading, see sheep dogs and farriers at work, witness a host of countryside skills demonstrations, and meet representatives from 50 different organisations all linked to the area we live in.
"It is a key element of our bicentenary events programme as we endeavor to ensure our celebrations create a lasting legacy for future generations."
– Ron Wilson, Secretary of the BUAS
"This is an incredible opportunity for children in the Scottish Borders to learn about and engage with the countryside.

"The Show fits with a number of aspects of the curriculum so has a valuable educational element as well as providing the children with what I am sure will be an exceptionally enjoyable day out."
– Sandy Aitchison, Executive Member for Education at Scottish Borders Council
Borders schools countryside day
Spectacular countryside showcase for Borders pupils
Over a thousand school children from schools across the Scottish Borders are set to attend the first ever Schools Countryside Day, which is being put on by the Border Union Agricultural Society.
All primary five aged pupils at school in the borders, amounting to 1300 in total, are expected to attend the event on 21 May.
The event is the first of its kind and is designed specifically for children and to provide an insight into all aspects of country living.
Border court closures proposals
Court closure plans up for discussion
Plans to restructure the court service in Scotland are to come under scrutiny from the Scottish Parliament's Justice committee.
The cost cutting proposals include the closure of sheriff courts in Duns, Kirkcudbright, and Peebles.
There are also proposals to close the Justice of the Peace court in Annan.
Advertisement
Scottish Borders Schools Countryside Day
Around 1300 children from across the Scottish Borders are taking part in the first ever Schools Countryside Day.
The event has been organised by the Borders Union Agricultural Society as part of its 2013 bicentenary celebrations.
Children will be given an insight into different aspects of countryside living, including farming, animal and food production and traditional skills.
There will be more than 50 exhibitors at the Borders agricultural showground in Kelso, along with a marquee filled with animals and displays.
Weather warning for Scottish Borders
People in the Scottish Borders are being warned to prepare for thunderstorms and heavy downpours from 2pm today, with a risk of flash flooding.
The Met Office has issued an Amber (be prepared) warning, and forecast that between 20mm and 30mm of rain may fall in just one hour.
The area could also see half of the usual monthly rainfall falling in just 2-3 hours.
There is also a Yellow (be aware) warning for the whole of the region until 11pm.
Travel disruption should be expected, due to difficult driving conditions caused by surface water.
"The public should be prepared for the risk of localised flash flooding, particularly where these thunderstorms occur in urbanised areas.

"Motorists could also face problems due to the intensity of the rain and the risk of surface water on the roads.

"We would encourage them to think carefully about whether they need to travel when the weather is at its worst from mid afternoon, into the evening.
"We have already put plans in place to help the area cope and our services are ready for these Amber and Yellow weather warning periods.

"Staff will be checking grills on river culverts across the region to make sure there are no blockages, which would lead to a greater flood risk.

"We are also contacting areas with Resilient Communities plans in place to activate these where appropriate to help minimise the risk of the storms and heavy rain."
– Rob Dickson, Director of Environment and Infrastructure, Scottish Borders Council

To keep up-to-date with the latest weather warnings visit the Met Office website here.

For flooding advice and information for the Scottish Borders click here.
Border court closures proposals
Campaigners call for justice to "remain local"
Jim Hume MSP and Councillor Catriona Bhatia explain why they want to see court services in Peebles retained:
Border court closures proposals
Court closure protest in Peebles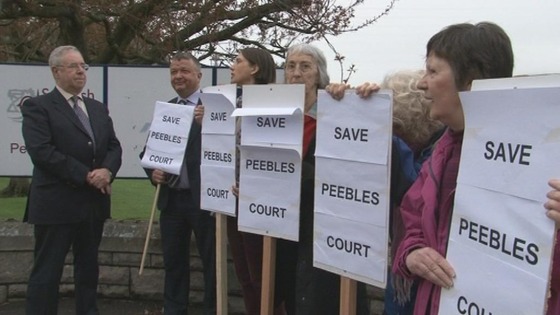 Campaigners against plans to close Peebles Sheriff Court have held a demonstration outside the court.
Liberal Democrat MSP Jim Hume was joined by councillor Catriona Bhatia and members of the public to show their support for keeping the court open.
The Scottish Government has approved plans to close 10 courts, including Peebles and Duns, in a bid to save money.
The Scottish Justice committee has called for submissions on the issue by tomorrow (21st May).
Load more updates
Back to top