Dumfries and Galloway could get four new railway stations, and see Stranraer station redeveloped, if the Scottish Government agrees to pay for it.
The council decided today that it would put in a bid to get a slice of a £30m pot, which has been set aside to redevelop railways throughout the country.
If successful, Stranraer would be refurbished and new stations would be built at Thornhill, Eastriggs, Dunragit-Glenluce and Beattock.
The council says they would be built in that order - based on the greatest need - as passenger numbers continue to grow in Southern Scotland.
At Thornhill, a train hasn't stopped at the station since 1965, but locals believe it could be a real boost to the town.
The Scottish Government has announced a £30m fund to build new train stations throughout the country.
Councillors are meeting in Dumfries to decide whether to bid for the money to build the new stations.
Advertisement
The Scottish Government has announced a £30m fund to build new train stations throughout the country.
Thornhill, Eastriggs and Stranraer are among the stations that could benefit under the plans.
Councillors are meeting in Dumfries to decide whether to bid for the money needed to build the new stations.
The Scottish Government has announced a £30m fund to build new train stations throughout the country, including in our region.
The plans include proposals to refurbish Stranraer station, as well as opening a new station at Thornhill and Eastriggs.
South African flag flying at half-mast alongside the Saltire outside Scottish Government headquarters http://t.co/B3D7S5Ar4G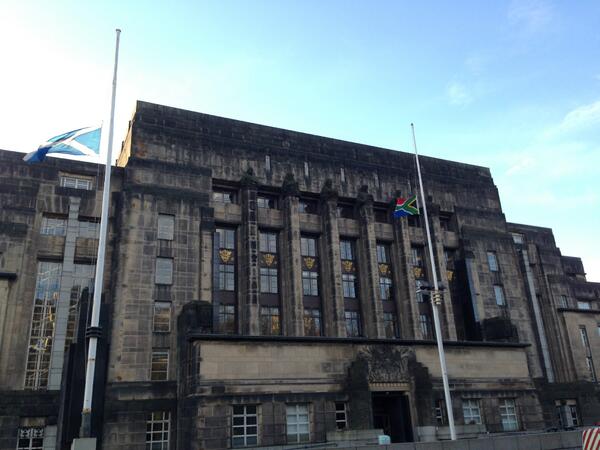 First Minister Alex Salmond said:
"The death of Nelson Mandela marks the passing of a great statesman and a global icon, so it is only appropriate that we here in Scotland, a land Mr Mandela had great affinity with, mark his passing appropriately.
"That is why I have today instructed that the South African national flag should fly at half-mast alongside the Saltire outside St Andrew's House in Edinburgh.
"The whole world is marking the loss of a great leader – all of Scotland feels that loss, and we join the people of South Africa in particular in marking Mr Mandela's passing."
A new paper setting out how the Scottish Government thinks pensions would operate after independence will be launched this morning. Deputy First Minister Nicola Sturgeon is visiting a sheltered housing complex to make the announcement.
Advertisement
MSPs are set to debate the legislation that will allow the independence referendum to happen next year.
The Scottish Independence Referendum Bill sets out the date and the procedures that need to be followed.
The Referendum Bill Committee has backed the general principles of the legislation.
Politicians in Dumfries and Galloway are worried about the "worryingly low" registration rate for fibre-optic broadband.
The Scottish Government has asked people in south-west Scotland to register their interest for the services.
Dumfries and Galloway MP Russell Brown is warning people that unless they make their voices heard, the region will be one of the last areas to receive the upgrade.
A new television and advert campaign aimed at highlighting the help available for people struggling with debt, has been launched by the Scottish Government.
The Debt Arrangement Scheme (DAS) is an initiative which helps people to pay back their debts over a reasonable period of time, based on the amount they owe and their current financial position.
DAS stops creditors using debt enforcement action and safeguards people's homes- as long as they keep up mortgage repayments.
Recent changes to the scheme means it also now freezes interest, fees and charges to prevent debts mounting up.
"The Scottish Government continues to take action, where it can, to address these problems and introduce measures to help those people in Scotland who are struggling under the burden of debt.

"The Debt Arrangement Scheme is the only government-backed scheme to help people pay back their debts in a dignified way, protecting them from the threat of action by their creditors.

"Our aim with this campaign is to raise awareness of DAS which helps people faced with the difficulties of debt to take control of their finances and get help out of the hole."
– Fergus Ewing, Enterprise Minister for Scotland
From October next year shoppers in Scotland will have to pay 5p for carrier bags, Environment Secretary Richard Lochhead has announced.
The charge will be applied to all forms of carrier bags- not just plastic ones.
Mr Lochhead said that Scots use around 750 million bags every year and says the new scheme will show that the Scottish Government is taking "decision action" to cut down on the amount of bags being thrown out.
The proceeds from the bag charges will go to charity, with good causes expected to receive up to £5 million as a result of the scheme.
"Discarded carrier bags highlight our throwaway society. We use more carrier bags per head in Scotland than any other part of the UK and this is unsustainable.

"Carrier bags are a highly visible aspect of litter and we are taking decisive action to decrease their number. By reducing the amount being carelessly discarded we can cut litter and its impact on our environment and economy.

"A small charge should also encourage us all to stop and think about what we discard and what can be re-used.
"We have seen elsewhere that carrier bag charging has been effective in encouraging people to reuse bags.

"This charge is not a tax but will see retailers donating the proceeds to charity - this could be up to £5 million per year after retailers have covered their costs.

"Thousands of Scottish people already use bags for life and some retailers already charge. It is now time, however, for a national effort."
– Richard Lochhead, Rural Affairs Secretary
Load more updates