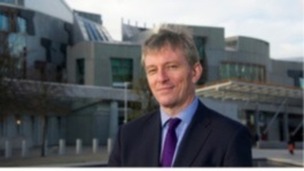 ITV Border's Political Editor reflects on the Spanish perspective on Scottish independence, voiced by Spain's Prime Minister Mariano Rajoy.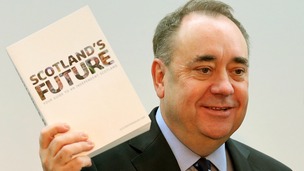 There are serious doubts about if, how and when an independent Scotland will take its place in the EU.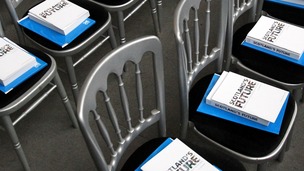 Today's White Paper on Scottish independence may be 670 pages long, but many voters still say they have unanswered questions.
Live updates
Local reaction to blueprint
Dumfriesshire MP David Mundell spoke to ITV Border's Political Editor Peter MacMahon after the White Paper launch.
He said that the blueprint fails to answer some questions and is "wishlist, not a pricelist":
Key points from White Paper
Deputy Minister Nicola Sturgeon joined Alex Salmond on stage to launch the SNP's White Paper.
She envisages 24th March 2016 as the date, should Scotland vote yes, for the country to become an independent country.
Sturgeon's particular focus within this white paper addresses the topics of women and child, the bedroom tax and welfare reform, and pensions.
The SNP has set out shop with a proposal that Scotland become independent, it intends to provide free child care for all pre-school children.
This is a policy, they say, that is dual purpose; good for the youngest children and their parents.
It would also mean that by supporting more women to go into the workplace, it would generate more tax revenues.
Advertisement
Independence plans revealed
National
First Minister Alex Salmond has said that excluding an independent Scotland from the sterling currency would leave a "massive hole in the UK balance of payments".
He told ITV News it would be in the interests of both governments to continue using the pound and that he expected Westminster to "live up to their side of the bargain".
Read: Scots would be £600 better off in first year, Salmond says
Local reaction to blueprint
ITV Border has been speaking to local haulage form John Miller Transport, based in Lockerbie, who have given their reaction to the White Paper.
"From what i have heard this morning, i haven't heard anything in the White Paper which addresses my concerns.

"So at the moment i would still vote no. My main issues are that there would be two currencies which would adversely affect my business. Also what happens to the price of diesel in Scotland would affect my business.

"And if income tax was different and higher in Scotland, would workers who live in England want to come to work for my company?"
– Davie Carson, Director, John Miller transport
Key points from White Paper
National
The debate over Scottish independence has brought the future of the Union Flag into focus.
The Union Flag, which was adopted in 1801, combines the crosses of England and Wales, Scotland and Northern Ireland but there are doubts over the long term future of the symbol if Scotland gains independence next September.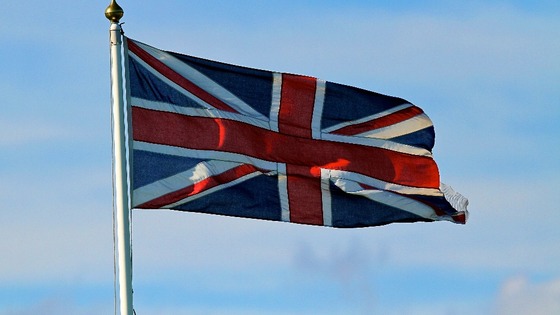 However, the College of Arms has told ITV News that there are no plans to change the Union Flag if Scotland becomes an independent state.
The authority for official flags for the UK and the Commonwealth said the Queen would remain the head of state in an independent Scotland, and therefore the Union Flag would not be affected.
The Scottish Government published its White Paper on independence this morning, outlining the overriding reasons why Scotland should leave the United Kingdom and become a separate state.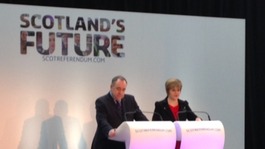 A look at what Scotland's First Minister Alex Salmond said at the launch of the White Paper in Glasgow.
Read the full story
Advertisement
Independence plans revealed
A new Scottish Broadcasting Service (SBS) could initially be based on the staff and assets of BBC Scotland, according to the White Paper.
The SBS could then enter into a formal arrangement with the BBC, whereby it would supply it with programming in return for continuing access to BBC services in Scotland.
The White Paper says: "This will ensure the people of Scotland will still have access to all current programming, including EastEnders, Doctor Who and Strictly Come Dancing, and to channels like CBeebies."
Key points from White Paper
National
One of the biggest policy announcements in the White Paper is an expansion of free childcare:
Every three- and four-year-old could benefit from 1,140 hours of free childcare - equivalent to 30 hours a week for 38 weeks of the year
This would require a "substantial increase in the workforce" creating about 35,000 jobs
Policy would be "affordable and sustainable" but there is little detail on the cost
Read: Sturgeon refuses to expand on cost of childcare pledge
Independence plans revealed
While a Yes vote in next year's referendum would end the political union between Scotland and England, the paper stresses that the Union of the Crowns - which dates back to 1603 - would continue and Scotland would keep the Queen as its monarch upon independence.
"On independence, Scotland will be a constitutional monarchy," it says. "On independence in 2016 Her Majesty the Queen will be head of state."
Independence plans revealed
National
Scottish First Minister Alex Salmond ends the press conference saying he thinks the journalists have had a "fair kick at the ball" and that he looks forward to answering many more of their questions in the months ahead.
Load more updates
Back to top