Campaigners calling for a bypass around Selkirk have organised a drop-in event today.
The Selkirk Regeneration Company wants to see how many people would support plans for diverting traffic away from the town centre.
Selkirk Recycling Centre will re-open next Monday after a six-month closure for flood protection work.
Read the full story ›
Advertisement
Two men have been arrested after drunk driving incidents in the Scottish Borders.
A 35-year-old was arrested on Sunday 8 May after a collision between an Audi TT and a motorcycle at Bongate, in Jedburgh.
He will appear at Jedburgh Sheriff Court on 30 May.
In the early hours of this morning a 27-year-old man was arrested after a Ford Fiesta was found on its side on the A698 at Bonjedward.
He is due to appear in Selkirk Sheriff Court on Monday 9 May.
Nobody was seriously injured in either collision.
The penultimate round of the Kings of the Sevens is underway at Selkirk this afternoon.
If Jed-forest win at Philiphaugh today they will take the AM:PM Kings of the Sevens title. They lead the table 7 points clear of Watsonians.
A road in Selkirk will be closed for five months to allow work to be carried out on the town's flood protection scheme.
Read the full story ›
Researchers in Selkirk have discovered what could be the remains of a medieval church where William Wallace was made Guardian of Scotland.
Read the full story ›
Advertisement
The main route through Selkirk will be closed for 20 weeks, starting on Tuesday 3 May, to allow for a flood protection wall to be built.
Read the full story ›
A thousand beacons have been lit throughout the country in honour of the Queen's 90th Birthday.
Residents in the Borders have not missed out on festivities, with 10 beacons being lit.
Those gathered in Selkirk were enthusiastic in their support.
A free shuttle bus service will run in Selkirk next week during a road closure for Flood Protection Scheme works.
Raeburn Place will be closed from Monday 21 to Friday 25 March between 8.00am and 6.00pm.
The shuttle bus will run regularly between Raeburn Place and Market Place so residents will still have public transport access to the town centre and connections to other bus services.
The A7 is closed in both directions between Kingsknowe Drive, Galashiels and Dunsdale Haugh, Selkirk due to an accident and gas leak.
Police are on the scene directing traffic.
*UPDATE* ⚠⛔ #A7 is *CLOSED* btwn Galashiels & Selkirk due to RTC at Lindean  Police on scene & div route on the way https://t.co/WbiiOlMZS9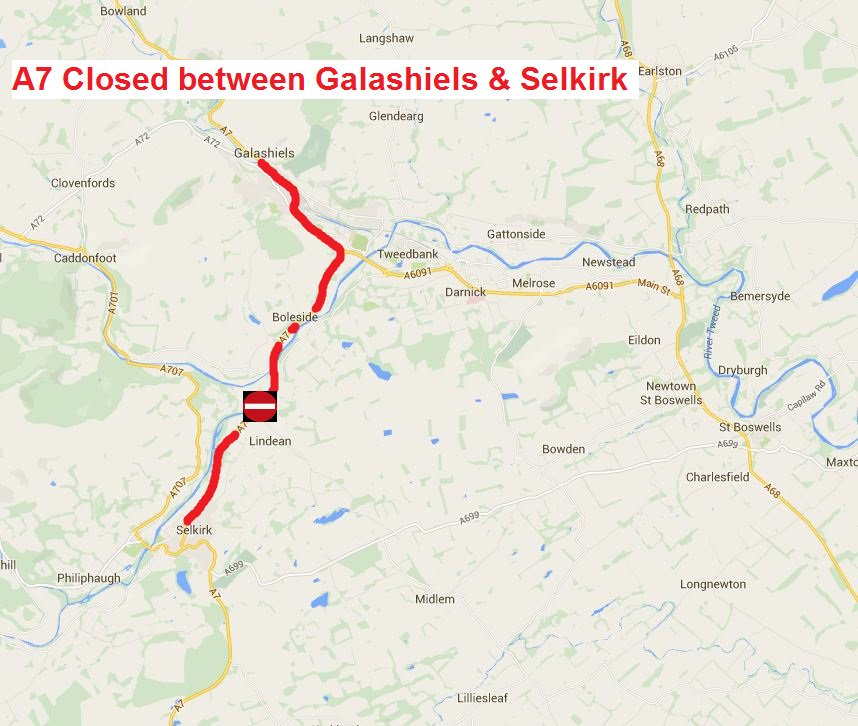 Load more updates