The main route through Selkirk will be closed for 20 weeks, starting on Tuesday 3 May, to allow for a flood protection wall to be built.
Read the full story ›
A thousand beacons have been lit throughout the country in honour of the Queen's 90th Birthday.
Residents in the Borders have not missed out on festivities, with 10 beacons being lit.
Those gathered in Selkirk were enthusiastic in their support.
Advertisement
A free shuttle bus service will run in Selkirk next week during a road closure for Flood Protection Scheme works.
Raeburn Place will be closed from Monday 21 to Friday 25 March between 8.00am and 6.00pm.
The shuttle bus will run regularly between Raeburn Place and Market Place so residents will still have public transport access to the town centre and connections to other bus services.
The A7 is closed in both directions between Kingsknowe Drive, Galashiels and Dunsdale Haugh, Selkirk due to an accident and gas leak.
Police are on the scene directing traffic.
*UPDATE* ⚠⛔ #A7 is *CLOSED* btwn Galashiels & Selkirk due to RTC at Lindean  Police on scene & div route on the way https://t.co/WbiiOlMZS9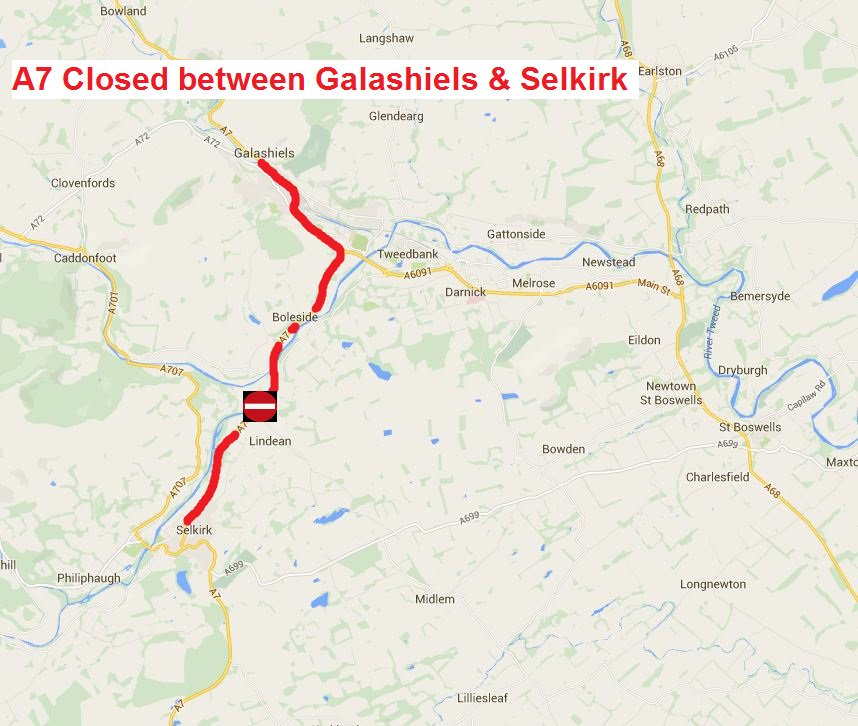 Selkirk's community recycling centre will close for 4 months to allow work on the town's multi-million pound flood protection scheme.
The closure begins on Monday 8 February for a minimum of sixteen weeks.
It will allow a diversion route to be used during flood defence work to be extended through the facility.
The nearest alternative recycling centres are at Hawick and Galashiels.
Environment Minister Aileen McLeod has visited Selkirk to announce a £235m action plan to protect properties across Scotland from flooding.
Read the full story ›
Advertisement
A 75-year-old lorry driver is likely to have suffered a temporary black-out in a crash which killed a Borders Railway worker.
Read the full story ›
Nicole Dobbie has a rare psychological condition that causes her to pick at her skin. Now, she's raising awareness and reclaiming her skin.
Read the full story ›
The latest milestone in the plans to protect Selkirk from flooding is being lifted into place this morning.
A new 90-metre long footbridge will replace a previous one over the Ettrick Water.
It's been designed to stay open during major floods.
Once all the plans are completed, almost 600 properties will be protected from flooding.
A man has been arrested after a serious motorbike accident in Selkirk, which left the passenger seriously injured.
The 29-year-old has been arrested for dangerous driving and other road offences.
It follows an accident at 8:30pm on Saturday 30 August.
A 29-year-old man, believed to be the pillion passenger, suffered a serious head injury, and was taken to the Western General Hospital in Edinburgh.
Officers from Police Scotland have thanked the public for their support, following an appeal they sent out to find the driver of the bike.
Load more updates