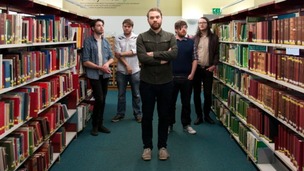 A band started in the Scottish Borders is to return for a one off gig in their hometown.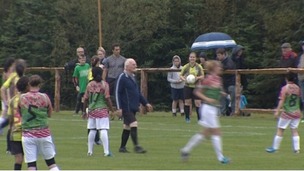 Art and football come together in a Borders forest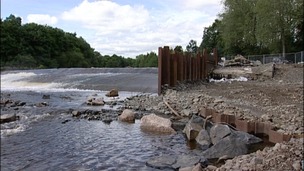 Work to build the first hydro-electric plant in the Borders is underway. It's expected to generate power for more than 200 homes.
Live updates
St Oran's Cross in Selkirk
A hugely important ancient celtic stone cross has been restored to it's former glory by a company in Selkirk.
There is now the minor issue of getting the fragile one tonne cross back to it's home on the island of Iona, near Mull in the Inner Hebrides.
John Bevir has this report:
St Oran's Cross in Selkirk
Advertisement
St Oran's Cross in Selkirk
The world's first Celtic High Cross has left the island of Iona for the first time, to be restored and reassembled in Selkirk.
The St Oran Cross dates back to the 8th century and was split into five pieces for restoration purposes.
It is now being reassembled in the Borders town before being returned to Iona for the celebration of the 1450th anniversary of St Columba's arrival on the island.
£25m Selkirk flood defence scheme underway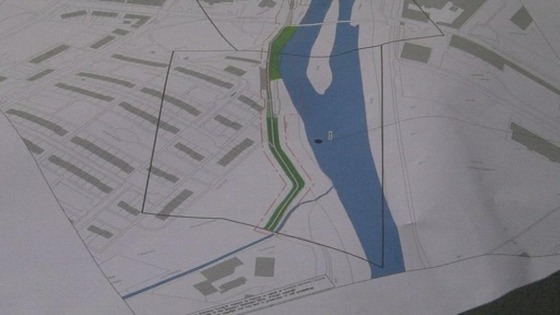 Selkirk's Bannerfield estate was hit by flooding in 2004.
Many homes had to be evacuated after flood water soaked carpets and floors.
Resident Colin Bennett recalls what happened:
"The main street was just like a river. I could not open the front gate because of water coming over it.
"There were cars parked on the street that were getting shoved across the road and there were cars floating down the main drive."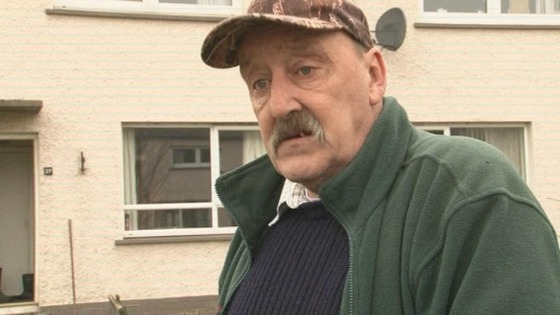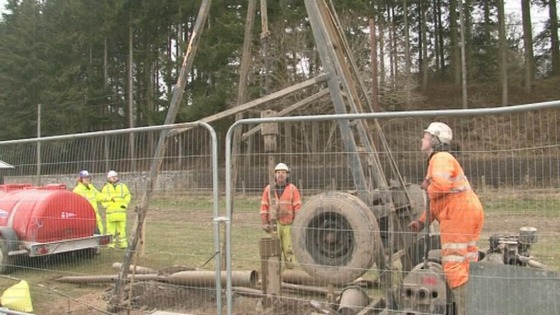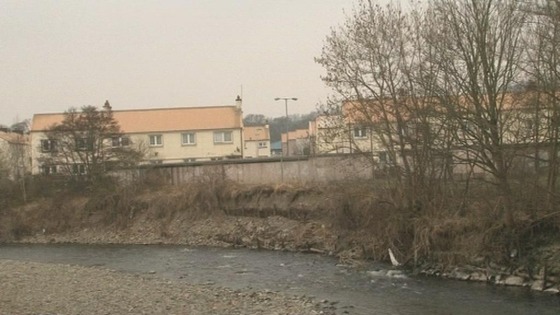 £25m Selkirk flood defence scheme underway
Design plans for a £25 million flood defence scheme for Selkirk are well underway, and planners are now checking the ground to make sure they can build defences on it.
These will be structures of around four metres high, which will blend in with the surrounding scenery.
One area that they will build on is at Philiphaugh, which was badly flooded in 1977.
"We are currently about mid-way through the detailed design and we hope to conclude it by February 2014. The design itself is approved.

"The best way to describe it is with an analogy, when you obtain planning permission to build a house, you know what you are going to build and where you are going to build it. But you won't know the detail; who will build it or the type of carpets you will put into the property.

"Similarly, we know what we are building which is robust flood protection defences, but we don't know the construction detail of them or exactly how we are going to build them."
– Colin Price, Project Manager
£25m Selkirk flood defence scheme underway
A £25million flood protection scheme being planned for Selkirk leads the way nationally, according to Scottish Government ministers.
The new scheme will safeguard 700 properties currently at risk of flooding from the Ettrick and Yarrow waters and the Long Philip and Shaw Burns.
It is the first scheme in Scotland to meet the requirements of the Scottish Government's Flood Risk Management (Scotland) Act 2009.
The project team are currently drawing up detailed designs for the scheme, and work to built it will get underway in summer 2014.
Advertisement
A Ugandan coffee farmer is this week touring the Borders to explain how the Fairtrade movement has benefited her community.
Justine Watalunga is giving a series of talks and schools and businesses in the region, during Fairtrade Fortnight.
Selkirk and Peebles are currently the only Fairtade towns in the Borders, but a campaign group has been set up to encourage more to get involved.
To qualify, a certain number of shops must stock Fairtrade goods, and members of the local community from schools and churched must promote the movement.
Earlier this week, Scotland was granted status as a Fairtade nation.
Medieval Village may lie beneath Selkirk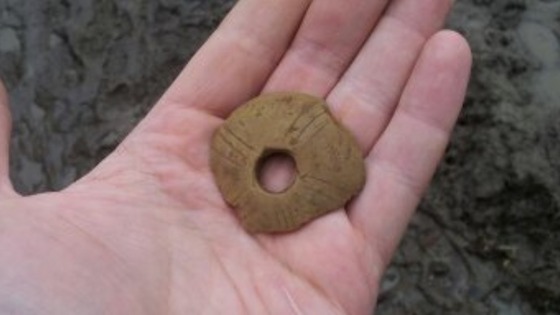 A spindle whorl, believed to be medieval, has been found at Philihaugh in Selkirk.
Workers from Scottish Water unearthed what could be remains of an ancient medieval village whilst carrying out water works.
Archaeologists are now working to discover how large the site is and how far the remains date back.
Medieval Village may lie beneath Selkirk
The remains of a medieval village are thought to have been discovered on the outskirts of Selkirk in the Scottish Borders.
Scottish Water was laying a new water main at Philiphaugh when workers made the discovery.
Archaeologists say that a number of stone buildings have been found across a sizeable area, suggesting that there may have been an entire settlement.
"We knew there had been something there, we just didn't know where it was.

"Now we have the village, and it is quite an extensive village.

"We have got a really extensive area of maybe half a kilometre where we have had buildings right along the road running to the salmon viewing centre."
– Chris Bowles, Scottish Borders Council

Scottish Borders Council say that the ancient remains will now be taken away for closer examination.

Carbon dating will be used to try to give a more precise timeframe for when the settlement was inhabited.
Medieval Village may lie beneath Selkirk
Scottish Water was carrying out the works at Philiphaugh on the outskirts of Selkirk whilst laying new pipes between Howden and Yarrowford.
A Scottish Borders Council's archaeologist said:
"It is an exciting discovery. It is not every day that medieval villages are found - most of them are known, this one was completely unknown."
– Chris Bowles, Scottish Borders Council
Load more updates
Back to top