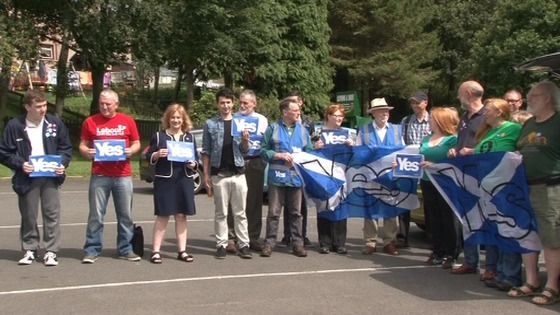 The "Yes" campaign have been in Locharbriggs in Dumfries as they target voters from Labour's traditional heartlands.
Those campaigning for Scotland's independence in September's referendum believe that many voters who traditionally would vote Labour are switching to the "Yes" side.
But the Scottish Labour Party say that only a Labour Government in Westminster can provide jobs and prosperity, which would be threatened by a 'yes' vote.
"We know that a lot of Labour voters are moving towards 'yes' because they don't like the socially divisive policies of Westminster Governments. The Tory's have got £25 billion of cuts still to come and Labour have said that they are going to mirror that. "So what ever Government we vote for we are going to get these cuts from Westminster and so housing estates like Locharbriggs we've got a lot of support here because of that."
– Joan McAlpine, MSP. Scottish National Party