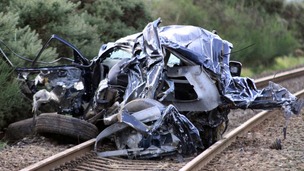 Teenage motorist has been seriously injured after his car was hit by a train on a level crossing near Stranraer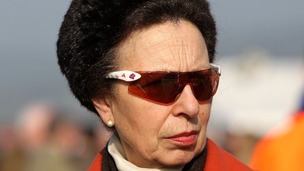 HRH Princess Anne the Princess Royal will open a new riding school for the disabled in Stranraer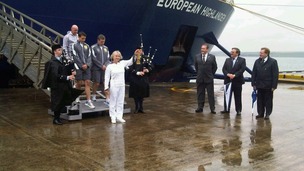 The Olympic torch has arrived in Scotland for the first time. It came off the ferry in Stranraer and thousands turned out to greet it.
Live updates
Crash firefighter captains club
Stranraer captain Frank McKeown, a firefighter, was on duty at the helicopter crash in Glasgow overnight until 8am, but still managed to turn out for his club in the Scottish cup at Clyde. His team managed a 1-1 draw.
Funds have been put in place for Stranraer's first official Hogmanay bash. The event will be held in Castle Square, and will be focused on family fun.
Run by Stranraer Music Town, local musicians and bands will take to the stage to entertain the crowds through to 2014.
Fiona McIlwraith reports:
Advertisement
Police and Fire Service are currently dealing with an incident involving a vehicle on fire within the forecourt of Myers Garage, Stoneykirk Road, Stranraer.
Stoneykirk Road is closed at this time and public are advised to avoid the area.
Electric buses for Stranraer
"It's a good leisure facility, people can stroll along here on a Sunday, and hopefully we'll begin to see the marina itself develop and more boats coming into the area.

"That brings people into the community, that might have not visited Stranraer and it actually allows them to bring in investment to spend in local shops and cafes."
– Councillor Colin Smyth, Chair of housing, planning and environment committee, Dumfries and Galloway Council
Electric buses for Stranraer
"If it makes people take the choice to go into Stranraer, rather than take some other mode of transport away from the ferry port, that's got to be attractive.

"It was a difficulty in the past, if we make it as easy and attractive as possible then people will want to go into Stranraer.

"They'll want to go for the railway station, and hopefully to spend some time and money in Stranraer as well."
– Keith Brown, Transport Minister for Scotland
Electric buses for Stranraer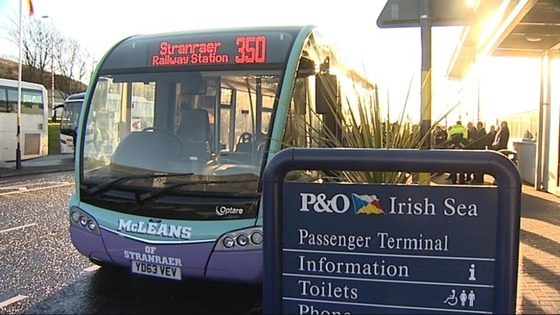 Advertisement
Dumfries and Galloway MP Russell Brown has welcomed the official opening of Stranraer's West Pier.
The refurbished Pier has been opened following a £650,000 investment by Dumfries and Galloway Council.
"Dumfries and Galloway council are to be congratulated on the work to bring this historic pier back into public use.

"There has been a lot of debate locally about what the projects in Stranraer the council should and shouldn't spend its limited resources on, but I believe the West Pier refurbishment has widespread community support.

"However, the real challenge now is the regeneration of the East Pier and the wider Waterfront.
"The council simply can't do that on its own. Scottish Government Ministers need to do more than simply turn up for a photocall on the Waterfront."
– Russell Brown MP, Dumfries and Galloway, Labour
Electric buses for Stranraer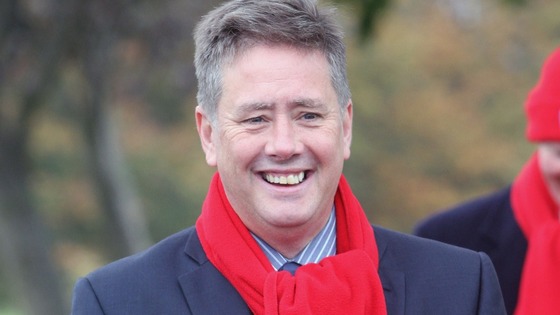 Scottish Transport Minister Keith Brown will be in Stranraer later to launch an electric bus service linking the ferry terminal in Cairnryan with the town's railway station.
The town's west Pier will also be officially reopened.
Child's skull discovered
The GUARD Archaeology team unearthed an additional two empty cists at the farm in Stranraer.
The cists, which are ancient graves, indicated to the team that there was a possible attempt by the family of the young child to set aside graves near to the body.
The team also highlighted that stress indicators on the skeletal remains may have indicated a wider problem for the community at that time, perhaps a food shortage or onset of disease.
The report states that this implies that the community understood and planned an individual's burial practice well in advance of that person's death.
Child's skull discovered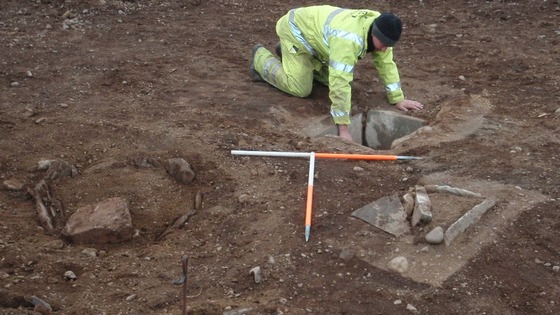 Archaeological investigations carried out by a GUARD Archaeology team found that the child was malnourished at the time of death.
Warren Bailie and his team found that the skeletal remains belonged to a child aged between nine and twelve years old.
Tests carried out on the remains showed that the child suffered from malnutrition, indicated by dental enamel hypoplasia (DEH) and cribra orbitalia, both childhood stress indicators.
A radiocarbon date test placed the child's death in the early Bronze Age period.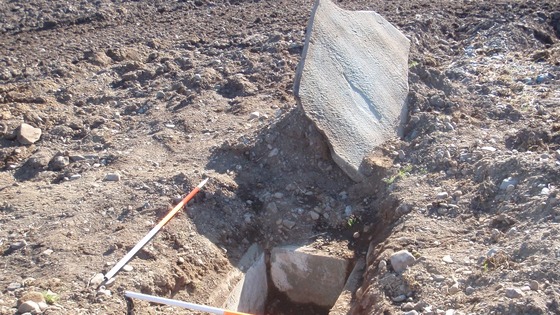 Load more updates
Back to top