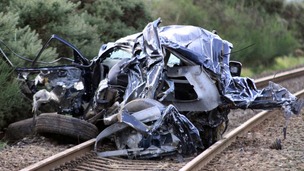 Teenage motorist has been seriously injured after his car was hit by a train on a level crossing near Stranraer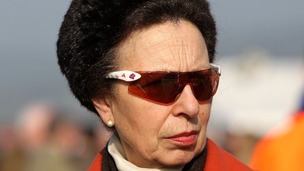 HRH Princess Anne the Princess Royal will open a new riding school for the disabled in Stranraer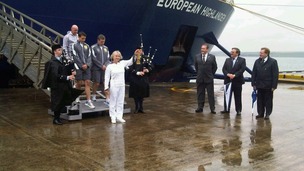 The Olympic torch has arrived in Scotland for the first time. It came off the ferry in Stranraer and thousands turned out to greet it.
Live updates
60th anniversary of ferry disaster
60th anniversary of the loss of the Princess Victoria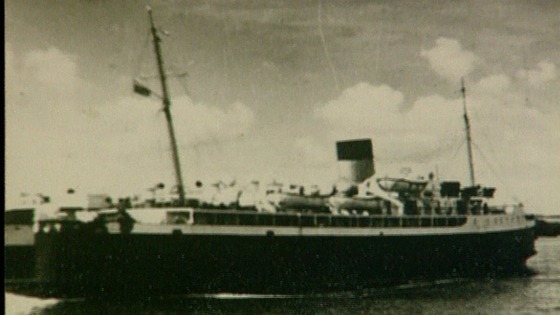 A memorial is being held to commemorate the 60th anniversary of the sinking of the MV Princess Victoria.
133 lives were lost when the ship sank on 31st January 1953 in a severe storm in the North Channel, after leaving Loch Ryan near Stranraer.
Locals will commemorate the disaster with two special services in Stranraer.
Seal makes a dash for it
Seal pup on road to recovery
A seal pup was found washed up in heavy seas at the ferry port of Lochryan near Stranraer, in South West Scotland last week.
When a ferry worker went to rescue it he ended up with one of the biggest surprises of his life.
Matthew Taylor has been to catch up with the pup who has been on a bit of an adventure:
Advertisement
Seal makes a dash for it
Seal pup 'is doing well' say wildlife experts
Experts at the Scottish Society for the Prevention of Cruelty to Animals (SSPCA), National Wildlife Rescue Centre say that a seal pup rescued after being washed up near Stranraer is responding well.
SSPCA Wildlife assistant Kaniz Hayat is one of those looking after seven week old Smartie.
She confirmed that the Grey seal pup was infected with worms which might be one reason it ended up being found by workers at the Cairnryan port.
The animal is beginning to regain weight and is likely to reach its release weight of between 30 to 35 kilos in one months time.
"Smartie is doing very well and we are pleased with her progress.

"It's probably due to her illness that she didn't want to go back into the water and why she appeared to be friendly when approached."
– Kaniz Hayat, Wildlife assistant, SSPCA

The animal centre also confirmed that Smartie is a female.

She is likely to be put back into the wild at Aberdour in Fife where the SSPCA have made a number of sucessful releases.

However, they have not ruled out putting her back into the sea near where she was found.
Seal makes a dash for it
Smartie the seal on the road to recovery
A seal pup who made a mad dash for dry land during the recent stormy weather is on the road to recovery.
Smartie the seal, as he has now been named, was found by workers at the Cairnryan ferry terminal in their park, where he then refused to get back into the water.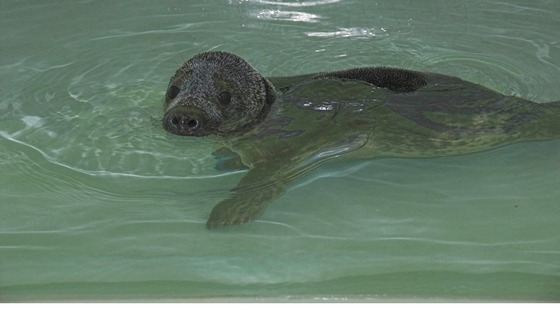 The Scottish SPCA then found him lying on the dashboard of a car on Friday morning.
Smartie is recovering from his adventure at the Scottish SPCA's National Wildlife Rescue Centre near Alloa.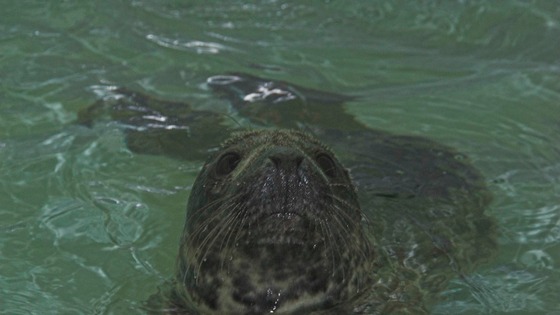 "Smartie was weak and dehydrated when he first arrived but he's now doing really well in our care and already feeding himself.
He's currently housed in an individual seal pen which has a wet and dry area for him.
As he grows in strength and size we'll move him to one of our outdoor pools where he'll interact with other seals and get used to swimming and feeding in deeper water.
We hope to return Smartie to the wild in about a month's time, but only when we're sure he's fully fit and able to fend for himself."
Seal makes a dash for it
Smartie the seal makes a dash for survival
The Scottish SPCA has rescued an adventurous seal pup found during stormy weather in Stranraer.
Workers at the ferry terminal in Cairnryan spotted the six week old male seal pup in a busy lorry park on the evening of Thursday January 17th.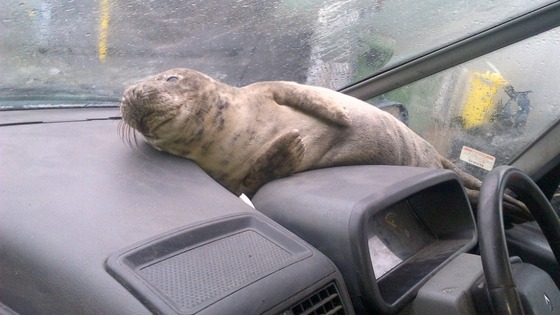 Despite their best efforts to encourage him back into the water he refused to go and when he was still there on Friday morning staff grew concerned for his safety and contacted Scotland's animal welfare charity for help.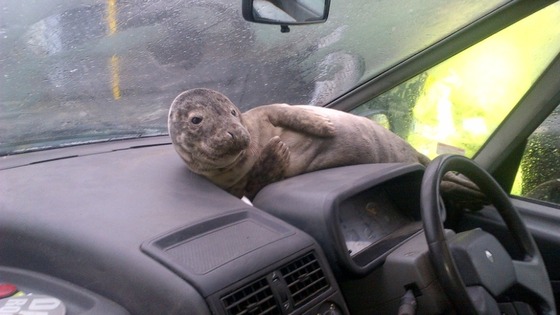 One worker picked the seal pup up and put him in the boot of his car to keep him out of harm's way but the seal managed to break out and was found lying on the dashboard of the car when Scottish SPCA Animal Rescue arrived.
Arsonists blamed for fire in Stranraer
Fire causes severe damage to building
A two-storey derelict building in Stranraer has been severely damaged in what's believed to have been an arson attack.
Two fire engines were called to the property in Cairnryan Road on Saturday afternoon, November 17th.
Advertisement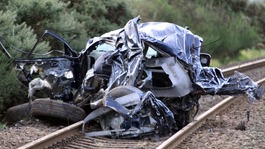 Teenage motorist has been seriously injured after his car was hit by a train on a level crossing near Stranraer
Read the full story
The Shop Doctor treats Stranraer
Stranraer is treated by the 'Shop Doctor'
With nearly one in seven British shops standing empty many towns are getting advice on how to change the trend. A Cumbrian based retail guru has been busy doing just that.
Having already visited Annan and Dumfries he has turned his attention to Stranraer. The town's port moved to Cairnryan last year and some of the townspeople think this, coupled with the recession, has led to a decrease in trade for the town's shops.
Andy Burns met up with the 'Shop Doctor' as he gave his diagnosis:
Calls for a permanent reduction on Stranraer rail fares
Calls for reduced Stranraer rail fares to become permanent
MPs are calling for reduced rail fares from Stranraer to become permanent, saying it is important for the future of Stranraer.
A temporary reduction in rail fares from Stranraer comes into place from August 1. Local Labour politicians have written to Alex Neil, Cabinet Secretary for Infrastructure & Capital Investment, asking him to make the reduction permanent.
"A two month reduction in rail fares simply isn't long enough. The SNP Government should be bringing down the cost of transport to Stranraer permanently, not just for eight weeks. What are people supposed to do when tickets go back to their sky high normal price after September? To attract regular use, as well as the business investment we need to regenerate the area, the fares must come down permanently. Stranraer is lacking a long term strategy and rather than fix that, the Scottish Government is running a temporary promotion."
– Dumfries and Galloway MP Russell Brown

It was announced in May that fares on the Stranraer to Glasgow and Stranraer to Ayr routes would be reduced for a two month period during August and September.
"The two main reasons more people don't get the train from Stranraer is the high price and the poor timetable. The temporary cut in fares only deals with part of the problem for a couple of months. The trains still won't link up with the ferries or run at convenient times for many local people."
– Stranraer and North Rhins councillor Marion McCutcheon
Princess Royal visits Stranraer
Princess Royal visits Wigtownshire
The Princess Royal visited a riding school for the disabled in Stranraer to open a new indoor riding arena. Our correspondent John Bevir was there and sent this report:
Load more updates
Back to top