Live updates
Lecturers on strike in Cumbria
Earlier ITV Border spoke to John Bryant from University and College Union (UCU) to discuss today's strike in more detail.
Lecturers on strike in Cumbria
Some staff from the University of Cumbria and other colleges around the county have joined their colleagues across the country in a walkout this morning over proposed changes to pay and pensions.
The university has released the following statement:
"Some UCU and UNISON members locally may support industrial action scheduled for 3 December 2013, to demonstrate the strength of their feelings on the current national pay negotiations.

"The university has always enjoyed good local relations with the unions and in advance of the planned day of action, the university will do all it can to minimise the impact any industrial action may have on its services and students."
Previous strike action took place on 31 October, but the university has reassured the public that the impact was minimal, with only one lecture cancelled and no campus closures.
Advertisement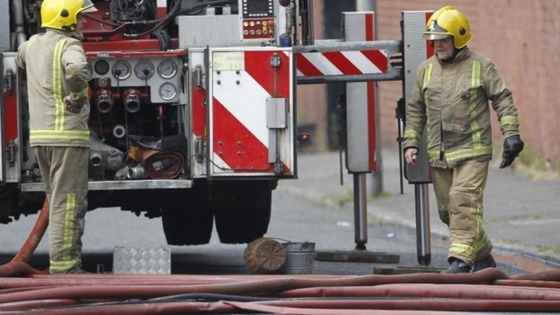 Firefighters have today announced that they will hold a fourth strike on pensions between 10am and 2pm on Wednesday 13 November in England and Wales.
The announcement follows a dispute over proposed changes to their pensions.
University lecturers walk out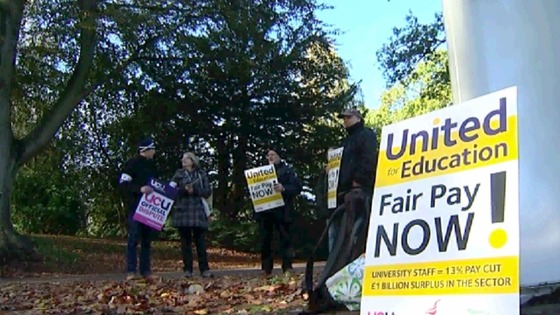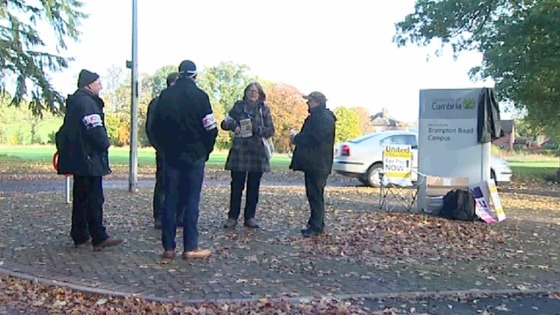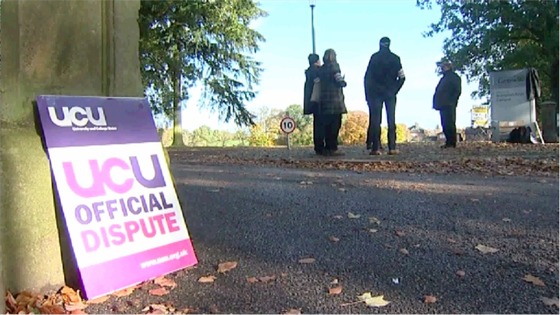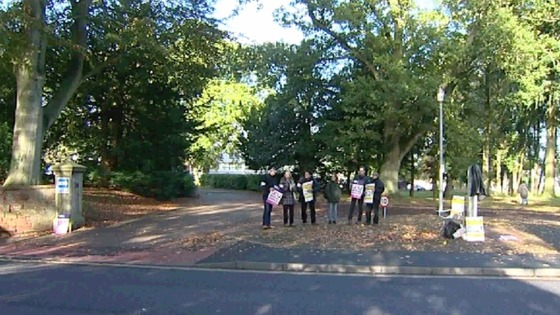 University lecturers walk out
Lecturers gathered outside the entrance to the University of Cumbria on Brampton Road this morning as part of a move by university staff across the North West who went on strike today in a row over pay and pensions.
Union members from all 13 North West universities are involved in the nationwide action taken by Unison, Unite and the University and College Union.
Firefighters on strike
Cumbria Fire and Rescue Service is urging people to avoid making unnecessary 999 calls, and to minimise the risks of fire, ahead of planned strike action.
Firefighters in our region are staging the walkout between noon and 4pm.
The strike has been called by the Fire Brigades Union in response to a dispute with the Government over proposed changes to firefighter pensions.
Fire and Rescue Services will be operating at a reduced emergency response level during the period of strike action.
Although 999 calls will continue to be answered as normal, fire officers have said that the response to incidents where life is considered to be in danger will be prioritised.
"Our highest priority during industrial action will be to respond to those crucial calls where a life may be at risk or someone needs to be rescued.

"If we respond to low priority calls then those most in need could be at risk."
– Ian Cartwright, Cumbria's deputy chief fire officer
Advertisement
Members of the Workington branch of Her Majesty's Revenue and Customs (HMRC) are holding a half-day strike today to coincide with the start of the new tax year and the planned introduction of real time information.
The changes would mean staff who operate PAYE would have to inform HMRC every time they pay their staff and make deductions.
The strike follows a walk-out of around 200 staff from the public and commercial services union in Carlisle on Friday.
Hundreds of civil servants in the region took part in a half day strike as part of an on going protest over pay, conditions and job cuts.
Among them were around 200 staff from the Rural Payments Agency in Carlisle.
Driving test centres and job centres were also involved in the walkout.
Representatives from the public and commercial services (PCS) union say they are concerned about job cuts in the county and plans to close tax offices.
Strike action
Workers at the Department for the Environment have been taking strike action over pay and conditions.
In Cumbria, members of the PCS Union walked out in Carlisle and Workington. The union says it's willing to enter into meaningful negotiations.
David Niven the Branch Organiser for the PCS Union at Carlisle's RPA spoke to ITV Border and explained why they are striking and what they are hoping for.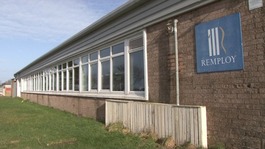 Workers at Remploy factories around the country are due to carry out their second strike today to try to save hundreds of disabled jobs.
Read the full story
Load more updates
Back to top