Liberal Democrat leader and local MP Tim Farron has been taking part in an anti-Brexit march in London.
The Westmorland and Lonsdale MP has pledged to fight against plans for Britain to leave the European Union.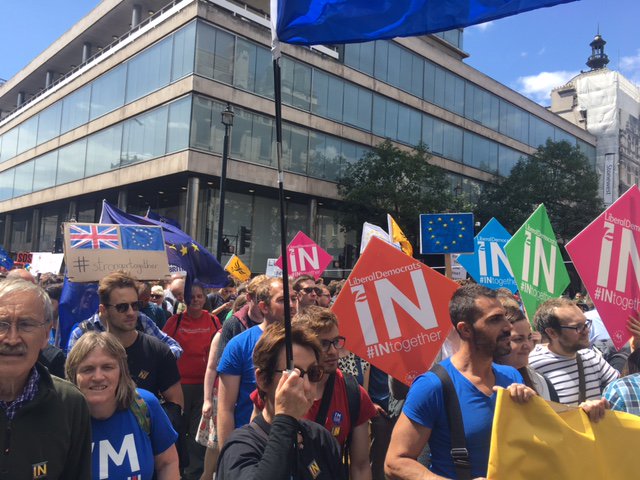 Cumbrian MP Tim Farron has slammed a "£40 million shortfall" in cash needed to help the county recover from the floods of December's storms.
Six months ago Storm Desmond left thousands of homes and businesses in his Westmorland and Lonsdale constituency underwater.
The leader of the Liberal Democrats says there is still plenty of work needed.
Although in many ways Cumbria is back to normal – the A591 is fixed and most businesses have now reopened – we must not forget about those still affected.

There are still many residents out of their homes, and many more who are affected by road and bridge closures. It is unjustifiable that the government has still not committed to providing all of the funding needed to repair the flood damage – across the county there is a £40million shortfall.

The government also failed to provide additional funds to support businesses affected by flooding after the initial pot ran out.
– Tim Farron MP
Advertisement
Tim Farron has expressed his excitement after meeting a member of 80s band Prefab Sprout.
Read the full story ›
Westmorland and Lonsdale MP Tim Farron has paid tribute to comedian Ronnie Corbett who has died, aged 85.
Writing on Twitter, the Liberal Democrat leader said the comedian was responsible for people saying "language, Timothy" to him for the last 30 years.
Really sad news that Ronnie Corbett has passed away, he is responsible for me getting 'language Timothy!' for the last 3 decades...
South Lakes MP Tim Farron has signed a joint letter to the Justice Secretary challenging the recent decision to close Kendal Court.
Read the full story ›
Current cannabis laws are failing and putting the public at risk, according to South Lakes MP and Liberal Democrat leader Tim Farron.
Read the full story ›
Advertisement
The Westmorland and Lonsdale MP is to outline why Britain is better off in the EU, at the Liberal Democrats Scottish Conference.
Read the full story ›
Prime Minister David Cameron announced a £3million funding package to help repair the Lake District following December's floods.
Read the full story ›
Liberal Democrat leader Tim Farron says voting in favour of air strikes against so-called IS targets in Syria is the toughest decision he's ever had to take.
The Westmorland and Lonsdale MP released this video, explaining his decision:
Sorry, this content isn't available on your device.
Westmorland and Lonsdale MP and Liberal Democrat Leader Tim Farron wants the Government to change the way it calculates police budgets, after it was found Cumbria Police could lose up to £31million.
He launched his campaign today after the policing minister had to delay cuts to police forces when an error was found in the calculations.
Tim Farron says a delay isn't good enough. He wants the cuts to be scrapped and he's asking people to sign a petition to that effect.
Load more updates