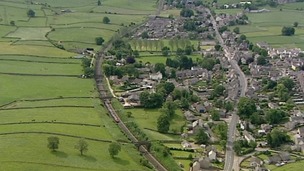 Scotland's Transport Minister will outline his concerns at Holyrood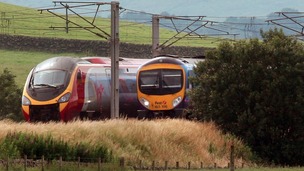 Russell Brown MP, has described the admission of flaws in the West Coast Mainline bidding process as "an utter shambles".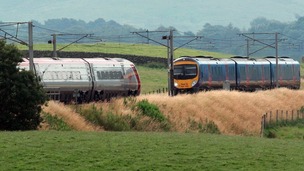 The competition to operate the West Coast Main Line has been cancelled after flaws were discovered in the bidding process.
Live updates
Passengers travelling between Carlisle and Lancaster are facing delays of up to 45 minutes.
It's due to a broken down train at Penrith, which is blocking southbound lines.
A man has died after being hit by a train.
The incident happened at about 9:15am between Penrith and Oxenholme Lake District.
Replacement bus services are currently running for First Transpennine Express customers between Carlisle and Oxenholme.
There are also disruptions to Virgin Trains.
Advertisement
Region back on flood alert
Train services across the region have been cancelled due to flooding.
The Northern Rail service is currently suspended between Carlisle and Maryport due to flooding at Aspatria, where the line is blocked.
Northern Rail are looking to source replacement buses, and there is no estimate for when normal services will resume.
There are also delays of up to 30 minutes on trains between Edinburgh Waverley and Carlisle due to flooding between Lockerbie and Carlisle.
Train services in Cumbria could be delayed of cancelled after a landslip.
The landslip occurred near Appleby, affecting routes to Carlisle.
Rail fares on the rise
Train companies say the rise in rail prices will provide money that will be spent improving services.
We asked commuters at Carlisle Station what they thought about the price hikes.
Rail fares on the rise
Rail commuters across the country face average price rises by an average of 3.1 per cent.
But how does that break down in the Border region?
Northern Rail operates the Carlisle to Newcastle line and are putting prices up by an average of just over 3%.
Virgin train prices from Carlisle to Glasgow will go up by nearly 4%.

Standard fares on the Carlisle to London service are also going up by over 4%
Advertisement
Rail fares on the rise
Michael Roberts, director general of the Rail Delivery Group, has welcomed the Government's move to limit fare increases.
It follows new rail fares coming into force today that see the price of annual season tickets rise by 3.1 per cent.
"We strongly support the Government's decision to limit the average increase in Season ticket prices this year.

"This, combined with the determination of train companies to continue attracting passengers, means the average increase across all fares is 2.8%, the lowest in four years.

"To help the Government hold down fares in future, the rail industry is working hard to get more for every pound it spends.
"This year and in coming years, passengers across the country will continue to benefit from billions of pounds spent on improving services.

"As well as introducing more carriages, work will proceed on major projects like the new Birmingham New Street station and thousands of smaller, less visible schemes to improve the railway."
– Michael Roberts, director general of the Rail Delivery Group
Rail fares on the rise
Passengers will pay higher rail fares from today, with annual tickets rising by an average of 3.1 per cent.
The increase will mean some commuters will be forced to pay more than £5,000 a year.
A number of these fares, including some on the East Coast route, are going up by much less than 3.1 per cent, with the overall rise in tickets - regulated and unregulated - being 2.8 per cent.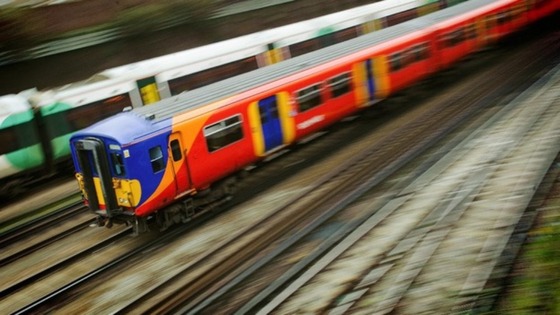 The rise is for regulated fares which include season tickets.
The increase could have been even greater, but Chancellor George Osborne announced in his Autumn Statement in early December that the regulated fare price cap of RPI inflation plus 1 per cent was being changed to RPI plus 0 per cent.
Rail fares on the rise
National
Train companies retain an average of just 3p from every pound paid for rail tickets, with the vast majority of revenue going on maintenance, staff costs and investment in the rail network, according to figures released by the industry association the Rail Delivery Group: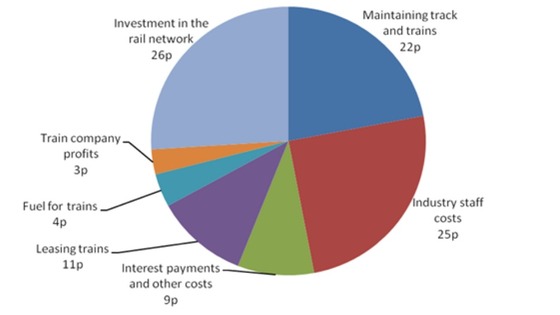 Transport minister: 'Nonsense' that Government sees railways as a 'cash cow'
Rail fares on the rise
National
The Government insisted that it understands passengers concerns over the cost of rail fares as annual season tickets rose by 3.1 per cent.
Campaign groups have complained about the increase, with the Campaign for Better Transport saying that fares are rising three times faster than wages.
A Department for Transport spokesman said: "The Government understands concerns rail passengers have about the costs of fares and the impact they have on household budgets.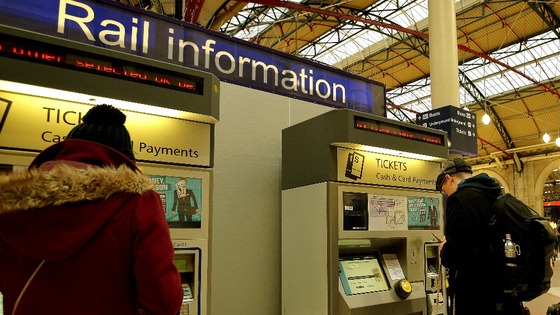 "That is why next year, for the first time in a decade, regulated fares will not rise on average by more than the rate of inflation, offering relief for families and the hard-working people.
"As a result of the economic policies that this government has put in place, the most recent forecasts from the Office for Budget Responsibility are that by around 2015, fares will be rising in line with wages and salaries."
The spokesman insisted that the fares passengers pay will drive the "biggest programme of rail modernisation ever" resulting in new state-of-the-art trains, better stations and shorter journey times.
Load more updates
Back to top