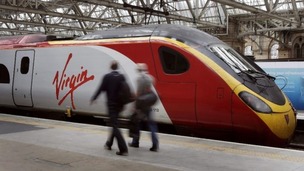 The Prime Minister and the Labour leader have clashed in the House of Commons over the West Coast Main Line.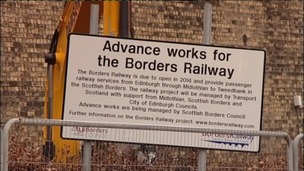 Campaigners say a railway line in the Borders will stop people taking the train because journeys will be long. Transport Scotland disagrees.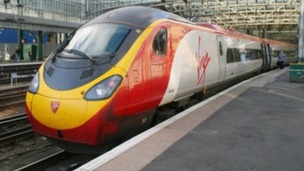 The Government has announced FirstGroup will take over the running of the West Coast Mainline.
Live updates
Region back on flood alert
Train services across the region have been cancelled due to flooding.
The Northern Rail service is currently suspended between Carlisle and Maryport due to flooding at Aspatria, where the line is blocked.
Northern Rail are looking to source replacement buses, and there is no estimate for when normal services will resume.
There are also delays of up to 30 minutes on trains between Edinburgh Waverley and Carlisle due to flooding between Lockerbie and Carlisle.
Rail line to reopen
While there's been massive disruption for one set of rail travellers today, there's been relief for others.
The Cumbrian coastal route between Carlisle and Barrow has fully re-opened ten days after a section was washed away by storms.
Hannah McNulty spoke to passengers on board one of the first trains along the route this morning.
Advertisement
Rail line to reopen
There was relief for rail users as the Cumbrian coastline route fully re-opened this morning.
A section of the track at Flimby in west Cumbria was washed away by the storms 10 days ago.
Buses replaced trains between Carlisle and Workington while engineers carried out repairs.
Rail line to reopen
the West coast line has been closed since Friday after high tides destroyed parts of the rails and wall between Siddick and Flimby
Engineers have been working 24 hours a day to get the line reopened. Network Rail hopes that will be working later this morning.
Around 50 workers have been working in 12 hour shifts to rebuild the wall and reinstate the track.
Martin Frobisher, Network Rail area director, said:
"We are very keen to get it running again as quickly as we can, but you can see the scale of the damage - it's a huge piece of work.

"When railways follow the sea so closely, for many it is an ongoing battle to maintain the sea defences.

"There is a huge amount of damage. We are working round the clock to reinstate the railway and our priority is get the services running again."
– Martin Frobisher, Network Rail

Services between Maryport and Barrow resumed on Monday but replacement buses are still in place between Workington and Carlisle.
Power cuts across Cumbria
Dozens of homes are still without power this evening after severe weather in West Cumbria damaged buildings and caused disruption on the roads.
The M6 Southbound was closed after a lorry overturned near Tebay and the A6 was blocked at Shap because of a fallen tree.
With more wind and rain expected, the emergency services are urging people to take care.
Katie Hunter reports:
Power cuts across Cumbria
A number of roads continue to affected in parts of Cumbria following last night's weather conditions.
The M6 Southbound remains passible on the hard shoulder and one lane following a one vehicle road traffic collision where a HGV was blown over.
The male driver was was taken to the Royal Lancaster Infirmary with minor injuries.
The road will temporarily be closed later today as the recovery of the HGV is completed.
Other traffic updates include:
The A6 between Hackthorpe and Shap remains closed following a fallen tree
Inkerman Terrace in Whitehaven has reopened following the road's closure after a tree fell into the road
The A595 at Moota has reopened following its closure after a roof was blown off the former Moota Hotel
Police dealt with over 60 weather-related incidents last night.
Police would like to thank everyone for their patience and ask that motorists continue to drive carefully.
For more information on road closures visit the Cumbria Police traffic link website.
Advertisement
Power cuts across Cumbria
More than 600 homes remain without power in west Cumbria this morning after severe weather last night.
Electricity North West says Workington is one of the main areas affected.
Power cuts across Cumbria
National
Around 1,250 homes in Cumbria are without electricity this morning after severe weather battered the region.
A spokeswoman for Electricity North West said: "Engineers will be out at first light to try and restore power to affected homes."
Up to 3,500 were cut off at the height of the power outages last night following strong winds and heavy rain.
Power cuts across Cumbria
Cumbria Police are asking people only to travel if it is absolutely necessary, in light of the current severe weather.
You can find full details and the latest information from Cumbria Police here.
Meanwhile, police in Southern Scotland are reporting fallen trees affecting rural roads.
Members of the public can contact any police force in the UK by calling the 101 non-emergency number and following the instructions.
Power cuts across Cumbria
The Environment Agency has issued flood alerts in Cumbria.
For more details and the latest information, click here.
Load more updates
Back to top