Traffic Scotland are warning people to avoid some roads in Dumfries and Galloway and the Scottish Borders, due to heavy snow:
⚠❄*Snow - AVOID*⚠❄ #A7 Galashiels-Hawick *IMPASSABLE* #A68 Earlston-Carter Bar *IMPASSABLE* Apologies for wrong spelling! #FridayFauxPas
Dumfries and Galloway Police say Nithsdale Police have been working to help vehicles stuck on their side of the A76: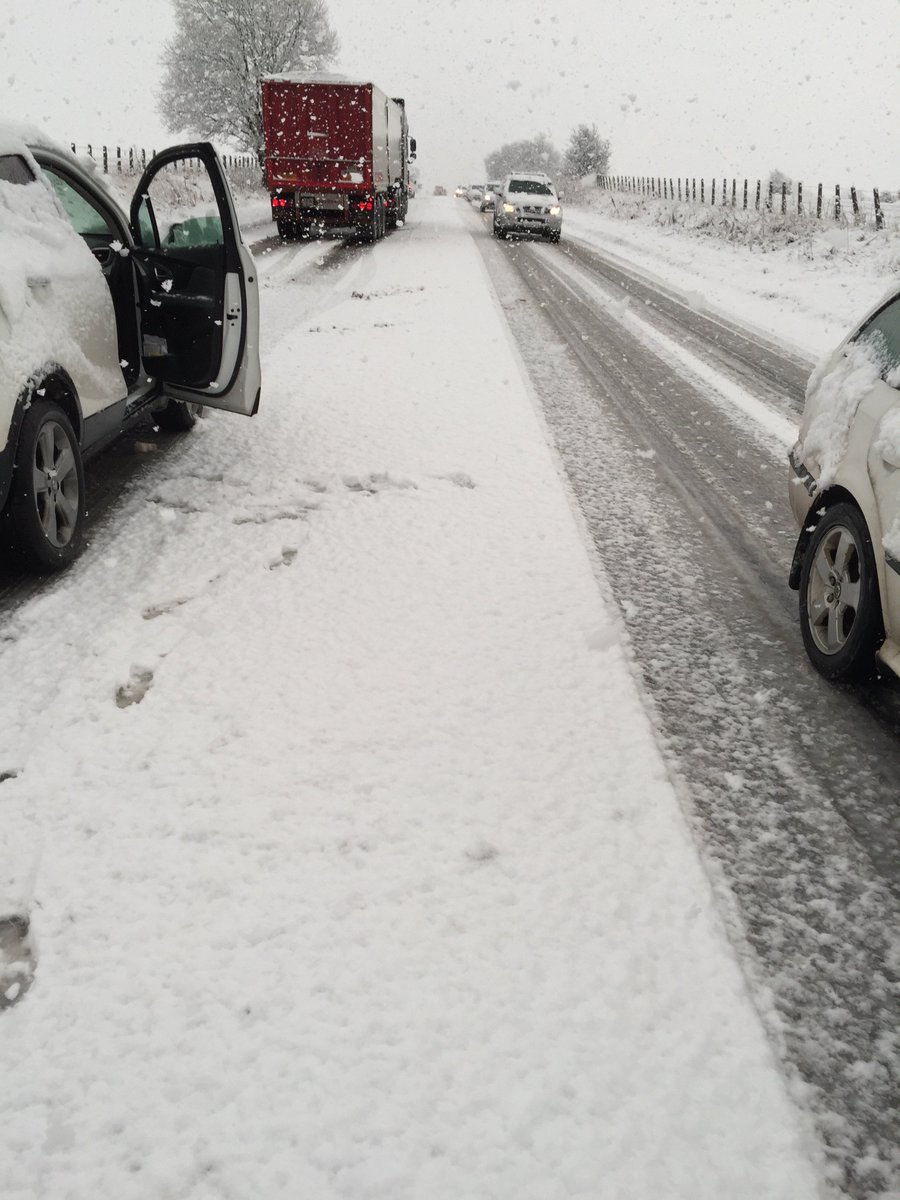 There have also been delays in the St Boswells and Ancrum areas:
A68 A699 St Boswells - B6400 Ancrum - Closure, All lanes closed in both directions for up to 60... has been cleared. #TSIncident
Snow is causing traffic delays, and making some roads in the south of Scotland impassable.
The following images have been released by Traffic Scotland:
Advertisement
Train journeys between Carlisle and Newcastle will be delayed for several weeks, after a second landslip on the railway line.
Read the full story ›
The A7 has been closed south of Selkirk to Hawick, due to a jackknifed lorry.
There has been other disruption due to the previous month's flooding, and heavy snow today.
The following other roads have also been closed:
Tweeddale:
Tweeddale - B709 Granites Road (north of golf course) - due to flooding
A7 south of Selkirk to Hawick - due to jackknife lorry. Police in attendance
B6359 Cavers Carre/Clarilaw - due to flooding
B6401 Morebattle to Eckford at Caverton Mill - due to flooding
B6357 south of Bonchester Bridge - heavy snow, vehicles on road. Police attending.
D25/3 Haysike Bridge – closed due to structural damage
C61 Primsidemill to Sourhope - local access only
Traffic is being delayed on the A68 and B6357 in the Scottish Borders, because a vehicle has broken down.
There are delays of up to 30 minutes in both directions, between Hundalee and Carter Bar.
Advertisement
Snow is disrupting transport in the Scottish Borders.
The A7 in Hawick is gridlocked heading towards Galashiels and Edinburgh, due to the snow.
Cars are backed up to Wilton Lodge Park, with very little movement.
Traffic heading in the direction of Carlisle on the A7 is still moving freely.
The snow and ice warning put in place for the Scottish Borders has been extended, with swathes of snow expected to affect large parts of the region throughout the day.
Temperatures are expected to remain close to freezing, and the Yellow weather warning will remain in force until 5pm today.
Heavy snow is expected, and it could reach depths of 5cm to 10am on ground above 200 metres, which will affect a significant number of roads in the Scottish Borders.
Gritters have been working on primary routes from 6pm last night, and will operate on secondary routes this morning.
Scottish Borders Council's Emergency Planning Centre was open this morning to cover school transport times and will be open again from midday for school transport return journeys.
The forecasted weather will impact on road conditions in a number of areas of the Borders today and residents should be prepared for difficult road conditions and travel disruption in some places.

We would encourage residents to keep up to date with the latest situation in the morning via our website and social media channels and also through local radio."
– Jim Fraser, SBC's Emergency Planning Officer
Motorists should drive to the conditions and maintain safe stopping distances, bearing in mind that in snow or ice these are significantly greater than in the dry."
– Chief Inspector Andy McLean, Police Scotland's Local Area Commander for the Scottish Borders
Victoria Bridge in Kendal has been closed to westbound traffic after divers found structural damage caused by the winter floods
Read the full story ›
Trains have been cancelled between Carlisle and Newcastle following a landslip at Corbridge, between Prudhoe and Haltwhistle.
Trains will run between Carlisle to Haltwhistle, and Prudhoe to Newcastle.
A rail replacement bus will operate between Prudhoe and Haltwhistle.
Load more updates