A man has been jailed for 20 years over child sexual offences including raping a girl under the age of 13.
Read the full story ›
A mysterious artist known as Loki has returned to Cumbria... but is the artwork he/she leaves vandalism?
Read the full story ›
Advertisement
A project is being launched to draw up a 'masterplan' for the Ulverston Leisure Centre site.
South Lakeland District Council (SLDC) is to look at what is possible for the site at Priory Road.
The masterplan will examine how the leisure complex could potentially be re-modelled and improved to meet the future needs of the Ulverston area.
The leisure facilities on the site are run by North Country Leisure (NCL) on behalf of SLDC.
The council and NCL are working together on the masterplan, which has been prompted by GSK's (GlaxoSmithKline's) need to relocate its sports centre as part of possible future redevelopment plans of its site on North Lonsdale Road, Ulverston.
The first phase of GSK's development of a new biopharmaceutical factory would include the construction of a production facility, to be built between 2015 and 2021, followed by a new sports hall, football pitches and bowling green as part of the second phase.
The council is investigating how a new GSK sports centre could potentially link with the town's existing leisure facilities.
Since NCL took over the contract to run the district's leisure facilities in April 2014, the number of users of the Ulverston centre has significantly increased, with a 45% increase in all-inclusive memberships compared to this time last year.
Currently the Priory Road site is home to a swimming pool, gym, sports and social club, tennis centre, a full-size artificial pitch, all-weather tennis courts and new 3G pitch, as well as grass rugby and football pitches and associated parking areas.
"This is very much a study, to see what we could potentially achieve on the site and how we respond to future opportunities to improve leisure facilities in Ulverston. The first thing we will need to know is, what could the site accommodate?

"No firm plans or proposals for change are going to come forward at this stage and the groups using the Priory Road facilities will be kept informed about the masterplan.

"This study will see what may be possible on the site. It will shape the way we go forward. If a realistic project opportunity does emerge, we would begin an extensive consultation with the local community.''
– David Sykes, SLDC's Director of People and Places
An international concert pianist will play on stage in Cumbria tonight, but will only use one hand.
Anthony Hewitt broke his shoulder in a cycling accident six weeks ago.
Fiona Marley Paterson reports.
An international concert pianist is performing in Cumbria tonight using only one hand after injuring himself in a cycling accident.
Read the full story ›
An international concert pianists is playing at Ulverston Music Festival this week using only his left hand.
Antony Hewitt broke his shoulder and collar bone in a cycling accident six weeks ago.
He is playing music written for a musician injured in the First World War.
Advertisement
Ulverston's annual Civic Parade and Church Service takes place later today.
The event will be attended by the local mayors and councillors with a pipe band leading the procession.
Events take place from 1:30pm for around two hours.
Industrial leaders have launched a campaign to attract skilled workers to relocate to South Cumbria.
BAE, Siemens, GSK and Kimberley-Clark have created a website to collectively boast about the beautiful area they're based in.
They argue that although South Cumbria is best known for its natural beauty and the tourist hotspots of the Lake District, it's also an important hub for manufacturing and industry.
BAE Systems Maritime employs almost 7,000 people at its submarines division in Barrow-in-Furness, while GSK is investing £350m in building a new biopharm facility at its site in Ulverston.
This is an exciting time for GSK at Ulverston. We are investing in developing the existing cephalosporins factory and the new biopharmaceutical manufacturing facility will be the first new GSK factory in the UK for almost 40 years. However, we need to attract people with specialist skills from across the UK and overseas. This is a great area to live and work. The Lake District helps to ensure an unrivalled quality of life. We also have thriving communities and fantastic schools.
– Phil Wilson, Site Director of GSK in Ulverston
Siemens Subsea, which has major expansion plans, employs almost 500 people at its manufacturing HQ in Ulverston and Kimberly-Clark employs almost 400 at its paper mill in Barrow-in-Furness.
The NHS in South Cumbria and Furness College, which is building a new advanced manufacturing and engineering centre, are also supporting the scheme.
"Our workforce has grown by a staggering 65% since 2011 and our future expansion plans allow us the opportunity to grow even further, bringing with it many career development opportunities in advanced engineering. The area offers a great balance as a location to live and work. For example, my commute into work every day takes in the scenic coastal route overlooking Morecambe Bay. And at the end of the working day, it is very easy to take advantage of the beautiful countryside."
– John Collins, chief financial officer at Siemens Subsea
The Furness Economic Delivery Plan estimates the area will have at least £20bn of investment in the next 15 years, which could create around 25,000 jobs in engineering, project management, IT, healthcare and education.
The website www.choosesouthcumbria.co.uk, has information about career prospects in the area, the lifestyle and leisure opportunities.
It's now been confirmed that south Cumbria was hit by a small tornado, but there's still plenty of confusion about what tornadoes are, and how they form.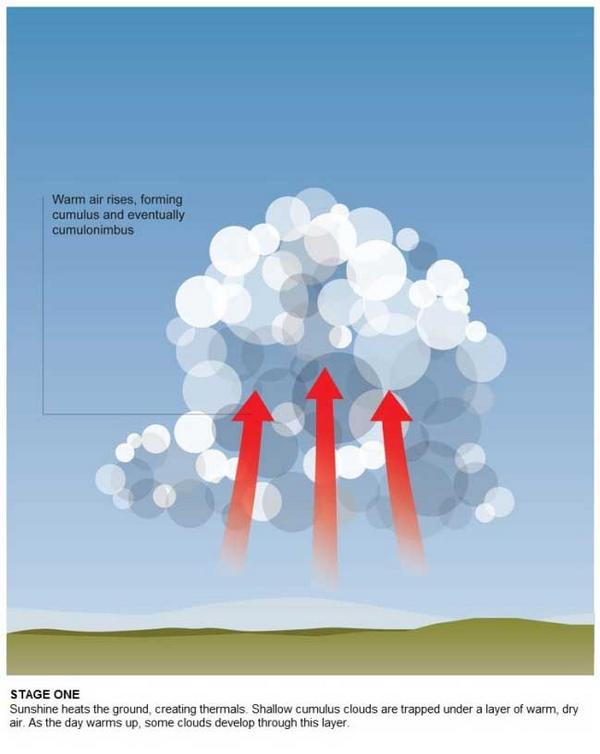 Areas throughout the UK were shaken by tornadoes last night, and the Met Office has been tweeting to keep people informed.
As the tweet shows, tornadoes form when the sun heats the ground, causing warm air to rise and form clouds.
Falling rain then causes a strong downward force to counteract the rising air.
This causes the clouds to rotate; the rate at which they do so increases over several hours, and thunderstorms develop.
The updraughts narrow, rotating faster, and this rotation extends towards the ground as a funnel cloud.
Once it reaches the ground, it becomes a tornado.
Tornadoes in the UK can cause damage and disruption, but so far the south Cumbria tornado doesn't seem to have caused any serious injuries or damage.
The Met Office says the UK sees an average of 30 tornadoes every year.
Load more updates