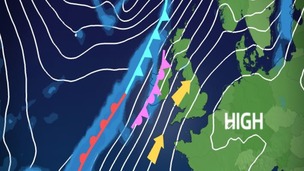 Rather cloudy. Rain at times. Mild but breezy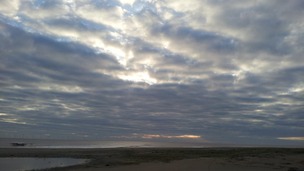 Rather cloudy. Becoming less cold. Winds freshening. Rain later Sunday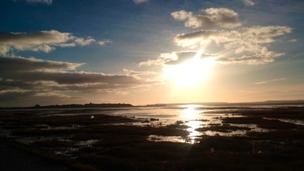 A look at the weekend's weather.
Live updates
Severe weather causes disruption
Mark Garratt from the Environment Agency spoke with our presenter Pam Royle earlier today about how well prepared the region was for the extreme weather?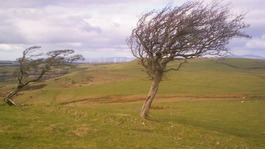 Advertisement
Severe weather causes disruption
Gale force winds left a trail of destruction across the region today. A red weather warning was issued with people in some areas being advised not to travel at all.
Lorries were blown over, trees uprooted and travel was severely disrupted.
In all, 60,000 homes were left without power. All train services were suspended in Scotland and there were delays and cancellations in Cumbria. Gusts of wind reached over 80 miles an hour.
Hannah McNulty reports:
Severe weather causes disruption
There are still 3,000 homes without power across Cumbria this evening.
So far electricity has successfully been restored to 7,000 homes since lunch time.
Electricity North West have drafted in extra engineers and will continue to work throughout the evening to restore power to customers as quickly as possible.
Your Pictures: Thursday's windy weather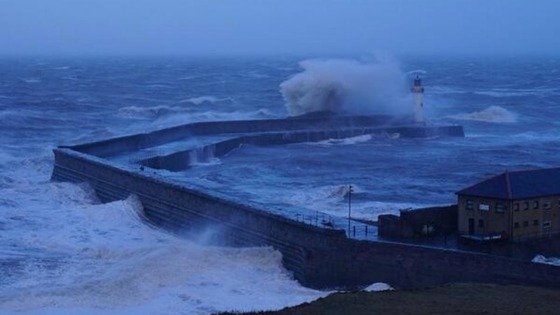 Severe weather causes disruption
Eyemouth Harbour has flooded after today's severe weather conditions.
The wet and windy weather, combined by the high tides this afternoon, have seen water levels rise throughout the day.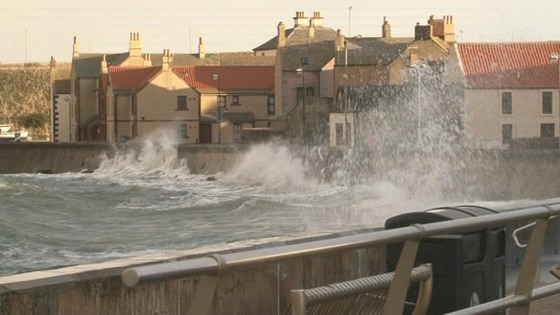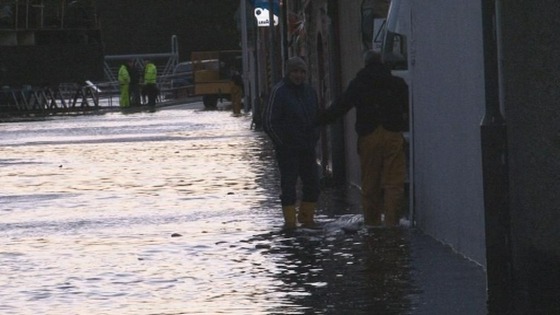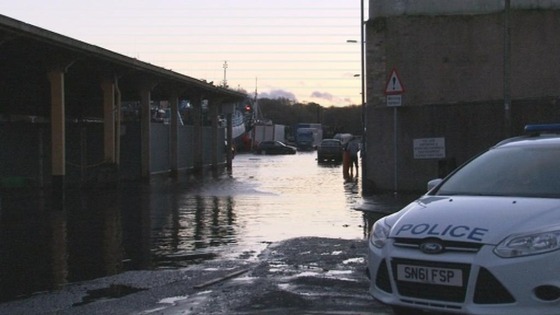 Advertisement
Severe weather causes disruption
Several roads around our region remain closed as a result of today's wild weather.
Inkerman Terrace to Loop Road in Whitehaven remains closed due to reports from the Esso garage that approximately six corrugated steel roof panels are appearing unsafe and may fall off.
The A5087, at the junction with road to Leece, Goadbarrow and Dendron remains closed due to flooding in the area and debris on the road.
There are concerns about the Whitehaven Sports Centre and that building's roof stability.
Police are asking motorists to avoid the areas and use alternative routes
Severe weather causes disruption
A charity founded in Dumfries was highlighted in the Scottish Parliament this afternoon.
The Food Train helps older people with their weekly grocery shopping.
Scott McGill is a Project Manger for Food Train in Dumfries who travelled to Holyrood today to watch the debate.
'We've made terrific progress over the last few years in expanding our range of services. We've been listening to customers and they've been telling us about social isolation, so a befriending project was set up and that's been doing fantastically well also . The Big Lottery have funded us very recently to provide the service for the next five years and expand it throughout the region and that's what we intend to do. It is a big thrill for food Train that this has been brought to the Scottish Parliament for debate today."
– Scott McGill, Food Train
Severe weather causes disruption
Police Scotland have reduced the travel warning threat to Stage Two (travel with caution).
It had been as high as Stage Four (do not travel) earlier today.
Severe weather causes disruption
National
Load more updates
Back to top