It was a huge weekend for rugby league in West Cumbria.
Championship sides Whitehaven and Workington Town escaped relegation on the last day of the regular season and Workington booked a place in the play-offs which could see them promoted to the Super League.
Helen Ford spoke to Workington's vice-chairman Mark Fryer and asked him how important it was that both local sides secured Championship status for next season: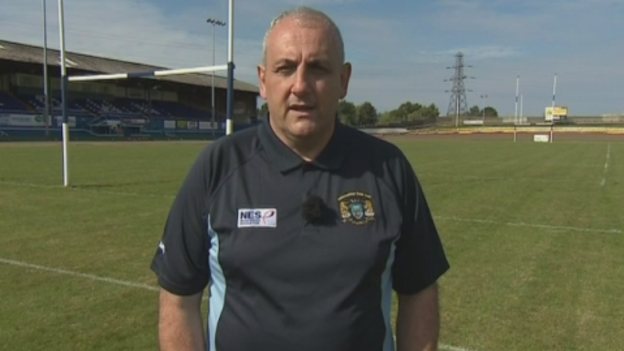 The Rugby Football League have unveiled plans for a major review of the game in West Cumbria which hasn't ruled out the merger of the two professional clubs Workington Town and Whitehaven.
Following the success of the Rugby World Cup last year that saw more than 14,000 fans attended two matches at Workington's Derwent Park, the RFL has commissioned the report which will be completed later this summer.
Advertisement
The Rugby Football League has decided to review West Cumbria's rugby teams.
During the World Cup games crowds of 14,000 poured to watch the games which has now dropped to crowds of 700 people.
Both rugby teams have said they will work together to face mutual challenges and that the possibility of merging the teams cannot be ruled out until further evidence has been reviewed.
The review aims to create an environment for both rugby teams to flourish.
Whitehaven RLFC took home the spoils, beating rivals Workington Town 29-18 in their west Cumbrian derby day clash. It's the first time in eight clashes that Haven have claimed victory.
There were opening day wins for both Workington Town and Whitehaven in Rugby League's Championship. Whitehaven beat York 32 - 22 at home and Town won away at Swinton 14 - 10.
After promotion for both West Cumbrian teams last year, Workington and Whitehaven start their campaigns in the Championship today.
Town start life at the higher level with a trip to Swinton. Whitehaven enjoy home advantage for their first game, against York City Knights, and new head coach Dave Woods told ITV Border that he thinks the future is bright...
Advertisement
Don Gailer speaks to Ryan Dollard ahead of Whitehaven's game against South Wales.
The Chairman of Britain's Energy Coast, the group that are one of the major funders of the Pow Beck stadium, speaks to ITV Border. He told us what he thought about the fact the World Cup matches will no longer be held at Whitehaven:
Cllr David Moore, Leader of the Opposition for Copeland Council is against the plans for a new stadium at Pow Beck. He said no business plan was ever presented to the council and that new plans should be drawn for a Copeland stadium elsewhere. He said:
Load more updates