More than a hundred people have attended a meeting in Whitehaven to discuss changes at West Cumberland Hospital.
Read the full story ›
The Chief Executive of a company hoping to open a new underground coal mine in west Cumbria says it could open at the end of 2018.
Mark Kirkbride, of West Cumbria Mining, says around one billion tonnes of coking coal could be on the coastline near Whitehaven.
Advertisement
A company wants to build a new underground mine near Whitehaven. They say around one billion tonnes of coking coal could lie on the coast.
Read the full story ›
People in west Cumbria will be able to find out more about plans to bring coal mining back to the area this weekend.
West Cumbria Mining are hosting a public open day at Whitehaven's Haig Pit to give an update on their scheme to extract coal from under the Irish Sea.
St Benedict's High School in Whitehaven has been given the "School of the Year Award" by the Rugby Football League, in recognition of the work it does to promote the sport.
The school boasts a proud history of producing top players for the professional game.
A man from Whitehaven has been charged in connection with the historical rape of a 16-year-old boy.
Vincent Joseph Hudson, 54, of Loweswater Avenue, Whitehaven, has been charged with the rape of a male under the age of 16.
The charge relates to an incident that occurred in 2001.
Mr Hudson will appear before North Cumbria Magistrates Court on 21 October 2015.
I would like to take this opportunity to appeal to anyone who feels they might be a victim of a sexual offence to contact us so we can investigate.

Every single report is treated professionally and sensitively. Victims will be supported by specially trained officers who are experienced in dealing with these type of incidents. I would also like to reassure potential victims that their identity will not be disclosed in the public domain."
– Detective Constable Hayley Carson
Anyone who believes they might be a victim of a sexual offence, both historical or more recent, is asked to contact police on 101.
Advertisement
Workington Town RLFC have reacted to the sad news of the passing of one of its most popular and greatest ever players. Sol Roper passed away suddenly on Wednesday.
The club have moved immediately to pay a moving tribute to a player who made his debut in 1954 enjoying a rugby league career that lasted almost 18 years.
Paying tribute vice chairman Mark Fryer added
Everyone at the club, and indeed across the area as a whole, will be saddened at this news. Sol may have been diminutive is size was but was a giant of the sport and a hugely respected figure. The word legend is perhaps used too often in the modern game these days but by any standard, or any era, he was a legend of the game.

Sol attended games and club functions with enthusiasm and always cut a very smart figure in his club blazer and tie, we will all miss him terribly, but we will retain many outstanding memories of Our thoughts are with all the family at this very sad time time."
– vice chairman Mark Fryer
John "Sol" Roper hailed from Pica, near Distington. He was a schoolboy prodigy who captained Cumberland Schools in 1951.
He played for Distington and Hensingham and was selected for England Amateurs when he was only 17, scoring a try in England's 23-0 victory over France at Headingly on 17th April 1954.
Sol Roper was a first-teamer with Workington Town, striking up a decade-long telepathic understanding with Harry Archer – probably the most celebrated half-back pairing in Cumbrian history.
Sol's first season with Town, 1954/55, was eventful. Sixteen days after his Town debut he made his County debut, at only eighteen-years-old , when he played against Yorkshire on his home ground, Borough Park.
When the Challenge Cup came round in 1955 few thought much of Town's chances but they surprised the Rugby League world. Dewsbury Celtic, Leeds and St Helens were beaten before Town accounted for Featherstone 13-2 in the semi-final at Leeds, when Sol was heavily concussed.
In the final against Barrow at Wembley, Sol was the youngest man on the pitch. Again he was in the wars. After 52 minutes he was stretchered off with a shoulder injury. Although he returned to play heroically on the wing, Barrow had established a winning lead and Town eventually lost 12-21
In 1958 Sol was back at Wembley as Town's Captain, at that time the youngest ever Wembley skipper.
The final pitted them against Wigan but once again they lost, injuries being the crucial factor. It was the same story a week later in their Championship Final against Hull at Odsal.
This time second-rower Cec Thompson was taken from the field after 25 minutes with Town leading 3-0. He never returned and Hull won 20-3.
Sol finally picked up a winner's medal with Town in 1962, when they beat Widnes 10-0 in the inaugural Western Division Championship final at Wigan, following a 9-9 draw at the same venue.
The Roper-Archer duo's superiority at half-back was a vital factor.
Sol carried on playing for Town until 1966, amassing 399 appearances. As a scrum-half he knew all the tricks of his trade. He fitted the stereotype – invariably the smallest man on the pitch, but just as invariably the gutsiest. He was renowned for his low, clean tackling, his stamina and his guile. His total of 94 tries was a testimony to his attacking values.
After a year out of the professional ranks Sol joined Whitehaven and gave five years splendid service with 82 appearances (11 tries 9 goals). While at the Rec he extended his Cumberland career to fifteen years, and 21 caps, one of the longest on record.
His son Tony and Grandson Jonathan both enjoyed successful rugby league careers.
A 19-year-old man from Whitehaven has been sentenced today at Carlisle Crown Court to:
Two year supervision requirement
Curfew for three months
Sex offenders register for five years
Sexual Harm Prevention Order for five years
Court costs of £60
Callum Seth, of Parton, Whitehaven, pleaded guilty at an earlier hearing to three counts of inciting a boy under 13 to engage in sexual activity.
On the evening of Thursday 14 August 2014 Seth was playing football with three boys aged under 10 years old when he made each of the boys expose themselves and perform a sexual act in front of him.
Seth's behaviour was completely inexcusable, and I am pleased he has been brought before the courts to answer for his crime.

Protecting children in Cumbria is of the utmost importance to the Constabulary, and we work hard to bring those found to be abusing children to justice.

I would like to take this opportunity to thank the victims and their parents for the bravery in reporting Seth's actions to the police so that we could investigate.

I would urge anyone who has any concerns regarding inappropriate or abusive activity to get in touch – all reports will be dealt with sensitively and professionally."
– PC Annabel Scott
Anyone with concerns should call Cumbria Police on 101.
Whitehaven GP surgery has been labelled inadequate by England's Chief Inspector of General Practice.
The surgery has been placed under Special Measures following the Care Quality Commission inspection.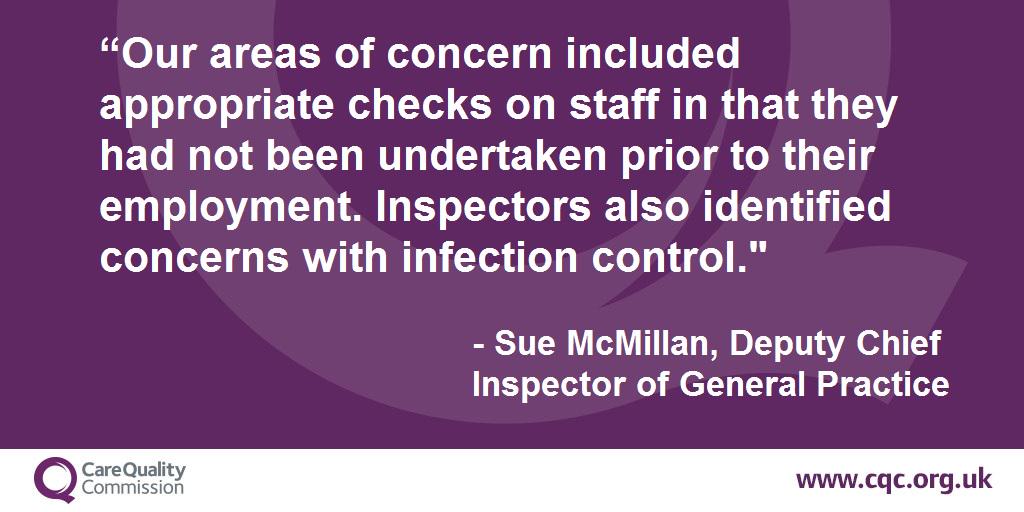 An eight-foot snake that went missing in Whitehaven was reportedly found under the bath in the same room.
Mufasa the boa constrictor hadn't been seen for nearly two weeks after his disappearance on 18 September.
The snake's owner thought it had escaped down the toilet, but was woken up to a "thud" this morning, and found Mufasa in the bathroom.
Load more updates