It was a huge weekend for rugby league in West Cumbria.
Championship sides Whitehaven and Workington Town escaped relegation on the last day of the regular season and Workington booked a place in the play-offs which could see them promoted to the Super League.
Helen Ford spoke to Workington's vice-chairman Mark Fryer and asked him how important it was that both local sides secured Championship status for next season: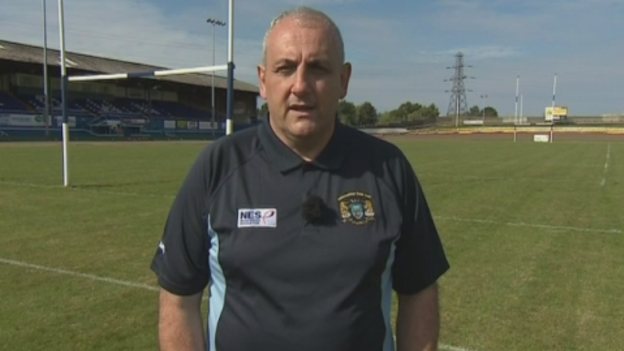 Workington Town have beaten Whitehaven in one of the biggest local rugby league derby's of the year.
The final score was 20-18 to Town, who played infront of a crowd of almost 2,000 people at Derwent Park.
Advertisement
Workington Town are the men of the moment in the championship.
It's the biggest relegation battle in years. So Town's best run of form in years, has come at a very good time.
Yesterday, they made it five wins in a row.
In Rugby League, Whitehaven have a Cumbrian derby against Barrow on Sunday in the championship.
Workington Town will be looking to build on back to back wins over Featherstone and Swinton when they take on Batley at Derwent Park.
Head coach Phil Veivers has an improving squad and is looking to add more players as the season goes on.
He's aware that the visitors pose a strong challenge but says he is confident that his team have the tools to make it three wins in a row.
The Rugby Football League have unveiled plans for a major review of the game in West Cumbria which hasn't ruled out the merger of the two professional clubs Workington Town and Whitehaven.
Following the success of the Rugby World Cup last year that saw more than 14,000 fans attended two matches at Workington's Derwent Park, the RFL has commissioned the report which will be completed later this summer.
The Rugby Football League has decided to review West Cumbria's rugby teams.
During the World Cup games crowds of 14,000 poured to watch the games which has now dropped to crowds of 700 people.
Both rugby teams have said they will work together to face mutual challenges and that the possibility of merging the teams cannot be ruled out until further evidence has been reviewed.
The review aims to create an environment for both rugby teams to flourish.
Advertisement
Whitehaven had a day best forgotten away at Leigh, but Workington Town have their first win of the season.
Now they'll start looking for their second coach of the season.
Today's scheduled game between Workington Town and rugby league giants Wigan Warriors has been called off. Heavy rain led to the pitch at Derwent Park becoming water-logged.
Discussions are ongoing to try and rearrange the fixture.
It was a testimonial match in honour of Wigan's Paul Prescott, whose career was recently ended through injury.
Rugby fans have been getting a closer look at the Super League and Challenge Cup trophies.
They are on display in Workington town centre.
The club is hosting a pre-season friendly against Wigan Warriors on Sunday.
Workington Town rugby league club will welcome the giants of the game, Wigan Warriors, to Derwent Park tomorrow.
The club has already sold 2,00 tickets for the pre-season friendly.
It's a testimonial for former Wigan player Paul Prescott who had to retire due to injury.
Load more updates