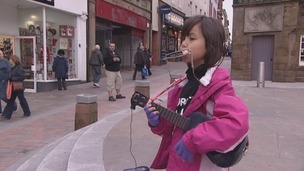 A 7-year-old girl is raising money for victims of a typhoon in the Philippines by busking in Dumfries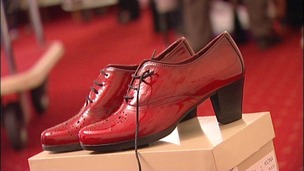 A group of women who overcame breast cancer and formed a fundraising group to raise cash to help others, are holding a fashion show.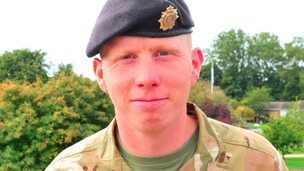 A Cumbrian soldier who took on the role of his absent officer to get supplies to one of the deadliest regions in Afghanistan is awarded.
Live updates
Countdown to Commonwealth Games 2014
Volunteers and staff attending the training session are told:
"Without you there is no commonwealth games"
Countdown to Commonwealth Games 2014
Thousands of staff and volunteers are beginning training for the 2014 Commonwealth Games in Glasgow.
15,000 'clyde-siders' including many from Cumbria and Southern Scotland are volunteering at the Games.
The first step of their training begins over this weekend at one of Scotland's biggest mass orientation events and they will also get a first glimpse of their uniforms at the Emirates Arena.
Advertisement
The A66, the main road connecting the North West with the North East, has re-opened.
It was closed in both directions on Christmas morning, between County Durham and Cumbria, after a spate of accidents caused by black ice.
Police are urging motorists to continue to drive with care.
The conflict in Syria may seem a long way from here, but one man from our region has seen its devastating effects first hand.
In-fighting between rebel forces and the Assad government has forced millions of refugees to flee the war-torn country, many of them children.
The author Robin Yassin-Kassab lives in Castle Douglas, in Galloway.
His father is Syrian, and Robin's just returned from ten days at the Turkish border, helping to clothe and feed as many children as possible during a bleak and freezing winter.
Earlier I spoke to him, and Ian spoke with him, asking him why he felt compelled to go and help.
Lockerbie's 25th anniversary
The family of Abdelbaset al-Megrahi, the only person to be convicted of the Lockerbie bombing, say they plan to appeal against his conviction. Libyan Megrahi was convicted of the bombing of Pan Am flight 103 in which 270 people died 25 years ago.
Magrahi lodged a second appeal against his conviction from behind bars in Scotland where he was serving life for mass murder. However he dropped his case two days before he was released on compassionate grounds by the Scottish Government. He was suffering with prostate cancer.
Magrahi died last year protesting his innocence. Tonight, his brother said that his family plans to appeal the conviction. It comes as members of the UK Families Flight 103 group announced they are also considering their own appeal against Megrahi's conviction in a bid to reach the truth.
We want to appeal and we wish for the truth to be revealed and this is not just for our own benefit but also for the benefit of the families of the victims and for public opinion.

We need to know who committed this horrible crime. But, as you know, we as a family cannot afford to pay for the appeals process.

God-willing, the Libyan government will do this, but it has to be launched by the family first."
– Abdel-Hakim al-Megrahi, brother of Abdelbaset al-Megrahi
Lockerbie's 25th anniversary
National
The Libyan Justice Minister has told ITV News that British and American authorities will be allowed to question Muammar Gaddafi's former intelligence chief over the Lockerbie bombing.
When asked whether Abdullah Senussi could be questioned, Salah Margani said: "Yes this is the intention.
"What we are working on is finalising the arrangements for this as much as obtaining the evidence that's available with the UK and US authorities. We all need to know the facts."
Advertisement
Tributes for Mandela
People around the world have been mourning the death of the former South African president Nelson Mandela. The freedom campaigner touched the lives of people in our region too.
Mandela was instrumental in bringing the two suspects to court in the Lockerbie bombing. And at the height of the struggle against apartheid, Cumbria became the first shire county in England to adopt a formal declaration against the regime in South Africa.
Matthew Taylor reports:
Tributes for Mandela
South African flag flying at half-mast alongside the Saltire outside Scottish Government headquarters http://t.co/B3D7S5Ar4G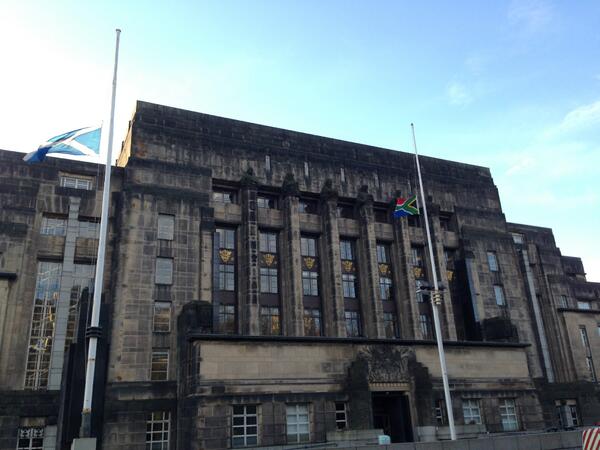 First Minister Alex Salmond said:
"The death of Nelson Mandela marks the passing of a great statesman and a global icon, so it is only appropriate that we here in Scotland, a land Mr Mandela had great affinity with, mark his passing appropriately.
"That is why I have today instructed that the South African national flag should fly at half-mast alongside the Saltire outside St Andrew's House in Edinburgh.
"The whole world is marking the loss of a great leader – all of Scotland feels that loss, and we join the people of South Africa in particular in marking Mr Mandela's passing."
Tributes for Mandela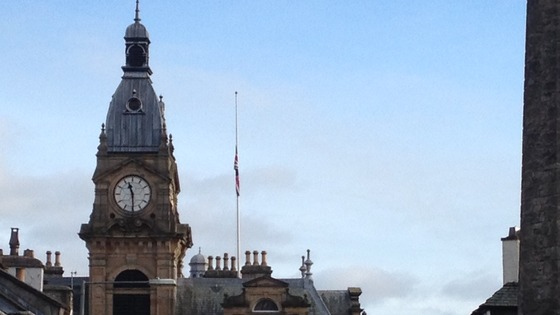 Kendal Town Hall's flag is flying at half mast in respect for the death of Nelson Mandela, and South Lakeland District Council has also lowered the flag on Ulverston Town Hall.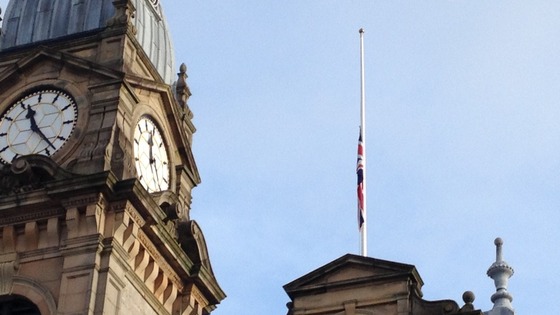 Leader of South Lakeland District Council, Peter Thornton, said:
"I've asked for our flags to fly at half-mast to mark the passing of a statesman whose reach extended far beyond politics."
Fundraising for Syrian children
An author from Southern Scotland heads to Syria this week to help refugee children caught up in the country's conflict.
Robin Yassin-Kassab, whose father is Syrian, is part of an international group raising thousands of pounds to provide supplies for refugees facing up to winter without homes, food or adequate clothing.
And as Ryan Dollard found out this afternoon, they have taken a novel approach to stand out from other charity appeals this Christmas.
Watch his full report below.
Load more updates