Police Scotland have confirmed they are investigating a fire at Gala Fairydean Rovers.
The club have tweeted that the 3G Arena will be closed until further notice.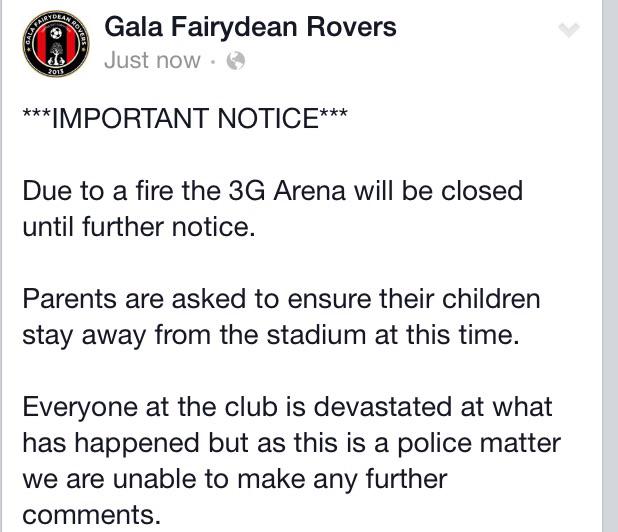 Two services are being held in Cumbria today to remember two soldiers who were awarded the Victoria Cross during the First World War.
Abraham Acton from Whtehaven, and James Smith from Workington, will both be honoured with paving slabs as a lasting reminder of their bravery.
The following services are being held:
12pm - Workington Railway Station, for Private James Alexander Smith.
13:30pm - Lowther Street, Whitehaven, for Private Abraham Acton.
Advertisement
Scotland's top prosecutor has reaffirmed Abdelbaset al-Megrahi's guilt in the killing of 270 people in the Lockerbie bombing and has pledged to track down his accomplices.
Lord Advocate Frank Mulholland said no Crown Office investigator or prosecutor had raised a concern about the evidence in the bombing of Pan Am flight 103 in 1989.
Megrahi's part in the bombing has been called into question in a series of books, documentaries and testimony to the Scottish Parliament.
A petition seeking "Justice For Megrahi", backed by politicians and family members of some victims, remains on Holyrood's books two years after al-Megrahi's death.
But in an address to relatives on the anniversary of the bombing, Mr Mulholland said his investigation "remains on the evidence, and not on speculation and supposition".
Members of the Tweed Valley Mountain Rescue Team have been learning life-saving skills today during a training exercise at the River Ettrick. The Scottish Border based volunteers have been learning how to search rivers safely and rescue people drifting downstream. Jenny Longden reports
Members of the Tweed Valley Mountain Rescue Team have been learning vital skills on the Ettrick Water
Read the full story ›
More than a million pounds has been brought in to the Scottish Borders economy by two major cycling events held earlier this year.
TweedLove Bike Festival, which was held in May, and the Tour O' The Borders which took place in August, had a combined direct economic impact to the region of £1.7 million. Both were based around the Tweed Valley town of Peebles.
"We're delighted with this level of success", says company director Neil Dalgleish. "The events have been recognised as a success at an international level, and visitors have gone home very impressed with our bike trails and our incredible cycling community. There's something really special happening here."
Dates for next year's events have now been released, TweedLove Bike Festival will run from 17 to 31 May, 2015, with the Tour O The Borders, a closed road sportive event, to be held on August 9.
Advertisement
A fundraising campaign has been launched to replace the control vehicle used by Tweed Valley Mountain Rescue Team.
The charity, which is made up of on-call volunteers, are asking members of the public to buy a 'virtual pint' online, by donating the cost of a pint to their cause.
They want to buy a new £60,000 state of the art vehicle, equipped with technology such as a satellite data connection, touch screen computers for search planning and the most up to date communications equipment.
The current vehicle is 15 years old.
More information can be found here.
Health experts are examining the source of a food poisoning outbreak in Penrith.
Ten people are confirmed as having had a Salmonella infection and there are five more probable cases.
All those taken ill had visited Penrith over the weekend of 15 and 16 November.
Specialists from the Cumbria and Lancashire Public Health England Centre and Environmental Health Officers from Eden District Council are examining where exactly the outbreak came from.
"At this stage it's not possible to pinpoint exactly the source of the illness; however we are undertaking further detailed investigations that will provide us with more information. "To aid this we would urge anyone who purchased and ate food in Penrith over that weekend and has subsequently suffered symptoms such as diarrhoea to contact Eden District Council's Environmental Health Department."
– Dr Nicola Schinaia, Public Health England
People are being asked to fill in an online survey to help with the investigation:
http://tinyurl.com/Penrith2014.
Salmonella is often associated with eating foodstuffs (most commonly red and white meats, raw eggs, milk, and dairy products) that have been contaminated with the bacterium.
The Government has announced a £16 million investment to electrify the Windermere rail line in the Lake District.
The 10 mile branch line links the National Park to the west coast main line at Oxenholme. It will be upgraded to allow electric trains to run on the route for the first time.
Ministers says it will create a faster, more reliable and greener service. Tim Backshall reports
South Lakes MP Tim Farron says the electrification of the Windermere rail line will make a 'massive difference' to the community and to tourism.
Load more updates