Inflation has been tipped to remain at zero due to the strength of the pound and the fall in the oil price.
The Office for National Statistics (ONS) will confirm on Tuesday if last month's inflation hovered around zero for a sixth month in a row.
There is even thought to be a risk that the figures for July, measured by the Consumer Price Index (CPI), could turn negative again - having dropped to minus 0.1% in April.
Flat prices help boost household finances at a time when wages are rising and make an interest rate hike by the Bank of England more likely.
Conservative and Labour figures have clashed over claims fears over a potential Labour-SNP coalition stopped business owners from employing people before and after the election.
Advertisement
While unemployment has risen, the number of EU migrants working in the UK has topped two million for the first time.
Official labour market figures showed a record 2,033,000 people foreigners were employed in the three months to June, up 4% on the previous quarter.
The rising unemployment looks particularly unwelcome for students awaiting A level results. But might this be a good time to hunt for a job?
Read the full story ›
The Government has said it is helping "millions across the country to succeed and achieve their full potential" despite the latest jobs figures showing more people out of work as unemployment rose again to 1.85 million.
Thanks to our long term economic plan we have already seen two million more people in jobs since 2010. On top of that, today's figures show job vacancies at a near record high - evidence of the continued confidence of British businesses, and potential for further growth in the UK economy.

Our one nation government is helping millions across the country to succeed and achieve their full potential. I was particularly pleased to see that wages are continuing to rise - meaning that hardworking people will see a real difference in their pay packets.
– Work and Pensions Secretary Iain Duncan Smith
His Labour counterpart, though, said the latest figures were "worrying", highlighting a rise in youth unemployment as of particular concern.
The rise in unemployment for a second month in a row is worrying and shows we cannot afford to be complacent about the recovery. With productivity stagnating, David Cameron and George Osborne must take bolder action to raise jobseekers' skill levels to get more back into work and help build the high-skilled workforce Britain needs.

The rise in youth unemployment highlights a real danger that young people are being left behind. Ministers must urgently deliver more high-quality apprenticeships to give young people the skills they need to get a job and build a future.
– Labour's Acting Shadow Work and Pensions Secretary Stephen Timms
The latest increase of unemployment "strengthens (the) possibility" the jobs market may be levelling off, the Office for National Statistics has cautioned.
This is now the second consecutive time we've reported fewer people in work on the quarter. While it's still too early to conclude that the jobs market is levelling off, these figures certainly strengthen that possibility. Growth in pay, however, remains solid.
– ONS statistician David Freeman
Unemployment increased by 25,000 between April and June to 1.85 million, while the ONS showed jobs vacancies have largely steadied in the last six months.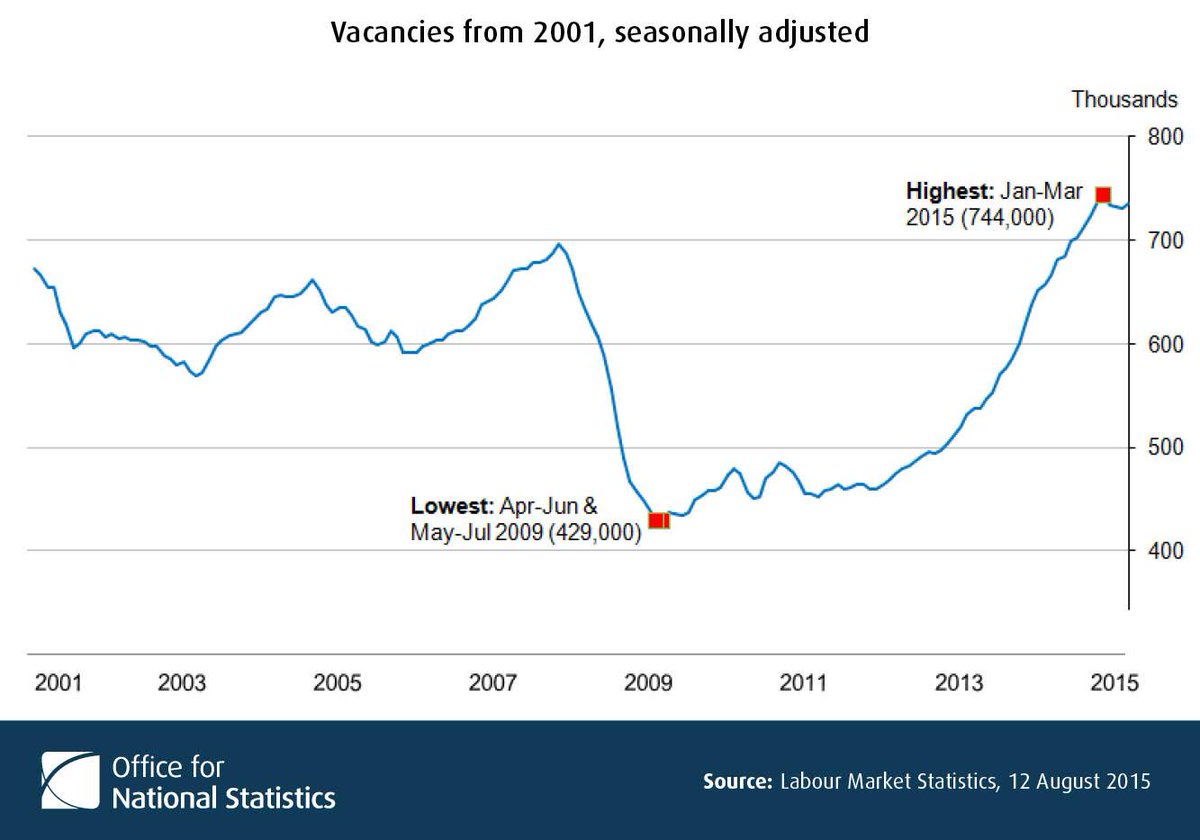 Advertisement
Unemployment increased by 25,000 between April and June to 1.85 million, official figures have shown.
The number of people claiming jobseeker's allowance last month fell by 4,900 to 792,400, the Office for National Statistics said.
Average earnings increased by 2.4% in the year to June, 0.8% down on the previous month.
The latest figures show the second consecutive monthly rise in unemployment after two years of decline in the number of people out of work.
The majority of Brits do not take all of their annual days off from work, a new study has revealed.
Read the full story ›
Move comes amid protests by farmers over falling dairy prices that the say will put them out of business.
Read the full story ›
Four farming unions met today for an emergency summit amid widespread supermarket protests across the UK about "unfair" milk prices.
They say that government, retailers and the food service industry must "step up to the plate" to tackle the crisis facing the British farming industry.
Speaking after the summit, David Handley of Farmers For Action said "I don't think there's any farmer out there at the moment that will accept they can just sit back on their laurels."
The meeting follows days of protests by farmers including Milk Trolley Challenges, blockades at distribution centres and even bringing cattle into supermarkets.
Farmers estimate that it costs between 30 and 32p to produce a litre of milk but the average price paid across the UK is 23.66p - following a drop of 25% in a year.
Meurig Raymond, president of the National Farmers Union said farmers were facing "all the risk in these extremely volatile times".
I believe there is now, at long last, a recognition of the dire straits that farmers are finding themselves.

People are losing money. There is no way farmers can sustainably stay in business with these sorts of prices.

There has been a race to the bottom to devalue product. When four pints of highly nutritious milk is selling for less than a bottle of water then there is something wrong in the culture of society.
– Meurig Raymond, NFU president
Scotland's Secretary for Rural Affairs, Food and the Environment called for widespread support of the dairy industry.
I am calling on retailers and other buyers to get behind the dairy sector in this time of need and to pay a fair price for milk.

I fully recognise the difficulties being faced by dairy farmers because of the low price being paid for milk and volatility on the global market, and I have written to my UK counterparts calling for a joint ministerial meeting on this issue.

I am also happy to meet again with the dairy sector at any time and in any place during these very difficult times."
– Richard Lochead, Scotland's Secretary for Rural Affairs, Food and the Environment
The four main unions, the National Farmers' Union, NFU Cymru, NFU Scotland and the Ulster Farmers Union, met today in central London to discuss the "crisis".
Load more updates