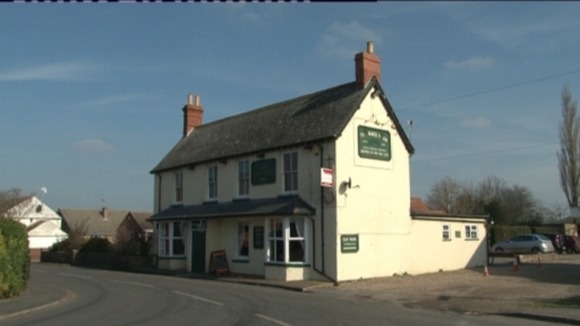 Over the years the pub's been well known for its pool and darts teams. But it was hard to keep them together when it kept closing for months on end. James Footitt first worked there when he was 18. He took it on five months ago when it had metal shutters on the windows and the only things inside were mice.
People are coming back and are supporting it. Trade's doing really well it's picking up nicely we've got two pool teams two darts teams which is who I feel sorry for because there's no certain future.
– JAMES FOOTITT, Landlord

The pub's been for sale since last April but despite that the brewery invested money in renovations. James believes it could have a good future. That was until an auction sign was put up - which worries those who drink there.
"It's the only pub in the village we want it open. It's handy I live just round the corner you can walk you know you can have a couple of pints and not worry about drink driving."

"I bought my bungalow just down the road on the basis it was 200 yards from the pub. I need a pub and I don't want to go too far to find one."

"If it goes up for sale you don't know what it could be it could no longer be a village and this village has no shops no other pubs all it's got are a couple of car garages. I personally not just as a landlord but as someone who's lived here all my life would be saddened to see the pub go."
– Local residents

The owners Punch Taverns say they've reviewed their estate and this pub is part of that review. The auction will take place later this month. All James and the locals can do is watch and wait.