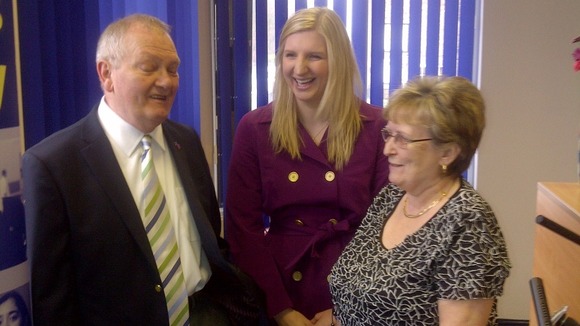 Double gold medal swimming champion Rebecca Adlington has opened the new premises of the Encephalitis Society.
The Malton-based Charity is the only resource of its kind in the world and has been based in Ryedale since 1994, recently moving to more spacious premises.
A few years ago, my sister Laura suffered from Encephalitis and we knew nothing about the illness and didn't know where to look for help. I know from personal experience how this illness affects both people affected and their families so the work of the Encephalitis Society in offering support and practical advice is so valuable. It means a lot to me and my family that I can use my success in the swimming pool to help the Society increase understanding of the disease in the hope that other families don't have to go through what we did, as well as hopefully help raise funds to undertake additional research."
– Rebecca Adlington

Encephalitis is inflammation of the brain, usually caused by infection. The condition is indiscriminate, striking adults and children alike, showing no respect for age, gender, ethnic origin or culture. Mortality rates are high and in those who survive many are left with an acquired brain injury, the degree and severity of which will vary. Their difficulties may include cognitive, physical, emotional, behavioural, or psychosocial consequences.
The Encephalitis Society was founded in 1994
It's the only resource of its kind in the world providing direct support and information to people affected by Encephalitis
The Society answers over 2000 calls a year for support and information from people affected and their families in the UK and Ireland
Their website receives 2000 hits from all over the world each week