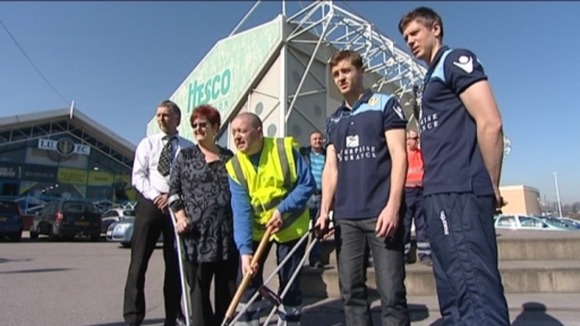 Leeds United players are swapping their strips for overalls as they go out cleaning the streets around Elland Road stadium. They are working with the city council's street cleaning team to keep the streets around the ground in a good state. It is part of a deal running until next year, which will street teams working to keep the area tidy after big events at Elland road.
We take great pride in keeping Elland Road clean and tidy and this partnership with the council will allow us all to ensure that the neighbouring streets are kept in a similar state for the benefit of both people visiting Elland Road and the local community as a whole.
– Shaun Harvey, Leeds United CEO

Leeds United footballers Robbie Rogers and Leigh Bromby have helped launch the new initiative this morning to keep the streets around Elland Road clear of rubbish. The Leeds chairman Ken Bates has agreed to pay Leeds City Council £15,000 for their street cleaning team to carry out a quick clean up after matchdays. At the moment, it takes several days to clear rubbish after a game. In future, the street cleaning will extend beyond the immediate area around Elland Road to other parts of Beeston and Holbeck.