Fat cat takes on slimming challenge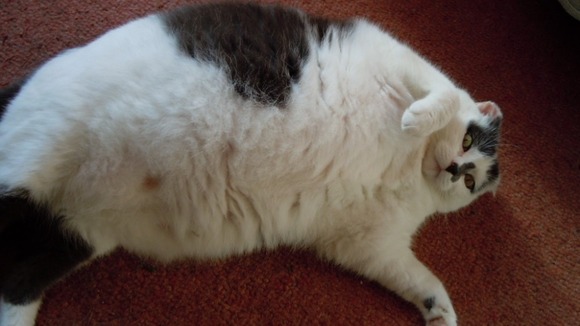 Greedy cat Fifi Bottomley from Bradford is taking part in a six month diet and fitness challenge to lose weight. The 8 year old cat weighs 9.3kg, when she should be closer to 4.5kg.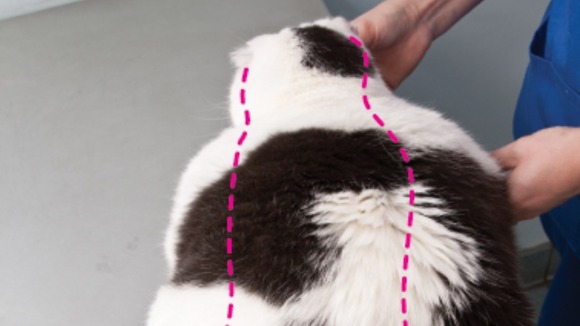 Fifi was found starving as a kitten and was nursed back to health by the Bottomley family. Fifi started to pile on the pounds about three years ago, and her owners tried several times to put her on a diet without any luck. They controlled her portions, but she still continued to gain weight. The family were mystified, until they realised that Fifi had charmed an elderly neighbour into giving her food, milk and treats every day!
Probably as a result of her hard start in life, Fifi tends to gorge herself at any opportunity and steals food right from people's plates given the slightest opportunity. Despite her extra weight, she can still be quite mobile if there is a chance of extra food!"
– Monica Bottomley, Fifi's owner

Fifi is one of 18 animals taking part in the PDSA's Pet Fit Club in a bid to lose weight. Find out more about her challenge as she competes in the charity's annual animal slimming competition.
Pet obesity is an increasing problem in the UK, and can have very serious consequences on the pets' health and expected lifespan. Overweight pets have a lower quality of life and an increased risk of health conditions such as diabetes, heart disease and arthritis, which could lead to an early grave."
– John Taylor, Senior Veterinary Surgeon at Bradford PDSA PetAid hospital
Over a third of all dogs (35% or 2.9 million) in the UK are now overweight or obese
Around one in four cats (approximately 3 million) are overweight
Over-feeding treats and providing an incorrect diet are the primary causes of pet obesity, with 90% of dog owners admitting to feeding treats such as cheese, crisps, cakes, biscuits, toast and takeaways