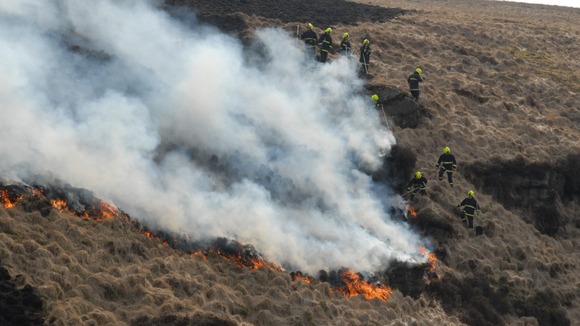 West Yorkshire firefighters dealt with an average of 26 grass fires every day throughout April 2011. Last weekend over 90 firefighters tackled a moorland blaze in Calderdale which consumed over four miles of countryside.
Moorland fires are difficult to tackle because they are often in inaccessible locations for fire appliances, there is little or no water supply, they often burn quickly and ferociously, especially driven by strong winds, and can be unpredictable, causing dangerous conditions for firefighters.
The sunshine is a welcome sight this Spring, but the warmer weather dries the countryside, increasing the risk of fire. In the majority of cases these fires are not life-threatening but they can be devastating to farmland, public open spaces and wildlife, which can take years to recover."
– Ian Bitcon, Acting Director of Fire Safety for West Yorkshire Fire and Rescue Service

Countryside fire safety advice:
Never throw lighted cigarette ends out of the windows of vehicles or trains
Keep matches and lighters out of reach of children
Take care when using BBQs and never leave cooking unattended. Safely dispose of BBQ rubbish
Clear up and take your litter home after picnics
Don't leave glass bottles - not only can they hurt people and animals, but they can magnify the sun's rays and start a fire
If you notice anything suspicious, report it to Moor Watch or Crimestoppers