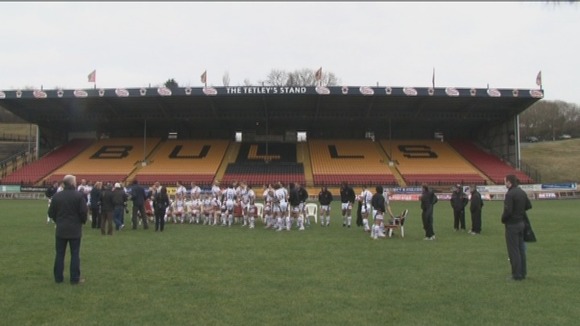 Bradford Bulls have broken through the £300,000 barrier in their battle for survival. They need to raise £500,000 by this Friday to stave off the threat of a winding-up petition and almost certain administration. They also have to raise £1million by the end of the month to clear all their debts.
They are holding an auction at Odsal tonight to help raise funds. Among the lots are Brian McDermott's 2000 Challenge Cup final shirt and winners' medal and Jamie Peacock's 2003 Grand Final shirt and winners' ring. They have a reserve price of £10,000.
Bradford have been warned that if they don't raise the initial £500,000 by Friday, the game against Leeds could be their last match.
The £300k figure is a significant milestone for the club to reach. We are delighted to have got that far and pledges are continuing to come in. Pledges had slowed down earlier in the week but momentum has picked up again and we urge all supporters who haven't pledged to make sure they get them in before 5pm on Friday ahead of the Leeds game."
– Ryan Duckett, Chief Executive Bradford Bulls