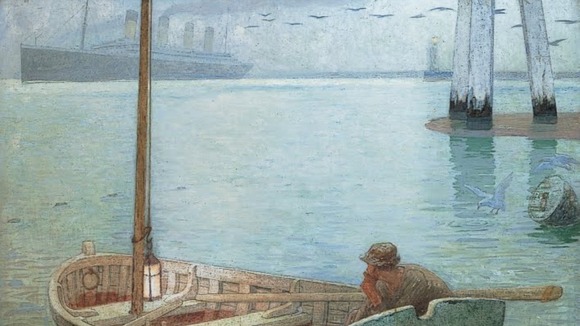 A painting created to honour of one of the heroes of the Titanic disaster has gone on display at Leeds Art Gallery to mark the 100th anniversary of the sinking.
Violinist Wallace Hartley was the leader of the eight-piece band who went down with the ship after playing hymns to calm passengers on the doomed liner.
The 33-year-old from Dewsbury led the band in playing the hymn 'Nearer My God to Thee' according to reports in the final moments before the so-called 'unsinkable ship' slipped to the bottom of the North Atlantic Ocean approximately 400 miles off the coast of Newfoundland.
When he died Hartley was a member of The Leeds Professional Musicians. After the sinking the group commissioned artist Frederick Caley Robinson to produce an oil painting in his honour.'The Outward Bound' is a soulful, melancholic scene showing a lone figure aboard a small boat watching as the Titanic, at the time the largest and grandest ship ever built, leaves harbour in the distance shrouded in ghostly mist.
Widely reported at the time, the Titanic disaster caught the public imagination and continues to do so. The story of Wallace Hartley and his bandmates is one of the iconic elements of the tragedy, and we are delighted to have 'The Outward Bound' in the collection in Leeds and now back on public display again at the gallery.
– Nigel Walsh, Leeds Art Gallery curator