Double celebration in Huddersfield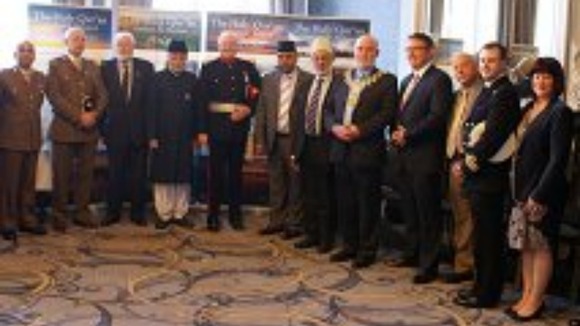 The Ahmadiyya Muslim Association, Huddersfield held a function at Huddersfield Town Hall on Sunday 6th May 2012 to mark the Queen's Diamond Jubilee and 50 years of Ahmadiyya Muslim Assocation in Huddersfield. Huddersfield Town Hall was packed with guests and members of the Ahmadiyya Community. The Deputy Lord Lieutenant of West Yorkshire represented the Queen. A book "Tohfa-e-Qaisariyyah - A Gift for the Queen" by Hazrat Mirza Ghulam Ahmad, written in 1897 for Queen Victoria's Diamond Jubilee and republished for the Queen's Diamond Jubilee, was presented to the Deputy Lord Lieutenant, along with £500 for the Queen's charity.
The Queen has served us during her 60 glorious years. She presides over a nation that allows freedom of speech and permits others to embrace, practice and propagate whatever religion they may subscribe to. This is an invaluable freedon that some in other parts of the world crave for and it is this and other benefits bestowed by this country. The nation that the Queen represents is still a great nation for the freedom it offers and the benign manner in which it governs over its subjects. This merits acknowledgement and gratitude."
– Mr Fatih ul Haq, President of the Ahmadiyya Muslim Association, Huddersfield

The Ahmadiyya Muslim Assocation is marking the Queen's Diamond Jubilee throughout the UK by lighting up the Mosques, holding street parties and feeding the homeless. They will also be holding a charity walk hoping to raise £450,000 for the Queen's charity and other charities. The Ahmadiyya community wants to work closly with all faiths and other communities to promote peace, harmony and community cohesion and respect for each other and the motto of the community is 'Love for All, Hatred for None'.