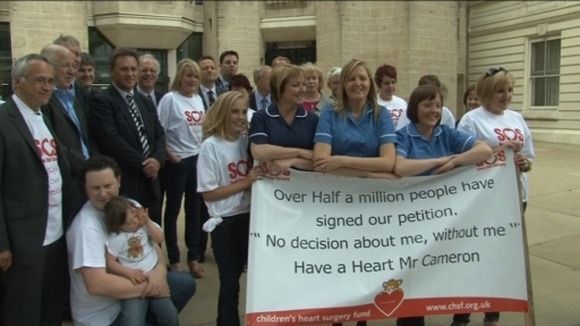 Following the announcement that the Children's Heart Surgery Unit in Leeds is to close, campaigners say their fight will continue.
The NHS Joint Committee of Primary Care Trusts revealed its decision following a review of paediatric cardiology provision across the country. The unit at Leicester is also to close. This will mean children from our region will have to travel to either Newcastle, Liverpool or Birmingham for treatment and operations.
But supporters and MPs from across the region are saying they will continue their campaign to keep it open.
I have campaigned hard with a lot of passionate people, so as you can expect, we are all sad to hear the news.But this isn't the end of the road. With local MPs, I will be looking at all the options one of which could be to take the decision to judicial review.I will continue to support the heart unit all the way and work with campaigners to ensure it stays open.All those who have been involved in this campaign must be praised for their hard work and I'm sure none of them will give up hope.
– Andrew Jones, MP for Harrogate and Knaresborough
There has been a real lack of confidence in the whole process and serious questions have been raised about the way in which the JCPT seem to have ignored the facts surrounding travel times and appear to have favoured Newcastle all along, despite the fact that it will struggle to reach the required number of units even if Leeds closes. If the review was really following its own criteria of bigger, safer units then Leeds should be retained and it does seem as if the JCPCT have not impartially followed the review's own logic, which is worrying
– Greg Mulholland MP for Leeds North West
"We think the right place to have this service for the people of Yorkshire and the Humber is here in Leeds. We want to support the patients who want that as well.
– Mike Blackburn, Paediatric Cardiologist