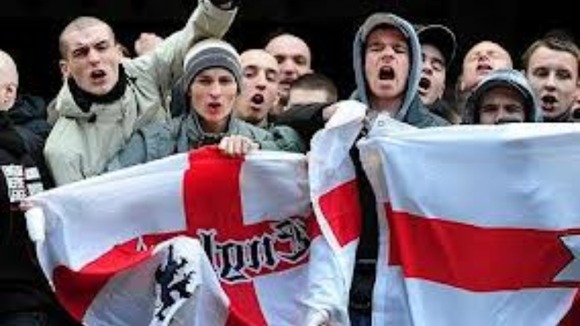 The EDL's Yorkshire division has announced it plans to hold a peaceful demonstration at Church Green in Keighley against allegations of the sexual grooming of white girls by Asian men.
The event was planned after police made ten arrests across Bradford district - the majority in Keighley - of men suspected of grooming a 14-year-old girl.
They have all been released on bail as an investigation continues.
The protest is expected to be heavily policed and demonstrators arriving by train will be escorted by officers.
We have a great deal of experience in handling such events and appropriate police resources will be available on the day."**

**
– West Yorkshire Police
These individuals and their racist views are simply not welcome in Keighley. I have worked closely with the police over recent weeks on this matter and, regrettably, current legislation does not provide for such a gathering to be banned. However, I have total confidence in Chief Superintendent Ian Kennedy and his officers to deal professionally and appropriately with the situation as they find it on Saturday.

"What the rest of us must not do is respond in a manner which inadvertently furthers the malevolent aims of the EDL. **They want to create division, bitterness and hatred in Keighley but we must not let them succeed.**
– Kris Hopkins MP, Keighley.
Everybody has a right to protest and we cannot stop this protest, but members of the Muslim community will be concerned. I don't think anyone wants the EDL in Keighley but we are hoping for a peaceful demonstration.

**
– Cllr. Abid Hussain, Keighley Muslim Association