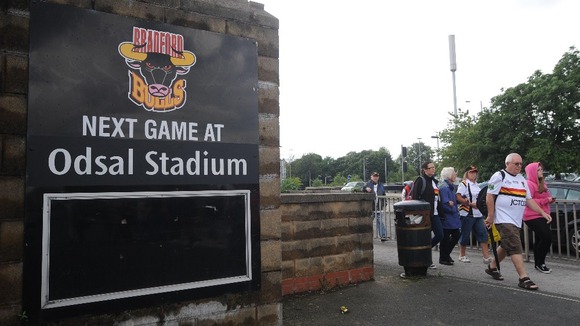 The RFL has released a statement saying it remains "positive" about the future of the Bradford Bulls following a meeting with the club's administrator to discuss the four bids currently on the table for the Super League club.
We had constructive meetings with all the consortia that have submitted proposals to the administrator and we're optimistic about the future of Bradford Bulls. There are now four confirmed bids for the Bulls and each consortium has been asked to submit business plans to us by Tuesday August 21. Due to the sensitive nature of the current discussions we are unable to confirm who the bids are from at present. However, it does appear that this renewed interest has come as a direct consequence of the offer from Super League Europe Ltd, which remains on the table. We understand the frustration regarding the on-going process but it is vital that due diligence is carried out on all the bids and that ultimately the right owners are found for the good of the club and the sport as a whole."
– Ralph Rimmer, RFL Chief Operating Officer

The RFL says it remains in open dialogue with the administrator and the club and will continue to provide what practical support it can.
We are pleased to be working collaboratively with the RFL to agree on a purchaser and sell the club. We now have all the ingredients that the RFL has requested and funds proven from three bidders plus the Super League Europe Ltd offer. The RFL will consider the bidders' business plans which are to be received by the Tuesday deadline, and all concerned do understand the need to bring this to a swift conclusion."
– Brendan Guilfoyle, joint administrator at Bradford Bulls