Thousands of walkers raise money for charity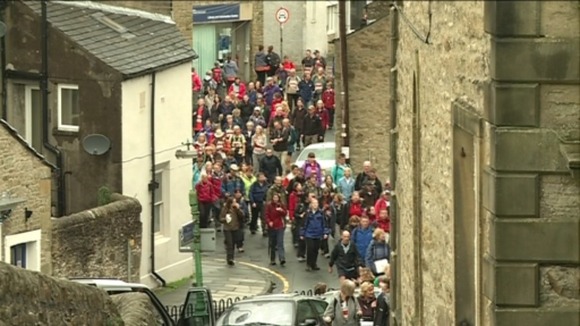 2000 walkers enjoyed some of the region's most stunning landscapes as they took part in the Yorkshire Dales Walking Festival as part of Jane Tomlinson's Walk for All.
It was hosted in the historic market town of Settle, with groups set off on one of four walks.
Those taking part were also offered discounted rail tickets with all sales going directly to the Jane Tomlinson Appeal.
We're thrilled to be back for the second year in Settle for the Yorkshire Dales Walking Festival. The Tomlinson family have a real soft spot for the area so it's a special event on our For All Events calendar. We hope that walkers across the country will embrace the festival as they did last year and we break all our records for another great day.

The Yorkshire Dales Walking Festival routes really do offer a true Walk For All - a day out in wonderful countryside that can be enjoyed by anyone regardless of their age and fitness levels. And, thanks to Northern Rail, our walkers can enjoy a hassle-free journey to and from the Dales, making this a perfect day out for all of the family.
– Sara Birkinshaw, Event director

By pulling on their walking boots, many participants will be fundraising for one of the following event partner charities. The Jane Tomlinson Appeal and our 2012 partner charities which are Parkinsons UK, Epilepsy Action, Heart Research, Macmillan, Martin House, Diabetes UK, Yorkshire Wildlife Trust and Arthritis Research UK.